Manchester United
midfielder
Paul Scholes
has announced his retirement from playing after 16 years at Old Trafford.
The 36-year-old, who will stay with the Red Devils in a coaching capacity, won 19 major honours in a glittering career with Sir Alex Ferguson's side.
With the former England international having finally hung up his boots,
Goal.com
takes a look at what his fellow professionals have had to say about the midfield maestro throughout his career.
"To be honest I think England have lost their best player. Certainly he's the most consistent and naturally gifted player we've had for a long, long time"
United's greatest ever player, George Best, reacts to the midfielder's retirement from international football in August 2004.
"He's always one of those people others talk about. Even playing at Real Madrid, the players always say to me 'what's he like'? They respect him as a footballer, and to have that respect from some of those players is great"
David Beckham reveals that even the Galacticos of the Bernabeu were astonished by Scholes' ability.
"Everyone of us should emulate him. We can all learn from Paul Scholes"
Dutch superstar Edgar Davids was a well-known admirer of the Manchester United man.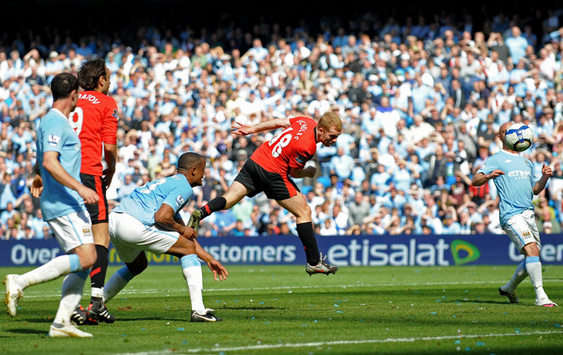 "He scores goals galore" |
Scholes heads home a late winner in the Manchester derby
"My toughest opponent? Scholes of Manchester. He is the complete midfielder. Scholes is undoubtedly the greatest midfielder of his generation"
The legendary
Zinedine Zidane
pays tribute to United's creative catalyst.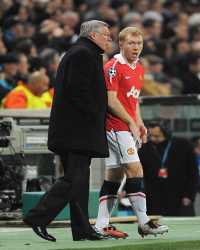 "He has an awareness of what's happening around him on the edge of the box which is better than most players. It doesn't matter who I am thinking about bringing into my midfield, Paul Scholes will be included, as he would in any side in the world"
Sir Alex Ferguson
explains what set Scholes apart.
"He is the one whose level I aspire to. He is the best player in the Premier League"
They may have been rivals but even Cesc Fabregas can't deny the Ginger Prince's greatness.
"Paul Scholes would have been one of my first choices for putting together a great team - that goes to show how highly I have always rated him. Scholes is a player I have always liked, because he combines great talent and technical ability with mobility, determination and a superb shot. He is an all-round midfielder who possesses character and quality in abundance. In my opinion, he's been one of the most important players for United under Sir Alex"
One of the game's great managers, Marcello Lippi, waxes lyrical about United's No.18.
"Sad to hear Paul Scholes is retiring, what a player! Top class and a great role model for any young #English midfield player!"
Arsenal's Jack Wilshere echoes the sentiments of United fans across the world via his Twitter.
"He is a legend and he's going to be remembered for a long time. Just to play alongside him and learn from him has been an absolute pleasure. I think he is a footballer's footballer"
Midfield partner
Michael Carrick
admits his luck in having lined up alongside the great man.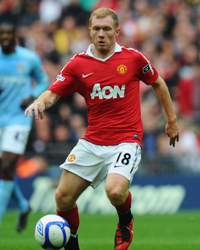 "In the last 15 to 20 years the best central midfielder that I have seen — the most complete — is Scholes. I have spoken with Xabi Alonso about this many times. Scholes is a spectacular player who has everything. If he was Spanish then maybe he would have been valued more"
Xavi admits that he and his World Cup-winning team-mates are in awe of the Red Devils midfielder.
"I wouldn't swap Paul Scholes for anybody. He is quite simply the most complete footballer I have ever played with. He is the best"
Long time team-mate Gary Neville doesn't think that anybody was comparable to Scholes.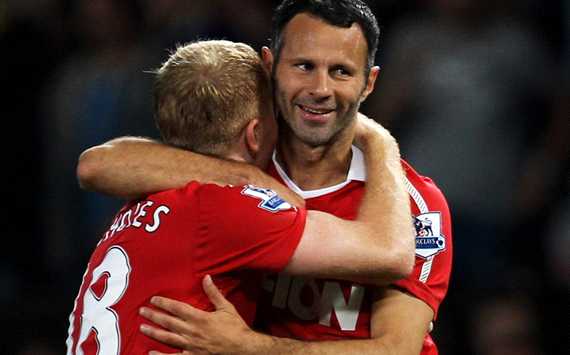 Boys to men |
Scholes and Ryan Giggs have been playing at United since the early 1990s
"Paul Scholes is my favourite player. He epitomises the spirit of Manchester United and everything that is good about football"
The first ever United captain to lift the European Cup,
Bobby Charlton
, sums Scholes up in a couple of sentences.
"I am not a man of many words but I can honestly say that playing football is all I have ever wanted to do. To have had such a long and successful career at Manchester United has been a real honour. To have been part of the team that helped the club reach a record 19th title is a great privilege"
The man himself on retiring from playing.