COMMENT

By Jonathan Birchall
For a
Manchester United
team that has so often made life difficult for themselves this season, wrapping up title No.19 was perfectly in keeping with the theme of the season. Early setbacks, doubts over whether they could really come through, then Wayne Rooney emerging as a hero. Such was the desire to get this particular job done at Ewood Park.
More silverware for a group of players who can now look to the prospect of a third Champions League final in four years with the unenviable brief of stopping Barcelona, the greatest side on Earth. A group of players for whom a section of which weren't even born when their manager moved to Manchester in 1986, intent on making the Red Devils the greatest in the land.
RED ALERT | The race to No.19

Liverpool
Title
Man Utd
1901
1st
1908
1906
2nd
1911
1922
3rd
1953
1923
4th
1956
1947
5th
1957
1964
6th
1965
1966
7th
1967
1973
8th
1993
1976
9th
1994
1977
10th
1996
1979
11th
1997
1980
12th
1999
1982
13th
2000
1983
14th
2001
1984
15th
2003
1986
16th
2007
1988
17th
2008
1990
18th
2009


19th
2011
"My greatest challenge was knocking Liverpool right off their f*****g perch," recalled Sir Alex Ferguson in 2002, under pressure with United having won only two of their first six games of the season.
Having dominated for a decade, the Scot's now-famous comment rang only half true nine years ago but now there's little doubting who is sitting pretty; it is the red side of Manchester, not Merseyside, that houses the English league's most successful club.
Ta'ra Fergie
That's not to say that it has been an easy ride for Ferguson, who was said to have been on the brink of the sack three years into his career at Old Trafford.
Unthinkable now, with the glorious hindsight he has provided, but in 1989, with Liverpool by far and away the kings of England, United were still the jokers of the pack.
If the owners of modern football clubs want a lesson in the benefits of sticking with an under fire manager, Ferguson's is an example that shines like no other.
"Three years of excuses and it's still crap. Ta'ra Fergie," read a banner at Old Trafford in November 1989, with Ferguson having brought little more than stability to a club whose image had been tarnished by a drinking culture that threatened to undo its history.
Two months later, a Mark Robins goal against Nottingham Forest in the FA Cup third round secured a 1-0 win for United and, allegedly, Ferguson's job. They went to Wembley that May and won the Scot's first piece of silverware at the club.
A Golden Generation
A Cup Winners Cup win against Barcelona was to follow but United were made to wait until 1993 to win the trophy they had craved for 26 years.
It was the Premier League's first season and as Steve Bruce held the trophy aloft having beaten Blackburn on the last day, the dye was cast for a period of success that was unprecedented at the Theatre of Dreams.
The introduction of youngsters from the academy was carefully orchestrated as David Beckham, Nicky Butt and the Neville brothers, as well as Ryan Giggs and Paul Scholes, who were at Ewood for No.19, oversaw the 1990s dominated by the Red Devils.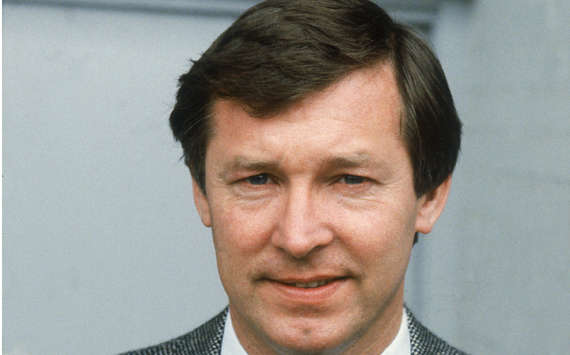 Man with a plan |
Ferguson took charge of a struggling United side in 1986
"It's always a nice challenge to see young people come through. That's the great beauty of football, it never stops. You win one day and the next you have to start again," said Ferguson years later.
It speaks volumes of a man whose ability to shed the skin of a side while maintaining success at the highest level is arguably his finest asset. He sold Jaap Stam, David Beckham and Ruud Van Nistelrooy with a ruthlessness befitting the mantra that no player is bigger than the club. He who dares disrupt the power structure of the Red Devils is certainly playing with fire.
It was a decade that was to end with the treble, still Ferguson's crowning jewel. Success has been a near-constant since. Other than for the comforts of history, United haven't had to look back.
Fallen Foes
The list of Ferguson's rivals during his time at United is as impressive as it is long. Dalglish, Keegan, Wenger, Mourinho, Benitez, Ancelotti, er, Dalglish again; it is a veritable who's who of the Premier League's finest managers. That said, the 69-year-old has two more titles in England than the lot of them put together.
DIVIDED THEY FALL | Fergie's rivals

Managers since Sir Alex Ferguson was appointed at Manchester United in November 1986:

Manchester City: 17 (3 caretakers)

Chelsea: 15 (4 caretakers)

Leeds United: 15 (5 caretakers)

Blackburn Rovers: 11

Aston Villa: 9


Liverpool: 8 (2 caretakers)


Arsenal: 7 (3 caretakers)
The man who will turn 70 next New Year's Eve has mellowed somewhat in recent years but the mind games that made him famous act as a telling reminder for his enemies that his is a side not to be messed with. Protecting his club, and there is no doubt that it is his, regardless of popularity amongst his peers, is Ferguson's No.1 priority.
The return of Kenny Dalglish to Liverpool, whose fans will be quick to point out that it is they who have dominated the continent like no other side from England, winning the European Cup and Champions League five times, looks set to ignite Ferguson's flame once again. His Glaswegian sparring partner returning, mega rich noisy neighbours and the usual challengers from the capital leave Ferguson fighting a battle on four fronts.
He has some way to go yet, but a fifth European title for United would surely see the pretenders off and leave Ferguson's name engrained as the country's - possibly even the game's - greatest ever manager.
Mission Accomplished?
Early in his United career, Ferguson said: "It isn't just a job to me. It's a mission. I am deadly serious about it, some people would say too serious...we will get there. Believe me."
For a man whose insatiable desire to win is still as strong as it was when he took over at Old Trafford, coupled with the re-emergence of an old enemy in Dalglish, Ferguson may relish being sat atop Liverpool's perch briefly. Having backed out of retirement in 2002, a decision for which he thanks his wife Cathy, there is little to suggest that Ferguson will be looking to leave the club that he has transformed into the country's greatest.
Mission accomplished? Not a chance.