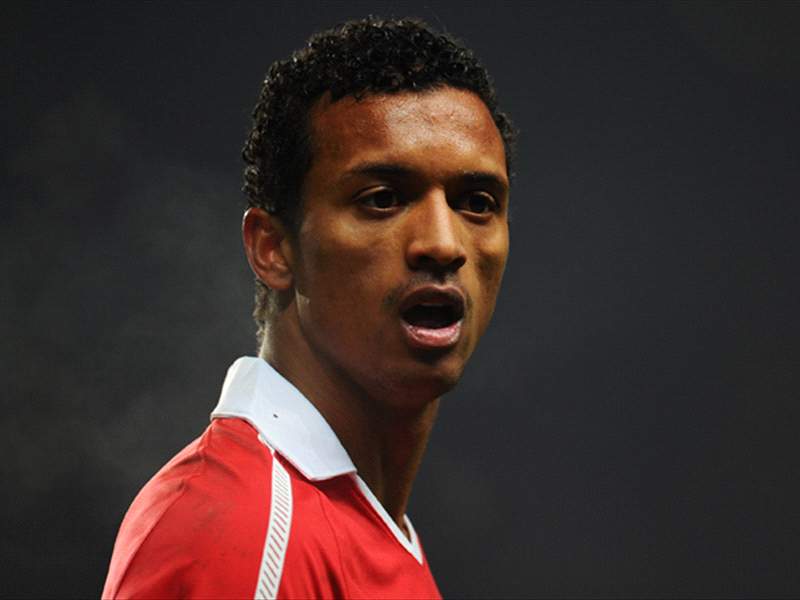 Manchester United
winger
Nani
insists that he enjoys the tough-tackling and physical nature of the
Premier League
, claiming that is what makes the English game "beautiful".
The Portugal international, who is preparing to face Chelsea in a potential title decider on Sunday, was on the wrong end of a strong challenge from Liverpool's Jamie Carragher earlier in the season, though he has noticed that tackles from opponents have been less reckless in recent times.
"The opposition defenders realise if they kick they can get a yellow or red card. So they don't kick like they did a couple of months ago, but it doesn't matter because this is football in England," he told
The
People
.
"I enjoy playing here and you get kicks all the time. This is proper football, strong football and the tackles make football in England beautiful.
"You have to have the tackles in the game otherwise it is nothing."
United can extend their lead at the top of the table to six points with a win over Chelsea at Old Trafford - although victory for the Blues would move them above the Red Devils courtesy of goal difference.
Nani admits he is fully aware of the defensive qualities that Carlo Ancelotti's side possess, including the talents of Brazil centre-back David Luiz, but admits he will not be looking at the referee for protection on Sunday afternoon.
"I don't like the tackles but it doesn't scare me," he added.
"A lot of the defenders don't know me, my attitude, how I think about my football, how I think about the way I play the game.
"This is proper football, strong football and the tackles make football in England beautiful.
"I am strong and I like to play. I like the defenders to come to me because I can beat them. I know I have the skill to do that.
"Of course, sometimes you can be injured in a tackle but you have to accept that.
"I never worry about the ref protecting me because when you start to think about refs, it is always bad and things are never like you want.
"I know [former Benfica defender] Luiz but just from TV. I didn't play against him in Portugal, but he is a good player.
"Of course, we have to beat all the defenders from Chelsea, not just Luiz, and we will try to do our best and score goals. I just want to think about my team, play well, score goals and try to win the games."