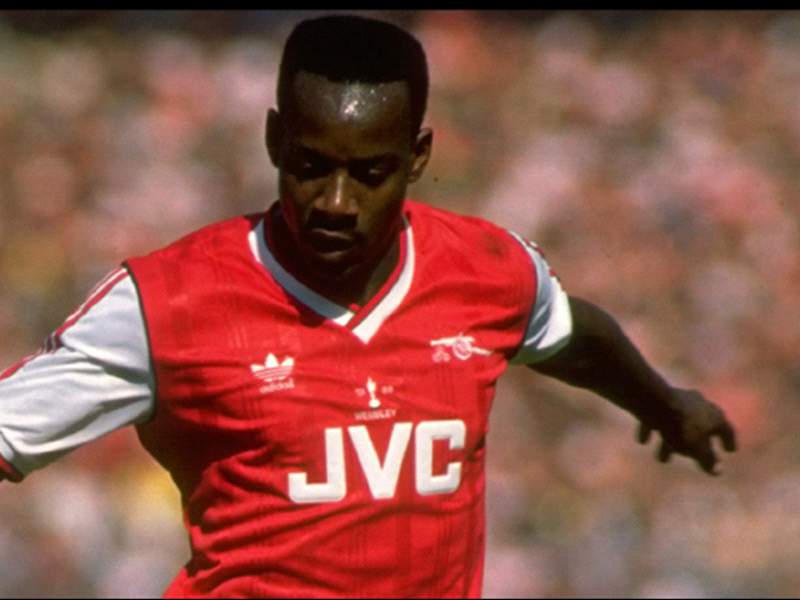 EXCLUSIVE
By Graham Lister and Rich Parry
This weekend
Arsenal
, still in contention for the Premier League title, and
Liverpool
, chasing European qualification, clash at the Emirates Stadium. There is plenty to play for - but the stakes are never likely to be as high again as they were on the last day of the 1988-89 season.
On Friday, May 26, 1989, the League Championship was decided in the most dramatic finale to any English top-flight campaign. The two leading teams, Liverpool - managed then as now by Kenny Dalglish - and Arsenal, met in the very last match of the season. Every other club had completed their programmes (this game had been postponed because of the Hillsborough tragedy six weeks earlier).
Liverpool, with a 24-match unbeaten run, had relentlessly closed a 19-point gap on the Gunners. Already FA Cup winners, the Reds had thrashed West Ham 5-1 in their penultimate match and were now three points ahead of Arsenal.
Uniquely, everything was still at stake for both teams in an all-or-nothing scenario. Anything better than a two-goal defeat for Liverpool and the title would be theirs; victory by two goals for Arsenal would deny the Reds the Double and make George Graham's Gunners champions by virtue of number of goals scored.
Yet Arsenal hadn't won at Anfield for 15 years. Liverpool hadn't lost there by a two-goal margin for three, and had only done so nine times in the previous 18 seasons. The momentum of recent results was with Liverpool, as was a tidal wave of emotion. Arsenal's chances of winning had been written off by everyone outside of Highbury.
But 4,000 Gooners made the trip north to Merseyside, as much in blind hope as expectation. The kick-off was delayed 10 minutes to allow the visitors to take their places in a corner opposite the Kop. It merely added to the tension.
The Arsenal players presented a £30,000 cheque to the Hillsborough disaster fund and came onto the pitch carrying bouquets of flowers which they handed to Liverpool supporters around the ground. Then the action got underway.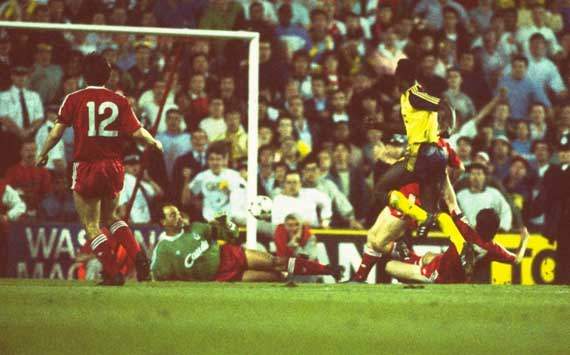 Two-nil to the Arsenal | Michael Thomas won the league with the last strike of the season
Talking exclusively to
Goal.com UK
Perry Groves
, one of Arsenal's heroes that night, takes up the story.
"It was a cup final where we were the unbelievable underdogs. There are not many cup finals where you go in two goals down basically. But having to win by two clear goals took the pressure off completely because nobody gave us a chance. And to be honest, not many of the players believed we could go and win by two clear goals. The only one who really 100 per cent believed we could was George Graham.
"He gave us our team-talk when we went in on the Wednesday, and said: 'I really fancy our chances'. The players looked at each other and thought 'Is he going mad?' He said, 'I've thought about the game, and we're going to play a sweeper', and a lot of people forget, we always played 4-4-2, that was our system, that was the way we trained. David O'Leary was brought in to play as the spare man at the back, and we all thought: 'He has gone mad, because we've got to go and win by two clear goals, but he's playing an extra defender.'
"At the time it didn't make sense, but it was tactical genius because his plan was to get in at half-time 0-0. 'If we concede the first goal we're finished,' he said. 'You ain't going to score three. It just doesn't happen [at Anfield]. But if we get in at half-time 0-0 we've won half the battle, and then we'll have a chat at half-time and I fancy us to nick a goal in the second half, and if we do then it's all about momentum, pressure gets to people. If we can score, the momentum will change and all the pressure then goes on Liverpool.'
"When we got into half-time 0-0, he was ecstatic, he said: 'Brilliant, keep nice and steady at the back, stay nice and calm, see if we can get [Paul] Merson and Smudger [Alan Smith] into the game, I fancy us strongly to get a goal. If we nick a goal it's game on. Trust me, they will start to panic and the nerves will set in.'
"George had said: 'If we go one goal up I can make some changes, take a defender off and we'll go 4-4-2 and put Martin Hayes on and then we'll put Perry Groves on and then we'll really go for it, the gloves are off then, we've got a great chance and I'll think we'll win it.'
"And Smudger scored in the 54th minute with his header, and I was on the bench watching it and you could actually see the tension in the game change completely. As soon as that goal went in the atmosphere in the stadium changed. Their fans thought 'hold on a minute, we could actually lose this'. They had top international players like Steve McMahon, John Barnes, Peter Beardsley, Ray Houghton, Alan Hansen; even they started to feel the tension and the pressure, and you could tell it in their faces," recalled Groves.
Liverpool were unnerved, but Arsenal needed another, and the minutes were ticking by.
Kevin Richardson put Michael Thomas through with only Bruce Grobbelaar to beat, but the midfielder's weak shot was straight at the 'keeper. It looked as though Arsenal would win the battle but lose the war.
With the Kop whistling for the end of the game - and the season - the Gunners launched their last attack. John Lukic gave the ball to Lee Dixon, who played a long pass to the tireless Smith some 30 yards from goal. Michael Thomas surged forward in the inside-right channel and Smith lobbed the ball perfectly into his path. According to the clock, 91 minutes and 26 seconds had been played.
Groves remembers: "They knew where the danger was because I'd made a run to the left, so I took the back four away, [and] left a massive hole.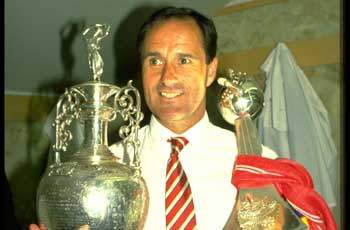 "Me, Merson and Bouldy sat in the dressing room afterwards with the championship trophy, and I said to both of them: 'Do you realise that everything he said came true?"

Perry Groves on George Graham
"You know when people tell you they were in the zone, it just seemed as if everything was in slow motion. I think Steve Nicol came sliding in, and it looked like he was going to tackle [Thomas], and for Tommo to wait and wait and wait for Grobbelaar to commit himself, and then flick it over him, I think it's the greatest Arsenal goal of all time.
"We got a standing ovation from the Kop, who had stayed there [after the final whistle] because I think they appreciated the way we'd gone about the game. We didn't go there and try and boot them off the park, and they're a very respectful crowd. They know good football.
"Me, Merson and Bouldy sat in the dressing room afterwards with the championship trophy, and I said to both of them: 'Do you realise that everything he [Graham] said came true?' He didn't say that we'd score in the 93rd minute, he got that bit wrong, so he wasn't as great as he thought he was! But he was incredible to be honest.
"And what was great for me was that I didn't have to pay to get in, I got to watch it for nothing, and being a massive Gooner, I had the best seat in the house and then get on the pitch for the last 15 minutes!"
What happened next to Arsenal's players that night...
JOHN LUKIC


Left Arsenal in 1990 when Graham signed David Seaman, once his understudy at Leeds United, and returned to Leeds where he won the title again in 1991-92, becoming one of a select few players to win championship medals with different teams. Rejoined Arsenal in 1996 as cover for Seaman and made the last of his 298 appearances for the Gunners just one month short of his 40th birthday. Retired in 2001 and now coaches part-time.
LEE DIXON

Went on to win three more league titles, three FA Cups and a European Cup Winners' Cup in a Gunners career spanning 14 years and 619 appearances. Retired after the 2002 FA Cup final and now works as a
BBC TV
football pundit, most notably on 'Match of the Day 2'. Dixon, a keen chef, has been involved in several restaurant businesses with his friend Heston Blumenthal, and owns the Riverside Brasserie in Bray.

NIGEL WINTERBURN

Made the last of his 584 Arsenal appearances in 2000 having won further league titles in 1991 and 1998. Left Highbury when Sylvinho displaced him in the Gunners' defence, and joined West Ham United where he gave good service for three seasons before retiring in 2003. He worked as defensive coach for Paul Ince at Blackburn Rovers until Ince was sacked and his successor Sam Allardyce relived Winterburn of his duties. Now works as a football pundit.
TONY ADAMS


Mr Arsenal is the Gunners' most successful ever captain, leading them to the title in three different decades and lifting nine major trophies for his only club. Admitted to and overcame alcoholism, which he graphically described in '
Addicted
', his acclaimed autobiography, and founded the Sporting Chance clinic for fellow addicts. After 669 games for Arsenal he managed Wycombe Wanderers and Portsmouth and is now managing Gabala in the Azerbaijan Premier League, a challenge he sees as a unique opportunity to build a successful club from scratch, away from the intense and unforgiving glare of the British media spotlight.

STEVE BOULD

Won two more league titles plus FA Cup and European Cup Winners' Cup medals with Arsenal before joining Sunderland for the 1999-2000 season, his last before problems with arthritis forced him to retire in September 2000. Then obtained his coaching badges and in June 2001 moved back to Arsenal to coach the youth teams. Is currently head coach of Arsenal's U18 Academy side, whom he led to the Premier Academy League title in 2008-09 and 2009-10, as well as the FA Youth Cup in 2008-09.

DAVID O'LEARY

His 722 first-team appearances for Arsenal remains a club record, but when he left Highbury in 1993 on a free transfer to Leeds United, he managed only 14 games for them after suffering an Achilles injury and retired in September 1995 aged 37. Became George Graham's assistant at Leeds in 1996 and was appointed manager two years later when Graham joined Tottenham. Leeds never finished outside the top six under O'Leary, who steered them to the Champions League semi-finals in 2001, but was sacked in 2002 as the club entered financial melt-down. Became Aston Villa manager in 2003 for three seasons. Sacked in 2006, he tried to resurrect his career in the UAE with Al-Ahli Dubai, but earlier this month it was reported that he was on the verge of being dismissed just nine months into a three-year contract, following a run of poor results.
MICHAEL THOMAS

Anfield '89 was the pinnacle of his career although he won another league title in 1991 and scored in the 1992 FA Cup final, ironically for Liverpool, whom he'd joined five months earlier after falling out with Graham. After various injuries he became a squad player at Anfield and had spells with Middlesbrough (on loan), Benfica and Wimbledon before retiring in May 2001. Then set up his own security service and still plays for the Liverpool legends side.
DAVID ROCASTLE


Won another league title with Arsenal in 1991 before Graham sold him to Leeds in summer 1992 - a decision that shocked and dismayed both Rocastle and most Arsenal fans. Neither at Leeds nor in subsequent spells with Manchester City, Chelsea, Norwich, Hull or Sabah did he recapture the form that had earned him 277 appearances for the Gunners - not least because of a succession of injuries. In February 2001, it was revealed that he was suffering from non-Hodgkin's lymphoma, an aggressive form of cancer that attacks the immune system. He died on March 31 2001, aged just 33.
KEVIN RICHARDSON
He'd already won the league title with Everton but played only one more season at Arsenal, moving to Real Sociedad in 1990. Then had spells with Aston Villa, Coventry City, Southampton, Barnsley and Blackpool before retiring in 2000. Took up coaching and worked for Sunderland, Stockport County and Newcastle. Became Steve Staunton's assistant manager at Darlington in October 2009 but left when Staunton was sacked in March last year.
ALAN SMITH

Top-scored for Arsenal again when they won the title in 1991, and hit the winner in the 1994 European Cup Winners' Cup final against Parma. Made 347 appearances for the Gunners, scoring 115 goals, before injury forced his retirement in 1995. Became a football journalist and is also a co-commentator and analyst for
Sky Sports.

PAUL MERSON

Won four more major honours with Arsenal before revealing alcohol, drug and gambling addictions in 1994. After rehab he successfully resumed his career and when he left Arsenal for Middlesbrough in 1997 he'd made 425 appearances for the club and scored 99 goals. Joined Aston Villa after Boro, then Portsmouth and Walsall, whom he also managed. Sacked by Wallsall in 2006, he became a football pundit and appears regularly on
Sky Sports
. Is a patron of Tony Adams' Sporting Chance charitable foundation.

MARTIN HAYES

Having played 132 games for Arsenal (34 goals), Hayes joined Celtic in September 1990 but was never a regular and joined Swansea City in 1993. Then had spells with a clutch of non-league clubs, including Bishop's Stortford, whom he managed from 1999 to 2008. Now managing Dover Athletic, who are currently lying sixth in the Conference South (level six).
PERRY GROVES

George Graham's first signing for Arsenal became a Highbury cult hero and made 203 appearances for the club (28 goals) before moving to Southampton in 1992 with two league championship winner's medals to his name. However, he only managed 15 games for Saints as two serious Achilles injuries forced his retirement from the professional game at the age of 28. He wrote a highly successful autobiography, plays for Arsenal in the London Masters, and is a regular on
BBC Radio Five Live
's show 'Kicking off' on Friday evenings alongside Colin Murray.