COMMENT
By
Greg Stobart
at The Hawthorns
The only thing missing from the banner unfurled in the
Liverpool
end before the game was a sarcastic smirk.
"Thanks for the grey hair, Roy" it read in reference to Roy Hodgson's doomed 191-day spell as Liverpool manager during which he could never win over the fans or emerge from the shadow of Kenny Dalglish.
In his time at Anfield, Hodgson was mocked as "small time" and derided for his negative tactics as every poor performance or result was met with a clamour for the former Fulham boss to be replaced by Dalglish, a Kop hero.
Dalglish, after all, had made no secret of his desire to take over following Rafael Benitez's departure last summer, and Hodgson always felt that he was fighting a losing battle with the Reds fans.
Hodgson was keen to downplay any talk of revenge at the Hawthorns on Saturday, but he would surely have felt that a point was proved as his West Brom side secured a crucial 2-1 victory over the club that sacked him in January.
"There is no extra pleasure that it was against Liverpool," insisted the 63-year-old after watching the Baggies climb to 12th in the Premier League.
It was hard to believe that he did not take some added satisfaction from watching West Brom thoroughly outplay Liverpool, from shoving the abuse he has received from Liverpool fans back down their throats.
Yet in reality, both Hodgson and Liverpool are in better positions following the split.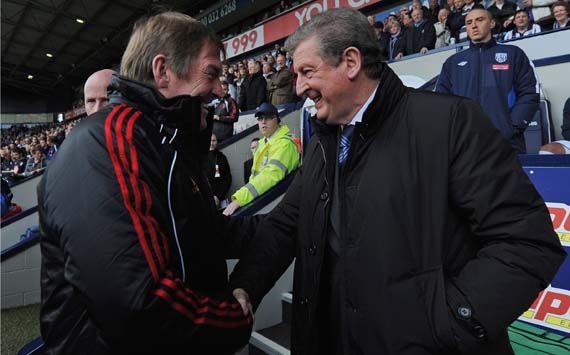 Friendly fire | Hodgson and Dalglish share an enthusiastic handshake before kick-off
Hodgson is now at a club where he is wanted and respected, where he will be given an opportunity to replicate his achievements in his two-and-a-half years at Fulham, where the likes of Paul Konchesky and Christian Poulsen would be considered decent signings.
Liverpool are also progressing with Dalglish at the helm, a uniting force more in tune with the ambitions of the club and more immune from criticism.
ROY'S REWARD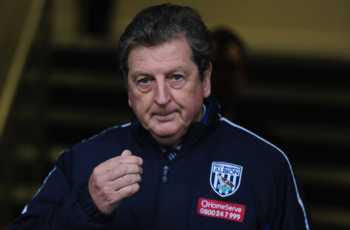 "It was hard to believe that he did not take some added satisfaction from watching West Brom thoroughly outplay Liverpool, from shoving the abuse he has received from Liverpool fans back down their throats"
The Scot has taken Liverpool from relegation candidates to European challengers, but Saturday's defeat could have put those hopes to rest. The Reds are five points behind Tottenham with seven matches remaining having played one game more than Harry Redknapp's side.
Hodgson still believes he would have been a success at Anfield but now he is working in an environment at West Brom where the expectations are more familiar and the crowd are already chanting his name after seeing an immediate upturn in performances and results.
Gone is the gaunt and trodden expression that he wore so often at Liverpool and back is the enthusiastic football man who many wanted to replace Fabio Capello as England manager last summer.
Perhaps Hodgson is more suited to smaller clubs where he does not suffer from such a weight of expectation or scrutiny from both supporters and the media.
Or maybe Hodgson and Liverpool were simply the wrong match for each other at a terribly difficult time in the club's history.
Whatever the reasoning, the Baggies players are responding to Hodgson's training methods and tactics far more positively than did those of Liverpool.
West Brom were organised at the back, comfortable in possession and played with pace and aggression as they swarmed all over the Merseysiders.
What West Brom also have is team spirit, and it was needed as they recovered from Martin Skrtel's 50th minute opener – a header against the run of play – to take all three points.
They did so thanks to two penalties from Chris Brunt, both won by the excellent Peter Odemwingie, who was hauled down by Sotirios Kyrgiakos for the first spot-kick and then Pepe Reina to allow Brunt to slam home a dramatic winner two minutes from time.
But for an outstanding performance from Reina in the Liverpool goal, West Brom could have scored four of five as Odemwingie and Jerome Thomas terrorised the visitors with their speed and movement.
While Kyrgiakos and Jamie Carragher creaked under the West Brom pressure, Andy Carroll threatened to run a hole into the ground up front with his lack of movement. The £35 million man was clearly off the pace and struggled to make an impact alongside Luis Suarez, who was by far Liverpool's best player with his trickery and ideas in the final third.
The Uruguayan striker almost made it 2-2 with virtually the last kick of the game as his wonderful lob in the fifth minute of stoppage time was cleared on the goal-line by Nicky Shorey.
The final whistle blew seconds later. The afternoon belonged to Hodgson. If West Brom avoid relegation this season, their fans will be thanking him for a lot more than his hair.
Follow Greg Stobart on