COMMENT
By
Wayne Veysey
at Stamford Bridge
One is the brilliant finisher whose class and composure in the penalty box is matched by his excellence outside it. The other is
Fernando Torres
.
The sight of David Luiz producing an outrageous piece of skill is becoming as common at Chelsea as Torres looking forlornly at the touchline to see his No.9 being held aloft.
The irony of the Premier League new boy completely outshining the global icon during their first seven weeks in London will probably not have been lost on Roman Abramovich, watching from his private box at Stamford Bridge on Sunday.
His thoughts can be gauged only from his actions and not his words, as he never speaks publicly, but there was a rueful look to the Chelsea owner when the camera panned on him following Torres' 71st minute substitution.
Having shelled out £50 million for what Abramovich would have reckoned to have been the complete article, particularly following a mini renaissance under Kenny Dalglish in January, Torres has reverted to the hesitant figure whose first touch is like a misplaced pass and whose speed across the first 10 yards seems half of what it was 12 months ago.
It is not as if he did not try against a Manchester City rearguard that is a tough nut to crack under Roberto Mancini's cautious regime. When Torres was hooked with the scores still level, he was given a standing ovation. There were even jeers from some at his premature removal from the action.
Yet Torres has been the beneficiary of faith from Carlo Ancelotti that is starting to look unwarranted. Abramovich's rouble outlay might be swaying the Italian's decision-making but the cold, hard facts are these.
In seven games - six of which he has started - for Chelsea, Torres has not scored or created a goal. In six Premier League matches for his new club, he has had only one shot on target, a fine reflex save by Pepe Reina against Liverpool on his debut. In four of his six starts, he has been substituted.
The brilliant striker who, at various times during his three-and-a-half-year spell on Merseyside, looked the best centre-forward on the planet now has a fight on his hands to be much more than an impact substitute for the rest of a season that still offers tantalising possibilities for his new club. How did it come to this, might think Torres. His Russian pay-master might think the same.
Chelsea were energised by the dual arrival of Didier Drogba and Nicolas Anelka against City. Neither has been at their best since Torres signed his name on Chelsea headed paper but both have offered far more threat inside and outside the box than their new team-mate.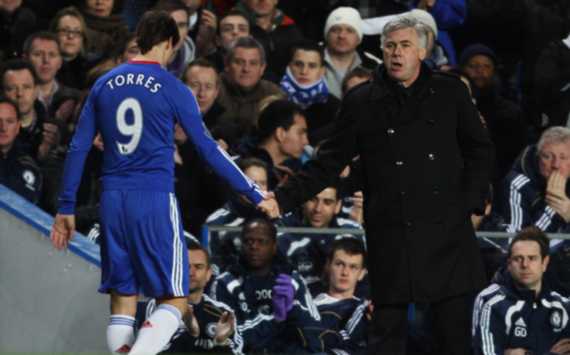 Feeling blue | Torres has been subbed by Ancelotti in four of his six starts for Chelsea
Torres is trying to compensate for his miserable form by drifting into wide areas but he doesn't possess the invention to conjure regular opportunities for colleagues and the end result is he is rarely taking up positions in the area, where he is at his most effective. It is an indictment of his situation that Kalou looks a more dynamic presence up front.
The X-factor that Torres was supposed to bring to Chelsea is being delivered instead by the riveting Luiz.
For the second consecutive home game, the Brazilian, four years younger and £29m cheaper than Torres, lifted the Bridge off its feet with a consummate piece of finishing.
He added to his majestic volleyed equaliser against Manchester United in Chelsea's last Premier League home fixture with a powerful and unerring header that undid City's massed defensive ranks.
But it was not just for his game-changing abilities that the home supporters chanted 'Luiz, Luiz' at the final whistle. They have merely been mouth-watering desserts following delicious appetisers and main courses.
In four-and-a-bit games since his switch from Benfica (sadly the Brazilian is ineligible for the Champions League), he has brought a swagger and majesty to Chelsea which has been the missing piece of the jigsaw for the majority of the serial-winning Abramovich era.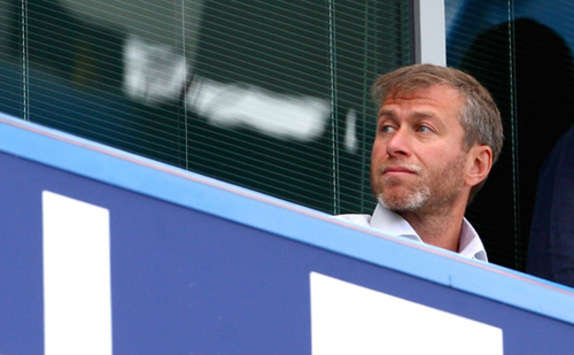 Russian roulette | Abramovich gambled £71m on Torres and Luiz on transfer deadline day
Rarely can a centre-back in modern times have been such an asset in attack. One can think of Ronald Koeman and his countryman Lucio on the European stage and, Premier League-wise, the ebullient but brittle Philippe Albert at Newcastle United.
Luiz's divine passes above and along the ground, forward bursts and outrageous pieces of skill, such as the bicycle kick on his full debut against Fulham, all have the hallmark of the footballer raised in Brazil.
Even the rawness to his defending, which was exposed considerably more by Manchester United than their 'noisy' neighbours, only makes him even more engrossing to watch. He was lucky to escape a red card in that tumultuous clash against the league leaders at the start of the month but he is also racking up a healthy share of perfectly timed interceptions.
The man known in Lisbon as Sideshow Bob from The Simpsons for his spaghetti curls has swiftly become the main event at Chelsea.
Only perhaps Arjen Robben, when fit and in the mood, has offered such a capacity for the unexpected during Abramovich's reign.
This is not to say that, by comparison, Torres is a busted flush. That is nonsense. But the Spaniard's travails cannot be dismissed simply as a blip or even new club blues.
He will doubtless soon ease past Luiz on the list of leading scorers at Chelsea. If he gets enough minutes on the pitch, that is. It would not be a surprise if Drogba ends the season where he began it as the main man up front.
It is seven weeks to the day since the football world was given notice that Abramovich has lost none of his desire to own the most successful club in the world.
For the two signings who are the emblems of his ambition, the mood could not be more different.
Follow Wayne Veysey on