Few people would have expected
Feyenoord
to challenge for the
Eredivisie
title this term following the departure of several experienced players in the summer of 2010. However, even fewer people would have predicted that the fallen Rotterdam giants would be battling against relegation in the 2010-11 season. Yet that's exactly how the situation is for Feyenoord at the moment.
But there's reason for optimism again following the Stadionclub's good performances in the past couple of weeks. Feyenoord have collected eight points from their last four games and have climbed to joint 12th spot in the table.
Ryo Miyaichi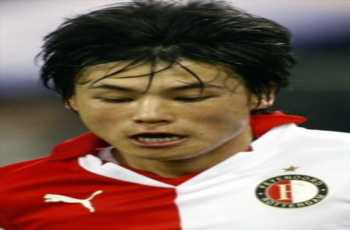 Position:
winger
Date of Birth:
14 Dec 1992 (18)
Place of Birth:
Okazaki, Aichi, Japan
Height:
183cm
Nationality:
Japan
One of the main reasons behind their revival is a player who only had high school experience until earlier this year. The signing of Ryo Miyaichi from Arsenal on a six-month loan deal went a bit under the radar on deadline day of the winter transfer window because Feyenoord also signed more experienced players such as Marcel Meeuwis and Soren Larsen. Nevertheless, the starlet is the player who has impressed most since February and Miyaichi has quickly become a fans' favourite in De Kuip.
The 18-year-old made his debut in the away match against Vitesse on February 6 and Miyaichi put in a good shift to help Feyenoord to a 1-1 draw in Arnhem. Only one week later, the Japan under-20 star scored his first Eredivisie goal to guide Feyenoord to a 2-1 home win over fellow relegation candidates Heracles. Miyaichi superbly controlled a cross from the right, went past his direct opponent and found the net with a left-footed shot to show what he's capable of.
Miyaichi then had a relatively quiet game against ADO Den Haag, but still went past his marker several times. His direct opponent Ahmed Ammi wasn't taken in by the winger's wizardry and tried to end Miyaichi's game with a rough body check halfway the second half. Nevertheless, the Arsenal loanee proved to be mentally strong as he got to his feet, gave Ammi a smile, and went on as if nothing had happened.
His best performance to date came in the 5-1 home win over the Eredivisie's number four, Groningen, last Sunday. Miyaichi went past Groningen and Netherlands under-21 full-back Maikel Kieftenbeld time and time again and set up Georginio Wijnaldum for Feyenoord's second goal of the game before winning the spot kick that gave his team a 3-1 lead.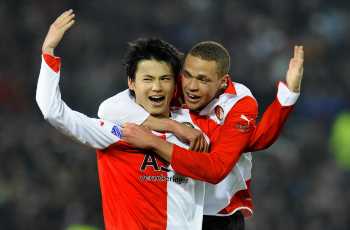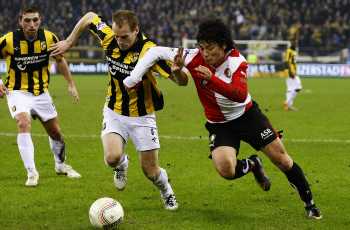 Miyaichi | giving Feyenoord reasons to cheer again
"This wasn't a pleasant experience. I didn't put in a good performance and allowed Miyaichi too much space to cross. I really struggled against him. He's very strong with both feet and that makes it difficult to defend [against] him. Additionally, his acceleration is quite impressive. I was pretty sure I hadn't touched him for the spot kick until I saw the replay later on. Everything goes at an incredible pace with him," commented Kieftenbeld on Miyaichi's performance.
Obviously, it wouldn't be fair to the other Feyenoord players to put their resurgence all down to the arrival of Miyaichi. However, the tricky winger's influence is clear to see for everyone.
Miyaichi's enthusiasm has really inspired the players around him and fellow attackers Luc Castaignos, Georginio Wijnaldum and Diego Biseswar have all flourished since the arrival of the Arsenal-owned winger. Castaignos has netted three goals in his past four outings, Wijnaldum has scored four times, while Biseswar has added his name to the score sheet once and set up three more goals.
Arsenal will be happily monitoring the player's development as their decision to ship Miyaichi out on loan to Feyenoord is clearly paying off. The Japanese is not only getting accustomed to a style of play similar to Arsenal's, but he's also gaining valuable first team experience. Additionally, Miyaichi is quickly learning English in the Netherlands and he shouldn't have too many problems adapting to his new surroundings once he moves to London.
It might still be a while before the Arsenal fans will get the chance to see Miyaichi live in action at the Emirates because of the strict work permit rules in the UK. However, it's only a matter of time before Miyaichi makes his Japan debut and a berth in Arsenal's squad should follow after.