EXCLUSIVE
By
James Daly
Gary Caldwell
believes
Wayne Rooney
should have been sent off for an elbow on
James McCarthy
and that the
Manchester United
forward would have seen red had his
Wigan
team-mate been a bit "cuter" in his reaction.
Referee Mark Clattenburg missed a wild arm from Rooney on the head of McCarthy seven minutes into Saturday's clash, but the young midfielder's mystified reaction - walking away rubbing his head - was too honest, believes his captain.
"James is an honest lad and a young lad learning the game and I think it's great respect to him that he showed that honesty," Caldwell said.
"I think it was just James being young and honest and brave - that he took [the elbow] and didn't react but I think any footballer would tell you that if things like that happen you have to be cute and know how to react to the situation," he added.
"I think if he had gone down heavy then the ref might have taken a different view on it."
Rooney escaped an FA ban on Monday despite replays appearing to show him lean into the young Scot with his elbow, and while Caldwell is convinced it should have been a red card, he revealed his side are not upset about a lack of action against the England striker.
"I think we were disappointed at the time," he said. "I didn't actually see the incident, but obviously James felt the elbow on the back of his head. That was the time I think we would rather the action be taken against [Rooney] because I think anyone who's seen it could see it was a red card.
"But it didn't get taken, so we as a football club don't want to see Wayne Rooney missing any football matches."
And the Latics can do Rooney's side a huge favour if they can get a result against Manchester City on Saturday, effectively ending the third-placed side's title ambitions, but Caldwell isn't bothered about life at the top, preferring to concentrate on his side's strive to avoid the drop.
"We don't really care who wins the title to be honest; we have to control what we do as a football club and at this moment in time it is getting safety in this division," he said.
"Whoever wins the title; good luck to them. They'll have done really well but it's got no difference to us, we're only concerned with what we do."
And the former Celtic defender believes his team have every chance of getting results from a hard run of games, that also sees them face Chelsea, Tottenham and newly crowned League Cup winners Birmingham.
He said: "Yes we do [believe we can beat City]. We did it last year when we beat Arsenal late on when they were still going for the title in a great game that we won 3-2 at the DW Stadium.
"We go into every game trying to win it, that's the style the manager preaches to us and that's what we try and do. Obviously this year we've struggled at times and we're down the bottom of the league at the minute but we've still got great belief in the changing room that we can get the points to get out of this."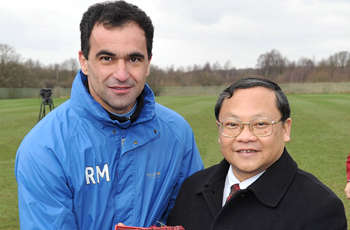 Roberto Martinez meets 188Cup winners Nanning Yashida
Caldwell was speaking on the same day Chinese side Nanning Yashida visited Wigan's training ground after winning the 188Cup - where 96 teams from Asia took part for the chance to visit a Premier League team - and Caldwell believes it could lead to a few new signings.
"Everyone's got to start somewhere, and you can unearth a gem here and there if you work hard and look for it. Players for China are getting better all the time and the opportunities for them to come here are coming along a lot more often, so you never know, but a Chinese player could play for Wigan in the future." he added.
Wigan are currently bottom of the Premier League, but are only two points off West Brom in 17th place.

Gary Caldwell was speaking on behalf of 188BET, principal sponsor of Wigan Athletic. For more information on the 188CUP please visit http://en.188cup.com/ and to get a free £25 bet go to www.188bet.com.