Funny thing, luck. My granddad could have been taken to Maine Road in the 30s – not beyond the realms of possibility, given that Jewish Manchester, like the rest of the city, wasn't quite as dominantly Red as it is now – and then where would I be? Ill fortune of that ilk hardly evens itself out over the course of a lifetime.
Except it's not really luck, is it, because our family's Red, not Blue, and there's a difference.
Whenever I consider this point, I think of seminal 80s movie
Twins
, and the moment at which the failed experiment to create a Superman is revealed to Danny DeVito's character: "All the purity and strength went into Julius. All the crap that was left over went into what you see in the mirror every morning."
The brothers may have come from the same place, but that's where the similarity ends. Handily, one of United's terrace tunes explains things in more bespoke detail: "You think that your moustache is trendy, you think your Kicker boots are too. With your Kangol and your fleece, Ben Sherman on for weeks, we know that you're a f****** Blue".
Yes, you really can pick them – if ever you're in Manchester, try it out. In the last few months, work has actually forced me to on more than a few occasions, and though there are occasional anomalies, the formula hardly ever fails – the folk I least wanted to be were almost always Blues.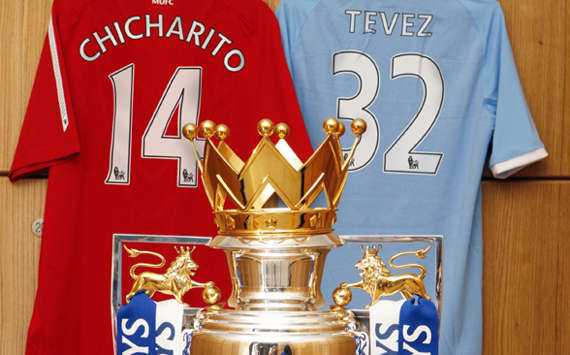 Glory hunters | City have joined United in the pursuit of football's top domestic prize
Because we're different from each other, how we feel about each other is different. United's status and supremacy has seen us develop similarly poisonous rivalries with Liverpool and Leeds, and the pursuit of trophies has occupied minds too, as has the fight to protect the club from various immoral owners – City are but one of several targets for our hatred.
They – the spotty ginger fat kid with a huge library of pornography, forced to watch from the window as his hunky neighbour gets it on with everything in sight – on the other hand have nurtured a festering, obsessive bitterness towards United and the unfairness of it all. Hell, there's even a book entitled
Manchester United Ruined My Life
. They characterise themselves in opposition to us, our identity defines them. Everything they do, we do better.
In 1968, City won the title, but then two-and-a-half weeks later United become the first English team to win the European Cup. They spent the final months of 80s and early 90s banging on about 5-1, until we went and clattered them 5-0. On the last day of 1995-96, they wasted time at Maine Road, thinking that a draw would keep them up, while United beat Middlesbrough to clinch yet another title. In 1998-99, United secured the treble, yet City claimed it was overshadowed by their win in the Second Division playoff final. Their miniscule support wave inflatable bananas, United's throngs flares and sharp, pithy banners.
Put like that, it's easy to understand their desperation. But even so, the shameless, oblivious, humiliating way they embraced friendly Dr Thaksin Shinawatra went way beyond anything I could have predicted, as did the toadying, fawning, tea-towel wearing, utterly un-Manc welcome given to Abu Dhabi.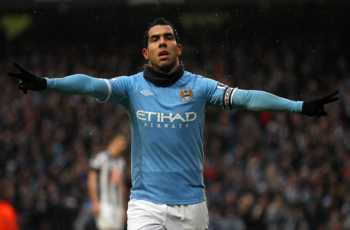 "Carlos Tevez played for United but never for a second was he a Red. City are welcome to him..."
But hey, what are a few human rights violations compared to beating the Munichs? Yes, the Munichs. Shorn of any other material with which to taunt us, they're reduced to crowing over an aircrash that claimed the life of Frank Swift, perhaps their finest ever goalkeeper, and almost killed Matt Busby, who served them with similar distinction.
And at the same time, they're afflicted by a paranoid sensitivity typical of those who glory in the tragedies of others; their most obvious comparators here are Liverpool, apt given the plethora of scousers who've worn laser blue during the last 30 years.
Don't believe me? Ask any of the hacks on the Manchester beat how much hassle they get from the respective sets of fans. Generally speaking, you'll discover that United stroll on regardless of what they write, while City react with fury at the barest notion of negativity – most recently when the
News of the World
had the temerity to report Carlos Tevez's transfer request.
Ah, Tevez. Yes, he played for United, but never for a second was he a Red. As such, they're as welcome to him as they are to all the other mercenaries who – were it not for the gift of money they could never hope to generate via support, success, style and cachet – would have laughed had someone suggested they join City.
And how not to love the 'Welcome to Manchester' poster Tevez prompted – only City could pick an image of him celebrating the goal that virtually sealed yet another United title triumph, d'oh! The Abu Dhabi money that paid for Tevez, while an affront to the integrity of the game, has, at the same time, made things slightly more interesting. In a sense it's a gift for us – should City eventually win something, then so what? It means nothing.
But the competition has also added a welcome edge, and most importantly of all, it's demanded that Fergie take the derby as seriously as we do. In the last decade, his lack of arsedness was a major aggravation.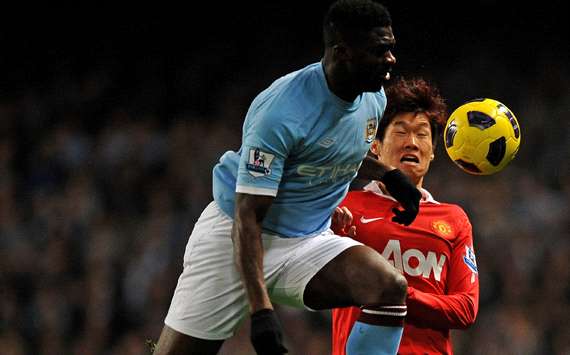 Demolition derby | City's resurgence has meant United take the fixture more seriously
Finally, let's quickly nail the myth that City have more fans in Manchester than United, empirically disproved by Dr Adam Brown's
study
, and also circumstantially, by the fullness of Old Trafford during the fuel crisis. Meanwhile, their fans continue singing "we're not really here", without a hint of irony, in a stadium half-empty despite the huge discounts and bountiful freebies available.
In an effort to ingratiate himself, Edin Dzeko recently commented that most locals were City fans, before immediately discussing his new club's pursuit of "Manchester". Such is Bluemonia, if the role wasn't already taken, they'd be their own worst enemy. In that context, the game hardly matters, except, of course, that it does. But ultimately, win, lose or draw, nothing changes. We'll still be Red, they'll still be Blue, and there's simply no coming back from that – not even when Lake's fit again.
Daniel's book, 'On The Road, a journey through a season' is available now here and here, and you can follow him on Twitter here.