COMMENT
By
Tom Bellwood
Eyes flaring, hands grasped around the bottom of his shirt,
Gary Neville
looked like a man possessed as he celebrated a late winner for
Manchester United
against
Liverpool
.
Granted, the injury-time winner in January 2006 was against the old north-west enemy, but was there any other player on the pitch who would have celebrated in such a manner?
Someone who loved the club and had represented United's winning mentality as they dominated English football over the last 20 years?
Neville, 35, has always divided opinion. A spiky, belligerent bundle of energy, as fearless, intelligent and outspoken in equal measures and never one to take a backward step.
In an emotional statement, Neville announced his retirement on Wednesday: "I have been a Manchester United fan all my life and fulfilled every dream I've ever had.
"There have been so many great players that I have had the privilege to train and play along side. The experiences we've shared will be with me for the rest of my life."
Experiences picked up as he collected eight league titles, a Champions League medal, three FA Cups and two League Cups. The phrase 'Reds legend' was made for the likes of the boy from Bury, but the die was cast early in his playing days at Old Trafford.
Neville was famously part of the team which won the FA Youth Cup in 1992. A side blessed with the talents of David Beckham, Nicky Butt, Ryan Giggs, Keith Gillespie, Paul Scholes and Robbie Savage.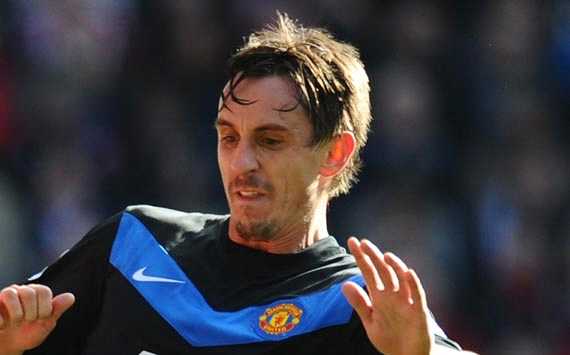 Fierce competitor | Gary Neville never shied away from a confrontation
That clutch of young stars formed the spine of the side which returned United to the top of the game in England and Neville, though not the most talented of the group, came to epitomise the success, the glory, the hard work.
Neville would admit he was never the most technically gifted of players, his application, mental strength and attitude made up for what he lacked in ability on the pitch.
Example: His transformation from cautious defender to flying full-back, able to deliver pin-point crosses came from studying Beckham's technique in front of him for so many years.
He made his debut in an innocuous Uefa Cup draw with Torpedo Moscow in September 1992 and by 1994 had established himself as the club's right-back, a permanent feature until injury struck him down later in his career.
Two years later Neville helped United to their first Double, he was a regular at Euro '96 and three years after that there was that oh-so memorable night at the Nou Camp when United completed their famous Treble.
If United scooping their second and third consecutive titles in 2000 and 2001 were the high, a metatarsal injury which ruled him out of the 2002 World Cup must be one of his lowest lows.
But one event in 2003 came to define his character to those outside the game. His outrage at the treatment dished out to team-mate Rio Ferdinand, who was banned for eight months after missing a drugs test, led him to ask his fellow professionals to boycott the game.
Testament to the esteem with which he was held in the game, it very nearly happened.
GARY NEVILLE | Career stats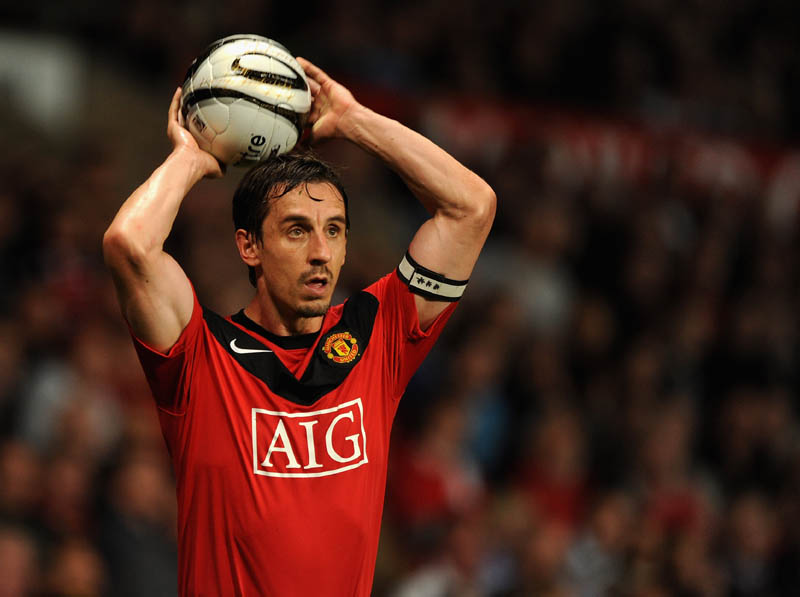 Born: February 18, 1975
Debut: v Torpedo Moscow, Sep 1992
Appearances: 602
Goals: 7
England caps: 85
Honours:
Champions League: 1999
Premier League: 1996, 1997, 1999, 2000, 2001, 2003, 2007, 2009
FA Cup: 1996, 1999, 2004
League Cup: 2006, 2010
By now Neville was the senior statesman in the Old Trafford changing rooms, the obvious replacement as captain following Roy Keane's exit. He was the player others went to for advice, particularly those just starting out under Fergie.
On Neville's announcement, Sir Alex eulogised: "His fantastic career at Old Trafford has cemented his place in the affection of the club's supporters. All the young players who have sought his advice, particularly on contract issues, owe him a great debt."
He picked up his first trophy as captain in 2006, the League Cup following victory over Wigan, the same year he received a £5,000 fine and warned about his future conduct by the FA following his wild celebrations at Rio Ferdinand's injury-time winner against Liverpool.
The following season he made 24 league appearances as United lifted the Premier League crown for the first time in four years but a combination of ankle and groin injuries ruled him out of the subsequent campaign, meaning he was unable to pick up another Champions League medal - his influence on the field was never the same.
So, what now for Neville? The Sky's the limit. Neville seems perfectly primed and able for a life in the pundit's chair, or could he fill the Ole Gunnar Solskjaer-shaped hole in the backroom staff at Old Trafford?
As he admitted on his departure: "I am looking forward to new experiences and the club will always be a part of my life going forward."