COMMENT

By
Greg Stobart
at Old Trafford
Wayne Rooney
rediscovered his scoring touch with two goals in
Manchester United
's 3-1 win over
Aston Villa
and produced a performance so good it was like the club had signed a completely new player.
Not for the first time this season, the England striker's display – which took his Premier League tally for the season up to four – will be seen as evidence that the 'old' Rooney is back for good.
But the real hero at Old Trafford on Tuesday night was the man who has not once let his standards drop this season, the man who has emerged as a true leader and an inspiration to his team-mates.
Nemanja Vidic is, on current form, the best central defender in the world, a colossus at the heart of the United defence, a born winner who can be relied upon when his side need him the most.
Last month, he produced the best defensive performance of the season at Tottenham to earn Sir Alex Ferguson's side a goalless draw despite being down to 10 men following Rafael Da Silva's dismissal for two yellow cards. Vidic responded to the call, made sure his team-mate's error was not punished to maximum effect and that United still kept a clean sheet.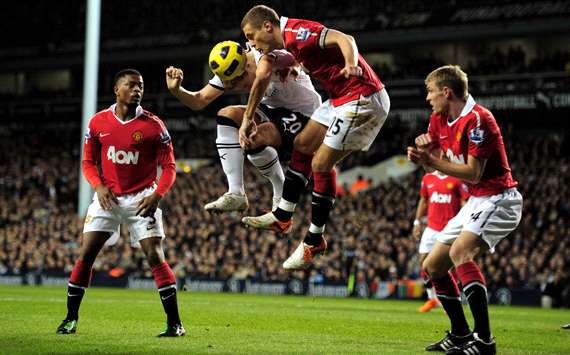 Rock at the back | Vidic among world's best defenders
Here, moments after Aston Villa had dragged themselves back into the game through Darren Bent's strike, Vidic curled home a beauty that Red Devils strikers Rooney and Dimitar Berbatov – over £50 million worth of striking talent – would have been proud of. With four league goals so far this season, Vidic's return at the top end of the pitch has matched that of Rooney, his £250,000-a-week colleague.
As United stretched their unbeaten run to a club record 29 league games, the Serbian defender was the driving force, the talismanic captain, Old Trafford's answer to John Terry but even more exceptional at his day job.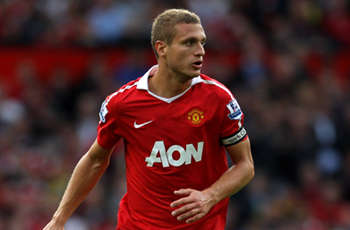 "Vidic is, on current form, the best central defender in the world, a colossus at the heart of the United defence, a born winner who can be relied upon when his side need him"
Vidic, 29, was appointed as team captain by Ferguson at the start of the season ahead of club captain Gary Neville and England skipper Rio Ferdinand, who had been wearing the armband before injury troubles last term convinced Ferguson to change his mind.
Ryan Giggs, Edwin van der Sar and Patrice Evra have all also captained United but – in this team full of leaders – Vidic is the one who looks and acts like the most natural captain.
His character and performance levels this season have been so impressive that United supporters can be forgiven for forgetting that he was unsettled in the summer, that he dislikes the weather in the north-west and has considered a move abroad on more than one occasion.
But he signed a new four-year deal last August – and you have to wonder whether he was promised the captaincy to stay at the club. He now conducts himself like the archetypal leader of a top English football team – but with the ability to match the hyperbole that surrounds such a status at a big club.
Vidic and Ferdinand are perfectly suited to each other, a wonderful partnership that has been almost indomitable at Old Trafford this season, where United have conceded just eight times in 12 home games.
The Red Devils are five points clear at the top of the Premier League and their performance against Aston Villa suggested they are ready to really hit their straps and stride away from their challengers in the coming weeks.
But they wouldn't be where they are if it wasn't for Vidic. All the talk will be about whether they can now go on a run of form – but the most important player for United remains Vidic. Their captain, their leader and a man who you feel could stay at the club for many, many years to come.