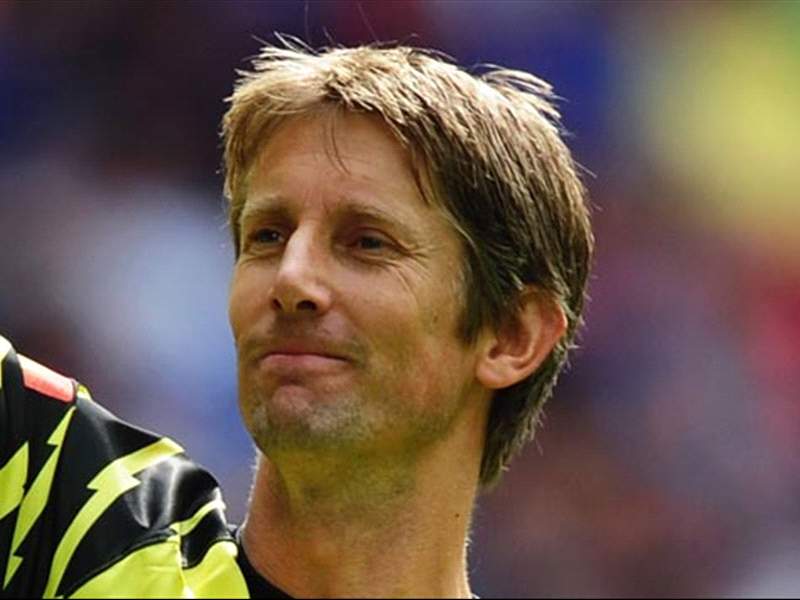 Manchester United
goalkeeper
Edwin van der Sar
has conceded that he intends to hang up his gloves at the end of the season.
The 40-year-old joined the Red Devils in 2005 and swiftly established himself as an integral piece of the club's starting line-up, with manager Sir Alex Ferguson once saying that the Dutchman has been the best United goalkeeper since Peter Schmeichel.
"I cannot really identify a time when that happened [made my decision to retire]," van der Sar is quoted as saying by his management agency's website.
"Let's just say that it was playing [on my mind] from the moment Anne [Van der Sar's wife] had her stroke last year.
"She has fought back from it pretty well, we decided on another year in England and thus to stay at Manchester United. But once engaged in the season, I began thinking of saying goodbye to game a bit more emphatically."
Despite being 40, the veteran shot-stopper insists that his advanced years had no bearing on his decision to call time on his career.
"My age played no role," said the former Ajax 'keeper. "I am 40 years, but I still feel fit. And yet that decision is suddenly made.
"Do not ask me how or why, but suddenly you know. That was sufficient. That the time has come to spend more time with my family, although, they have never complained. Everyone in the family has always had to focus on me, but all together we have also had a lot in return.''
With only a few months left before his career as a professional footballer comes to a stop, van der Sar said: "I realise that only now, it's really short when I think about it. But for the past month I was not consciously doing so.
"The idea of 'this is the last time I'm on the field', maybe I'll starting thinking about it from now on. The truth is out, I'm kind of curious how I am going feel."
With this campaign being his swansong, the Dutchman hopes that winning the Premier League would be a "wonderful reward" for his efforts.
Meanwhile, he also insists that there are no definite plans concerning his professional life beyond the end of the season, and hopes to bow out at the top with a Premier League trophy.
"That would be a wonderful reward," he said.
"I have no definite plans for the future. I expect something in the same way [working within football]. But I'm sure it will be nice to think about it later with my wife and children during next season when I have weekend's off."
When asked about his greatest moment in a United shirt, van der Sar said: "My penalty save from the 2008 Champions League final against Chelsea. I have made better saves, but it was so decisive.
"Nicolas Anelka took it. The joy I experienced afterwards with the guys was so intense that I will never forget. You win the biggest prize you can as a player and that a club can get. It was great."
Van der Sar has won three Premier League titles, one League Cup, one Champions League and one Club World Cup during his stay at Old Trafford, and has expressed a desire to win more before bringing the curtain down on his career.