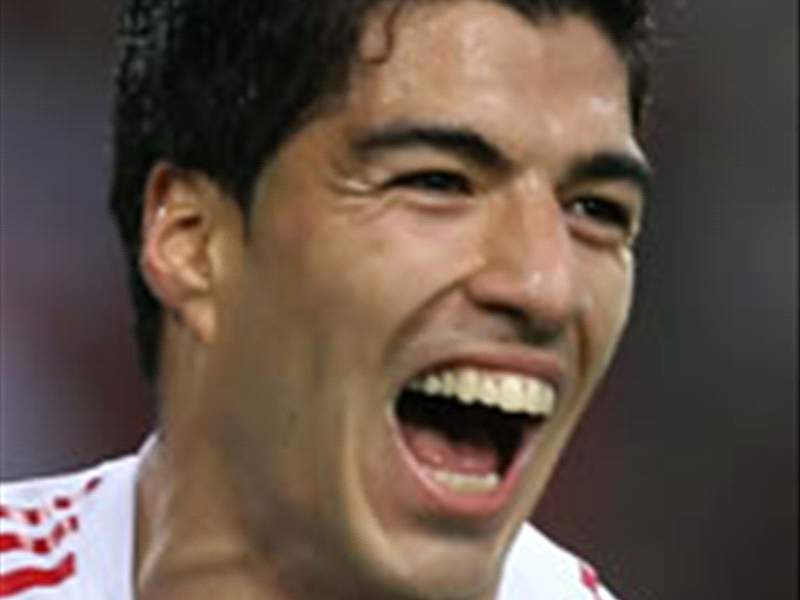 Liverpool director of football strategy Damien Comolli has confirmed the club's interest in signing Ajax's Luis Suarez, and Aston Villa winger Ashley Young in an interview broadcast on French TV on Thursday.
Goal.com UK exclusively revealed
on Tuesday that Liverpool were leading the race to sign the Uruguayan striker, with rivals Tottenham turning their attentions to Sevilla striker Luis Fabiano.
Liverpool are believed to have tabled an offer of around £16 million for the striker - whilst Ajax value him much closer to £25 million and the two clubs are understood to have been trying to reach an agreement since last week.
Speaking to
Canal+ Sport
, Comolli said: "We are looking for an offensive player because the team is lacking in speed.
"And as far as [Luis] Suarez is concerned, at the moment there is no dialogue with Ajax. He is one of the players we are interested in. Will he be available in January? This is another story. For Young, if he is on the market then we will be interested. But I don't believe that is the case.
However Comolli insisted that Liverpool were not 'in dialogue with Ajax' over signing Suarez - suggesting that the interview may have been filmed earlier this month.
Comolli, 38, also pledged not to raid his former club Saint Ettiene for talent, following reports linking Liverpool to striker Dimitri Payet
"When I left the ASSE, I gave my word to [head coach] Christophe Galtier that I would not approach the players of Saint Etienne.
Comolli is part of a new set-up at the Anfield club, that has seen legend Kenny Dalglish reinstated as manager after a 20 year absence, and the Frenchman is hoping to return the club to past glories after 18 months of turmoil on and off the pitch. The team currently lie in 13th place - just four points off the bottom three.
But the former Arsenal court insisted that the Merseyside club were not in crisis, and dismissed reports that Anfield stars Steven Gerrard and Fernando Torres are lacking fitness.
"There is no crisis. I can see things from inside and I don't have this feeling. It is all a problem of confidence. There were quite a few injured players, players who came back from the World Cup worn out, and this was the main cause of our bad results.
"[Fernando] Torres and [Steven] Gerrard are exactly at the same physical level as they were in the year in which they finished second [2008]."
"There is a problem [with confidence] from this point of view. And we saw this against Wolverhampton. From the moment when we lost a goal, nobody makes the effort to come back."