COMMENT

By
Wayne Veysey
at Emirates Stadium
Roberto Mancini
is in the firing line after once again sending his team out to play gilded opponents with one rather than three points the main aim.
Just like they did in the November home fixture against Manchester United, City opted to park the most expensive bus in world football in front of their goal and invite fellow title challengers to break them down.
That Arsenal failed was a combination of wasteful finishing, poor fortune – Arsene Wenger's team hit the woodwork three times in the first half – and resolute City defending. Joe Hart, Vincent Kompany, Kolo Toure, Pablo Zabaleta and Micah Richards rode their luck in the opening 25 minutes when Arsenal were on fire but rolled their sleeves up to demonstrate that there is as much an art in defensive defiance as swashbuckling attacking.
"I'm responsible for my team, he is responsible for his team and you are responsible for judging the two ways," sniffed Wenger afterwards, making it crystal clear to his audience which side had claimed the moral victory.
But, come the end of the season when prizes and entry tickets to Europe's top table are being handed out, will Mancini or City's Abu Dhabi owners care one jot about the attacking merits of an early January display against Arsenal? Of course they will not.
The end will justify the means if City finish in the top four and enter the Champions League elite for the first time.
Mancini, the cautious Italian pragmatist, knows this and knows his job will not be safe if he fails to deliver on the club's minimum 2010-11 aim, give or take perceived negative tactics against Arsenal.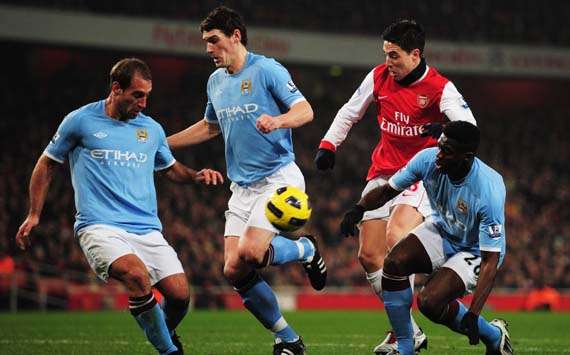 No way through | Arsenal flew out of the blocks but struggled to break down resolute City
In any case, it is wrong to paint Mancini as a grand chess master who always lays out his pieces in rigid fashion. Although he has stuck to a 4-2-3-1 formation throughout the season, the difference is that the three players behind the main striker – usually Carlos Tevez – are instructed to approach their roles differently depending on the opposition.
Against Arsenal, United, Chelsea and Tottenham, those three players took on deeper starting positions and became more entrenched as the game developed to enhance City's defensive strategy. Yet against weaker opponents, Yaya Toure and company have licence to thrill and play 20 or 30 yards further forward.
The movement, vision and poise of Toure, David Silva and Adam Johnson in City's victory at West Ham last month was a far cry to the jeers of "boring, boring City" and "what a waste of money" that emanated from the more disgruntled Arsenal fans on Wednesday night.
Mancini is yet to find the right balance between defensive security and creative flair. At this stage of the team's evolution, the former only comes at the expense of the latter.
Yet it is imperative of teams like Arsenal to find a way to pick the lock in a defence copperbottomed by Vincent Kompany's height and physical prowess and Kolo Toure's pace and anticipation.
Wenger's team were all over City like a rash in the opening stages and so fluent was their attacking play that the game could easily have been killed off after half an hour. But City dug deep and by the final quarter of the match, Arsenal had run out of ideas and were reliant on Robin van Persie pot-shots from distance to force Hart in to action.
Cesc Fabregas appeared to engage Mancini in conversation afterwards, questioning his tactics – as the Spaniard had once done with the Italian's predecessor Mark Hughes when he was in charge of Blackburn Rovers – but the City boss batted the accusation away with the confidence of a top-order England batsman, saying they were merely discussing the merits of the late double sending-off.
Mancini seems to care little about winning popularity contests, either inside his own dressing room or with the English football public. He merely wants to win. If Arsenal don't have a Plan B to force his team in to submission, that is not his problem.
He came to north London, did it his way and got the job he wanted done. In most people's books, that's good management.