As the season gets into full swing, our Big Month series puts the spotlight on a player for whom the following four-and-a-bit weeks will be pivotal. A decent month and it could set up their season, a poor few weeks and the pressure will continue to build.


This month...

Frank Lampard

It's been a frustrating season for
Frank Lampard
. Injured in August after a flying start to the new campaign, followed by months on the sidelines watching his side capitulate and potentially throw the league title away.
What started as a straightforward hernia operation for the Chelsea midfielder developed into a full-blown injury meltdown with countless setbacks that saw the England man sit out three months of the season.
It just so happened that at the same time, the Blues suffered a run that saw them fail to win in six league games, handing the ascendancy in the Premier League title race to Manchester United, Manchester City, Arsenal and Tottenham.
LAMPARD'S RECENT FORM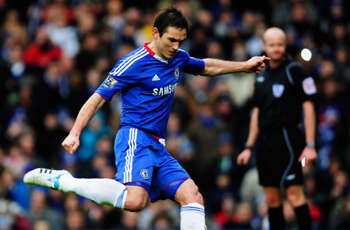 Opponent
Tottenham
Arsenal
Bolton
Aston Villa

Goals
0
0
0
1

Rating
6.5
6
6
6.5

Almost unsurprising with their regular 20-goal-a-season midfielder sitting in the stands and perhaps more than a coincidence that the Blues finally picked up a long-awaited win with Lampard back in the starting lineup at the end of December.
Since returning as a substitute against Tottenham at the end of November, Lampard has failed to light the blue touch paper, but has slowly shown something of a return to form. There were hints of the old Lampard in his cameo at White Hart Lane while he managed to knock in a goal - albeit a penalty - against Aston Villa at the weekend, his first goal since August.
The Blues will need plenty more if they are to get more wins under their belt, but Lampard's return isn't just benificial for the goals and assists column, a return of someone with such star quality is a boost for an ailing squad.
Petr Cech alluded to as much after the draw with Tottenham, referring to Lampard's return as a "big boost". The Blues certainly needed something, they were woefully short on confidence.
CECH ON LAMPARD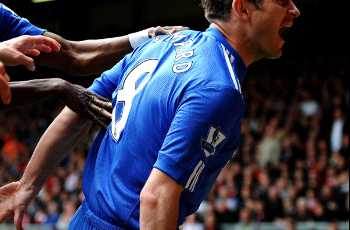 "
You can't play always with the same team so when you have your injured players coming back it is always a big boost. If you have a midfielder scoring 20 goals a season you always miss that."
But what of January? It's a pivotal month for Ancelotti's side if they are to stay in touch with the teams at the top of the league. God forbid they should miss out on a Champions League spot for next season but on current form that looks more than likely.
The fixture list shows four games remaining - the Blues have already played one game this month against Villa on Sunday where they were denied a second win in a week thanks to Ciaran Clark's last-minute equaliser - that last season would have been guaranteed wins.
Chelsea's home form was so awesome last term that the likes of Blackburn would have had to settle for damage control when they visited Stamford Bridge. That is no longer the case and Steve Kean's men will be looking to be the next team to take the Blues' scalp.
A trip to Wolves this weekend is most welcome to Ancelotti's side. Mick McCarthy's team are bottom of the Premier League and are one of the sides with even less self-belief than the reigning champions.
But Molineux is still no easy place to get a result and Wolves will be just as keen to avoid a return to the Championship as Chelsea are to make sure they don't miss out on a Champions League spot.
It wouldn't be a surprise to see Lampard miss out on the visit of Ipswich in the FA Cup - even as holders, that competition doesn't seem too important with European and league places at stake and for a man that has spent a good 70 per cent of the season so far in the physio's room, Ancelotti may well rest his star midfielder for more important fare.
LAMPARD'S JANUARY FIXTURES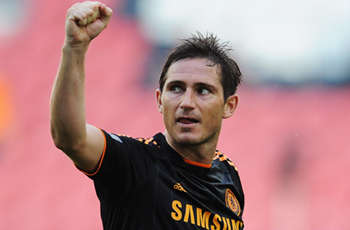 Wednesday 5
Sunday 9
Saturday 15
Monday 24

Wolves (A) Prem
Ipswich (H) FA Cup
Blackburn (H) Prem
Bolton (A) Prem

Such as the trip to Bolton at the end of the month. Owen Coyle's men have been one of the revelations of the season and find themselves in the heady heights of seventh spot, currently just six points behind Lampard's Chelsea.
Tottenham and Newcastle have already suffered at the Reebok against Coyle's 'New Bolton' who play a fluid passing game not seen in that part of the world for a long time. And on current form it wouldn't be unfair to bet on the home side for that clash - Chelsea's only two wins since November have come at home.
So welcome back Frank Jnr, and welcome to the mad house. It's not quite the return he was expecting, but it's certainly a test of the midfielder's mettle as he reaches the twilight of his career.
Plenty of critics have questioned whether, after all the league and cup medals at Stamford Bridge already, he has the desire to carry on any more. This is the month for him to prove he does.
More players to watch out for in January

The reliable one - Luka Modric (Tottenham)
One of the main reasons for Spurs' decent form of late has been the performances of the little playmaker in the centre of the park. The floppy haired Croatian has seen plaudits dished out to Lennon, Bale et al but regular watchers at White Hart Lane will know that if Modric plays well, so do Spurs.

The super sub - Chicharito (Manchester United)
If Manchester United are to wrestle the league title back from Chelsea, Sir Alex Ferguson will have the impish Mexican to thank. The super sub has already won plenty of precious points with a handful of late goals - including the winner at West Brom at the weekend.

The comeback king? - David Beckham (?)
Is it too fanciful to expect to see the former England captain back in the Premier League this month? Spurs manager Harry Redknapp has spoken seriously about bringing Becks back on loan while the MLS is on hiatus. Does the 34-year-old still have it? We can only wait and see.
December was a big month for... Wayne Rooney

Goals: 0 Assists: 1Goals per game: 0Average rating: 6.9

At the beginning of December, Goal.com said it was a big month for Manchester United's Wayne Rooney. Here's how he performed:



Man Utd 1-1 Valencia, Dec

7


Goals: 0 Assists: 0
Denied a goal as his wonderful curling effort cannoned off the crossbar while he created clear chances for Berbatov, Anderson and Park. Man of the match. Rating 8.0



Man Utd 1-0 Arsenal, Dec 13


Goals: 0 Assists: 0
Awful penalty blasted over the bar but clever movement as the lone frontman and a cute pass almost created a goal for Anderson before nearly atoning for penalty miss with a lob. Rating 7.0



Man Utd 2-0 Sunderland

,

Dec 26


Goals: 0 Assists: 1
Ran Sunderland defenders out of position and produced some telling final deliveries. Assist for Berbatov's opener with a pinpoint cross and nearly scored with a wonderful chip. Rating 7.0

Birmingham 1-1 Man Utd, Dec 28
Goals: 0 Assists: 0
Several smart flicks and intelligent touches. But, no matter his attempts, couldn't end nine-month run without a goal in open play. Rating 5.5