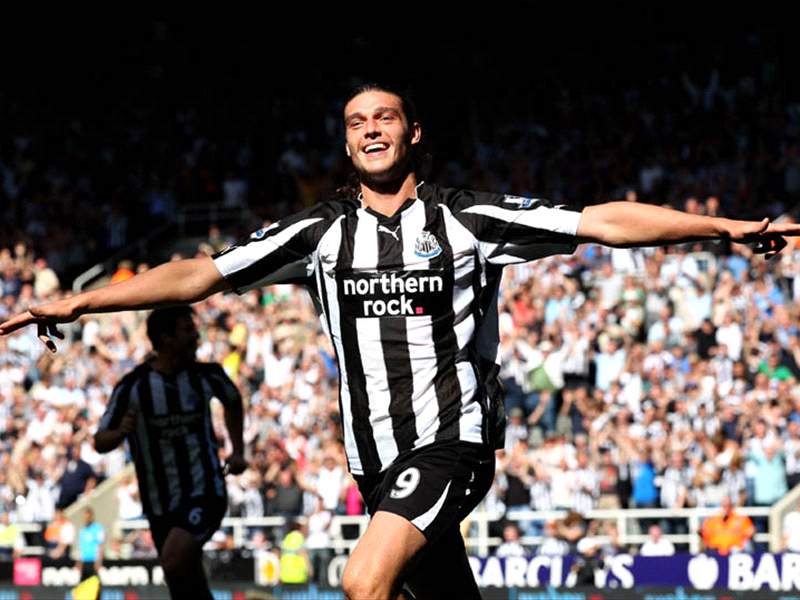 COMMENT
By
Greg Stobart
| Northern Correspondent
It is no secret that
Manchester City
manager
Roberto Mancini
has identified
Edin Dzeko
as his prime target in the January transfer window, believing the
Wolfsburg
striker could make the difference as his side push for the
Premier League
title.
Nonetheless, the Bosnian has said that he will remain at the Bundesliga outfit for the remainder of the season, hinting that a move to Serie A is his prefered destination, but City remain hopeful of their pursuits.
However, club executives are believed to have been staggered by the German side's demand of £38 million for their star player, a price tag would prove a stumbling point for Juventus, who are also interested in acquiring the coveted forward.
City will have to weigh up whether they think the 24-year-old Bosnian is worth smashing the British transfer record for, but the astronomical cost could be put into stark perspective when they come up against Andy Carroll at St James' Park on Boxing Day.
For a start, at £20m the Geordie No.9 is a snip compared to Dzeko, half the price and half the risk given that he has scored 10 Premier League goals at the halfway point in his first full season in the top flight.
For City, who were happy to splurge £28m on James Milner last summer, that represents almost sensible business, not that it particularly matters to them. But the billionaire Abu Dhabi owners would certainly not question paying the asking price for the hottest young striker in the country today.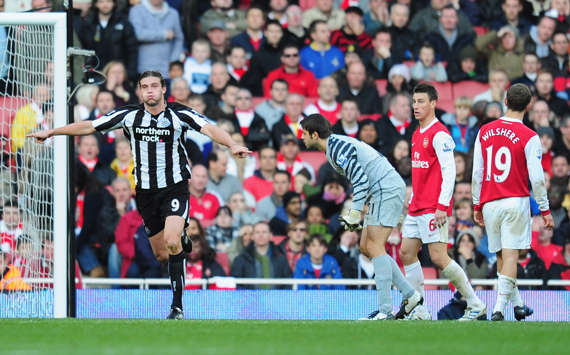 Ready for take-off | A move to Manchester City would catapult Carroll into the big time
Carroll may be raw, may have plenty still to learn, but at least he has shown he is capable of scoring goals in the Premier League, while Dzeko is only proven in the Bundesliga and there will be questions over whether he can reproduce that form in English football.
Carroll has had his fair share of trouble off the pitch, but on it he has terrorised defences, bullied the most hardened of professionals in a way that defies his 21 years.
As a local lad, he remains committed to Newcastle, but he is not against leaving St James' Park if he feels it will advance his career and Toon owner Mike Ashley will certainly be prepared to accept a large enough bid having shown little regard for the feelings of the fans up to this point in his tenure.
Carroll has attracted strong interest from Tottenham while he is known to have admirers at Manchester United and Chelsea – his decision if and when he leaves the north-east will be crucial to his career path.
He only needs to take a look at another Geordie hero, his idol Alan Shearer, to see what could lie in store if he makes a switch to Manchester City.
Shearer was one of the brightest talents in the game when he moved from Southampton to Blackburn – the City of their day, bankrolled by Jack Walker's millions – from which point his career sky-rocketed as he became a Premier League champion and England captain.
That kind of future could be in store for Carroll and for City if Mancini can see beyond the temptation of signing a big-name player from abroad, the kind of signing that supporters yearn for even if they have never seen the bloke play.
The rise and rise
of Andy Carroll

His top three displays in 2010/11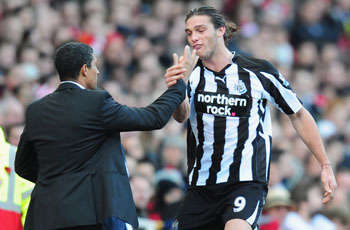 Newcastle 6-0 Aston Villa
August 22 2010


Announced himself to the top flight with a hat-trick in Newcastle's first home game of the season as he tore Aston Villa to pieces.



Newcastle 5-1 Sunderland
October 31 2010


Proved he doesn't have to be scoring to influence games as he failed to find the back of the net but still produced a man-of-the-match performance as Newcastle crushed Sunderland in the Tyne-Wear derby.



Newcastle 3-1 Liverpool
December 14 2010


Completely dominated the Reds defenders with a belligerent performance that was capped off by a stunning late goal from long range.


Carroll's most obvious strength is his ability in the air, the way he attacks the ball with strength, power, purpose and technique. Not only does he score goals with his head, but he creates chances for others and can completely dominate defences, as he did in Newcastle's last match, a 3-1 win over Liverpool, when he was virtually unplayable.
He has atrributes that have drawn comparisons with Chelsea star Didier Drogba, and is able to both hold the ball up and stretch defences by running on to a pass into space.
There are elements of his game that need more work – his first touch in particular has let him down – but the raw ingredients are there for a striker who could spearhead a club like City for years to come and potentially emerge as a global star. He has already demonstrated that potential, not least in big games against such as the north-east derby, Chelsea and home and Arsenal away, when he scored the only goal in a 1-0 victory almost by pure desire to win the ball in the air.
With people around Carroll worried of the affects of the Tyneside goldfish bowl on his life off the pitch, now would be the perfect time to keep him on the rails with a big move to a club with exciting plans.
For City, it represents a low-risk investment as Carroll has already impressed enough people in the game that he would lose little of his transfer value even if a move to Eastlands proved to be a disaster.
Owner Sheikh Mansour probably has no concern for a player's potential re-sale price, but he does care about signing the best young stars available.
It has also been a club policy to sign English talent wherever possible, an ideal that drove the moves for Milner, Adam Johnson and Gareth Barry.
All three are players with great skill, but none share Carroll's ability to leave defences utterly traumatised and begging for 90 minutes against Duncan Ferguson or Kevin Davies.
Carroll is the best prospect in the country right now, and City would be fools if they didn't realise it. They may well discover that first hand up on Tyneside on Boxing Day.