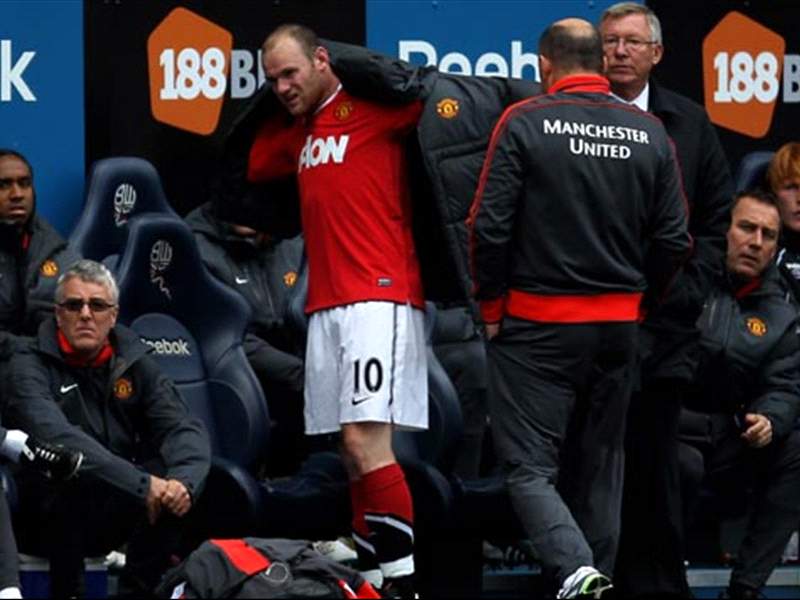 Manchester United admitted to holding meetings earlier today, which reportedly included re-entering negotiations with Wayne Rooney's adviser, Paul Stretford to see whether there is still any hope that the striker will stay at Old Trafford, according to The Guardian.
MORE...
While, in the aftermath, Rooney was reportedly met at his house by a group of around 40 United fans, covered mostly in balaclavas and hooded tops, protesting about the striker's attitude and potential move to rivals Manchester City. According to witnesses the group spray-painted his garage and held up a banner reading "If you join City you're dead".
United's chief executive David Gill is thought to have spoken with Stretford today to hammer home Sir Alex Ferguson's desire to keep Rooney from making, what the 68-year-old believes to be, a huge mistake by leaving the club and one he will regret for the rest of his career.
One of the main problems facing the United hierarcy is the vast amount of money available elsewhere, namely neighbours Manchester City, who are apparently prepared to offer Rooney £260,000 a week.
If reports are to be believed, Gill met with Ferguson at lunchtime on Thursday for an hour-long meeting, before making several phone calls to the Glazer family to work out where each party stands on the idea to persuade Rooney into changing his mind and staying at the club.
These efforts may well be futile considering Rooney himself released a statement on Wednesday confirming his desire to leave Old Trafford for pastures new, citing disillusionment with recent transfer targets and, therefore, fears the club could become stagnant.
As of Thursday night the only official word from the club has been a plea for patience from the fans as the club continue talks behind-the scenes.
The latest reports state that City are assessing a possible move for Rooney in the January transfer window, and long-term admirer Real Madrid's president, Florentino Pérez, believes Roberto Mancini's side will be the team to beat in the battle for the striker's signature, with the added bonus that Stretford has a long association with Brian Marwood, the man assigned to enlisting new stars to the Eastlands project.
Rooney is thought to favour staying in England, mainly because of his wife Coleen's television work and her younger sister Rosie's severe illness.
Stretford also has a long association with Brian Marwood, the man charged with negotiating new signings for City in his role as the club's football administrator.
Follow the Premier League LIVE on Goal.com:
Commentaries, Stats, Player Ratings and much more,
Visit Goal.com Live Scores!