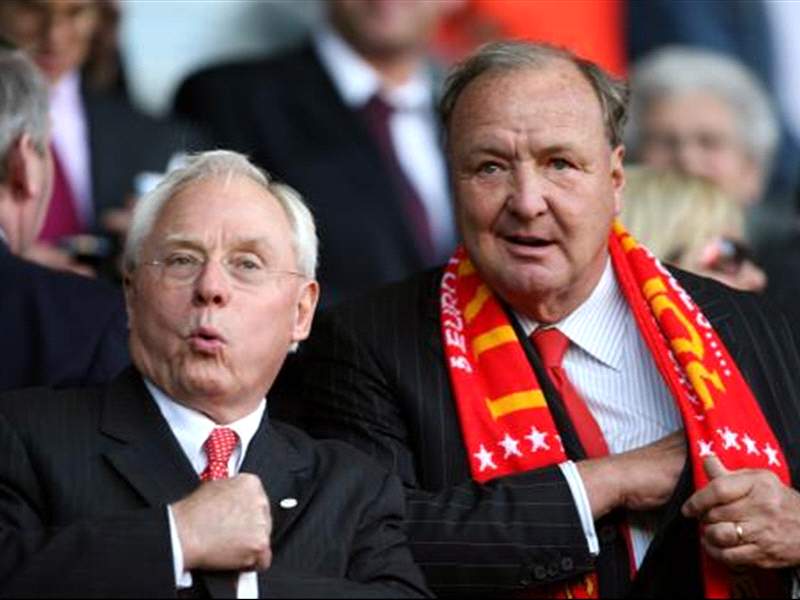 Liverpool
fans, it's nearly over. We think.
There are surely a few more twists and turns in the saga before a final conclusion is reached, but it seems increasingly certain that Tom Hicks and George Gillett will indeed finally be run out of town with their tails between their legs. And not a moment too soon
The time for celebration is near. So, why not follow
Goal.com UK
as we give you a quick runthrough of the things that have been said and not done since Hicks and Gillett first rode into Liverpool with a bucketful of bad intentions and an invisible spade...

LIES, DAMN LIES & RANDOM TEXAN INJUNCTIONS

"Our job is to be custodians of this franchise, not the owners of this franchise."

-
February 2007 George Gillett
here, with one of his first comments on the subject of Liverpool ownership. No explanation necessary, really. Except maybe to Mr Gillett, who seems to have mistook 'custodians' to mean 'demolition experts'.
"The spade needs to be in the ground within, what, 60 days?"

-
March 2007
An obvious reference to the new American owners' intention to build a new stadium,
George Gillett
's comment, made during their first official press conference, quickly became a famous broken promise.
Three years on, and still work on a new stadium hasn't begun — let alone a spade finding its way into the ground. And how hard can that be? Give me five minutes and I'm pretty confident I could be moving at least some earth...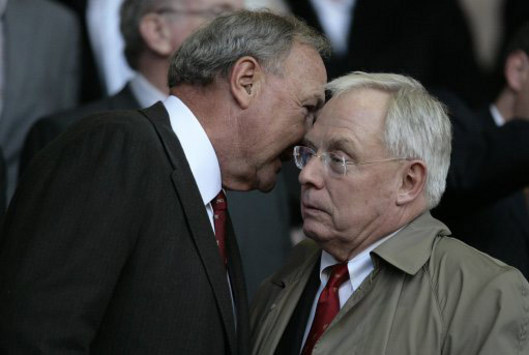 "If Rafa said he wanted to buy Snoogy Doogy we would back him."

-
March 2007
Hicks and
Gillett
attempt to demonstrate how much money they will make available for transfer signings... by offering an non-existent footballer as an example of someone they could buy. Perhaps they meant Snoop Dogg, or even just Snoopy.
In the end they eventually signed Fernando Torres, though, which all things considered was probably a better move. Although Gareth Barry might not be happy to know he isn't rated as highly as Mr Doogy.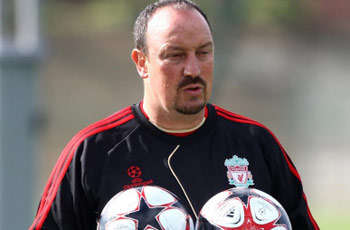 "As always, I am focused on coaching and training my team."

-
November 2007
Rafa Benitez
(in hindsight, hardly the most tactful or subtle of men) used this exact phrase no less than 25 times during a pre-match press conference, in what was a thinly-veiled attack on the club's owners after they effectively told him where to stick his transfer plans.
"I will still be an owner of Liverpool Football Club in five years."
January 2008
That's the gospel according to
Tom Hicks
. Well, I guess the one thing you can say for him is he's desperately trying to keep at least ONE promise.
"It's heartbreaking. I'm almost lost for words about the damage that's being done to the club at the present time."

-
April 2008
Former club owner
David Moores
expresses his dismay at the direction the new owners have taken the club, claiming to be almost lost for words by it all before, um, going on to use a lot of words to explain why he had no choice but to sell to those dastardly men.
"Blow me, f**k face. Go to hell. I'm sick of you."

-
January 2010
Otherwise known as the best phrase ever,
Tom Hicks Jr.
's infamous response to an email from a 'concerned' Liverpool fan.
Clearly inheriting all his tact and diplomacy skills from his father, Jr nonetheless soon stepped down from the club's board as the fiasco threatened to put the American owners under real threat.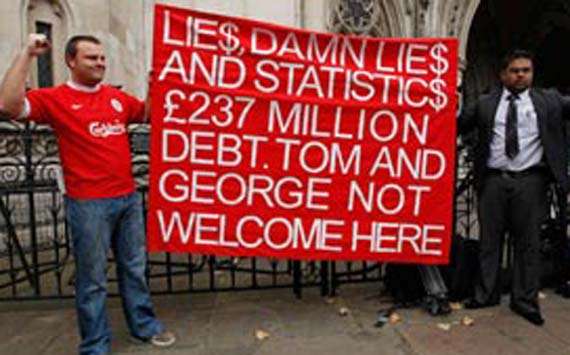 "Owning Liverpool Football Club over these past three years has been a rewarding and exciting experience for us and our families.

"Having grown the club this far we have now decided together to look to sell the club to owners committed to take the club through its next level of growth and development."

-
April 2010
A statement, released on behalf of the club, announces Martin Broughton's appointment ("a distinguished business leader of excellent judgment and with a great reputation. He is a genuine football supporter and will seek to oversee the sales process in the best interests of the club and its supporters") to oversee the sale of the club.
As to the content of said statement, the phrase "lying through their back teeth" seems curiously apt.
"England's most successful football club is slowly being drained by the greed of two American asset strippers and this is having a negative impact on regeneration projects for the whole area.

"Unfortunately the beautiful game does not always attract those with beautiful intentions."


- June 2010
New Liverpool MP
Steve Rotheram
uses his opening address to the House of Commons to pass some judgement on the club's current owners. We'd applaud enthusiastically if it wasn't for the fact grandstanding politicians should never, ever be trusted.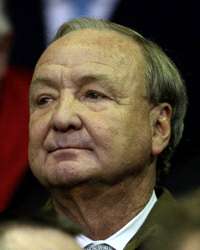 "I can still be a fan. But I've paid a terrible price. I'm 64 years old. I don't want that any more.

Jerry Jones [the Dallas Cowboys owner] is a good friend of mine, but his life and his family's life is the Dallas Cowboys. This isn't my life."


- May 2010
.
Tom Hicks
again cries wolf. All we can presume from this is that it is taking bullsh*t legal cases through the courts that is his real passion in life.
"We wanted to stay under the radar and do this quietly, but that wasn't possible. We have now withdrawn from the process, which is the end of the matter as far as we are concerned."

-
August 2010
Former interested party Kenneth Huang's business partner,
Marc Ganis
. Yes, owning a football club would have been the perfect way to stay under the radar, you publicity-seeking idiots...
"Attorneys say ludicrous, self-serving and illegal behavior from directors and outsiders to hinder the club for years.

"It's an extraordinary swindle and it will result in exactly the wrong thing for the club and the fans."

-
October 2010
. Where we are today. Let's just suggest that Hicks and Gillett using the phrase 'epic swindle' to describe anything but their own conduct is richer than Bill ruddy Gates. And, re-reading their statement, it doesn't even seem to make any sense. Odd.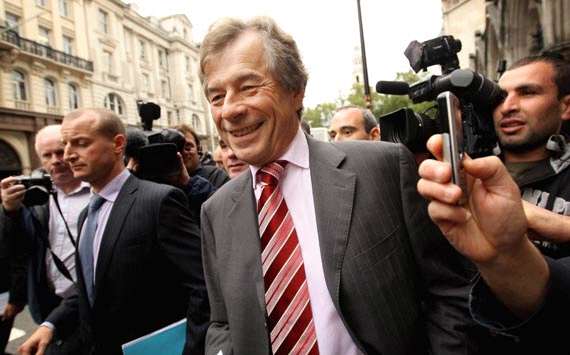 "This was frankly their last chance to leave Liverpool with their heads high and they have chosen to go this route."

-
October 2010
.
Martin Broughton
completes his transition from 'probably the Yanks' latest lackey' to 'proud defender of the Liverpool tradition' by saying in one sentence what pretty much everyone is thinking about the two Americans by now. Bravo.
Follow the Champions League LIVE on Goal.com:
Commentaries, Stats, Player Ratings and much more,
Visit Goal.com Live Scores!