EXCLUSIVE
By Greg Stobart
Manchester United tried to sign Tottenham star Gareth Bale for £20 million during the summer and are planning another move at the end of the season, Goal.com UK can reveal.
Sir Alex Ferguson is a huge admirer of the Welshman but faces competition from Spanish giants Real Madrid, who themselves made a summer enquiry and have been tracking his stunning recent performances.
MORE...
Goal.com UK understands that United attempted to open negotiations over a move for the 21-year-old worth £20m but Tottenham refused to enter into talks and insisted the player was not for sale.
Bale, who plays on the left-side, either as a full-back or midfielder, signed a new four-year contract in May, less than two weeks after he first became aware of the serious interest from Old Trafford.
Spurs believe this to be a sign that Bale is happy at White Hart Lane and committed to the club, but insiders privately accept that it is crucial for the north Londoners to continue to achieve Champions League football to keep his services.
It is unlikely that Manchester United can afford the whopping price-tag – in excess of £30m – it would take for Tottenham manager Harry Redknapp to consider selling his star performer to a rival Premier League club.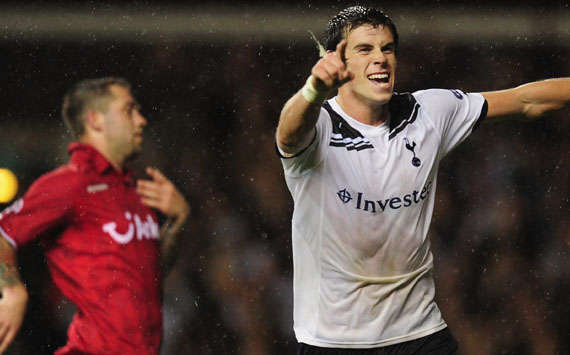 Wanted man | Could Gareth Bale be on his way out of White Hart Lane next summer?
But Real Madrid manager Jose Mourinho could be provided with the funds and has already made Bale one of his prime targets as he looks to bring major silverware back to the Spanish capital.
Mourinho believes Bale is best suited to play as a left-back and wants him to replace Marcelo, the defensively-suspect Brazilian.
Redknapp is aware of Madrid's interest in the former Southampton man and used his column last week in The Sun to warn Mourinho off the man he describes as "one of the best players in his position in the world".
He said: "Jose certainly knows a player when he sees one. But one thing is for sure. I am not letting Gareth go anywhere.
"Tottenham is a team on the up and we are building something at White Hart Lane.
"Mourinho can enjoy watching Gareth all he likes but he will be going nowhere."
Bale, who cost Spurs an initial £5m when he signed from Southampton in May 2007, grew up idolising Manchester United's Ryan Giggs but chose White Hart Lane over teaming up with his compatriot three years ago.
Ferguson believes Bale's natural athleticism would be a massive asset to his ageing squad, which only boasts two natural wingers - Nani and Antonio Valencia, who will be sidelined until next year with a broken ankle and damaged ligaments.
Bale's pace, power and wicked deliveries from the left flank since January have marked a remarkable turnaround in a career that appeared to be stagnating this time last year.
The Wales international has thrilled fans at White Hart Lane with his spectacular performances, largely from midfield, although both he and Redknapp believe he will eventually settle as a left-back.
He played a key role in the Tottenham's top-four push at the end of last season as they qualified for the Champions League, earning him his new four-year deal.
Goal.com is proud to be a premier partner of Digg.com and is pleased to offer exclusive invitations to our users to become participants in the Alpha launch of the new Digg.com.
Use this link to get early access to the alpha site.
Invitations are limited and are on a first come, first served basis so act now!