ANALYSIS
By
Alex Dimond
Congratulations
Tottenham
fans, this is what the
Champions League
is all about. Winning (or narrowly losing) important games in front of sell-out, raucous crowds thanks to the individual exploits of a couple of star players... who will then quickly be targetted by the competition's true heavyweights.
It is, as many clubs have found in the past, very much a double-edged sword. Spurs may be in a more financially favourable position to reject multi-million pound bids for their major assets than in seasons past, but after an ominous start to the domestic season from Manchester City and the rest of last season's top three, a successive qualification for Europe's most lucrative competition looks another major challenge.
MORE...
And, with a player so clearly at home at the highest level as Gareth Bale, it is hardly a surprise to learn, as
Goal.com UK
exclusively have, that Manchester United are intent on capturing the player next summer — even if they might face competition from Jose Mourinho and Real Madrid.
Just three (proper) games into his Champions League career, the young Welshman looks perfectly at home at the game's highest level. In his first game he was impressive despite Spurs failing to capitalise on a 2-0 lead in Germany against Werder Bremen, before heading back to White Hart Lane where he tore apart FC Twente's shell-shocked defence with breathtaking ease.
And then there was Wednesday, where Bale scored a virtuoso second half hat-trick against Inter to almost single-handedly pull his side back into a game that they had looked to have long since lost. And against the European champions on their own patch, no less.
It's his skill-set, as much as his current form, that will have admiring suitors queuing around the block. Rampaging up and down the left flank, Bale assumes a position that has traditionally been hard to fill. Able to play full-back — even if, to offer some criticism, he does need to work on his defensive prowess — this season the 21-year-old has proven himself a nightmare to play against from a roaming left-wing position. His pace and power has all-too often proved too much for opposing right-backs, and the number of free-kicks and penalties he has won, along with the chances and goals he has created, only serve to illustrate that fact.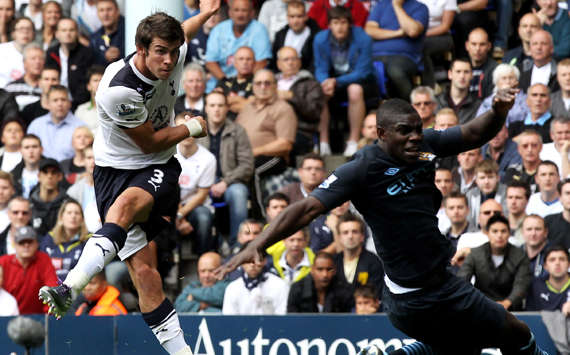 Start as you mean to go on | Bale has been on form from the opening day
With interest almost inevitable, either in January or next summer, the question is simply which club is most likely to land a player who is quickly becoming one of Europe's hottest properties.
Goal.com UK
analyses the two clearest runners and riders:
THE HOME FAVOURITES

Manchester United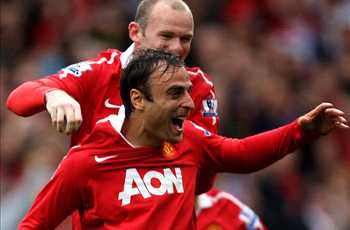 It's how any number of spurious transfer rumours are created, but the maths does add up — United could do with an heir to Ryan Giggs on the left wing, and who better than the man whose shared nationality and attacking flair make him the storied veteran's obvious successor?
With the club's two top-drawer wingers, Nani and Antonio Valencia, both favouring the right hand flank, a legitimate left-sided player who can hug the touchline and give United some genuine width would be an attractive option.
It is a measure of United's relative paucity of options on the left — with Giggs increasingly a more central threat — that out-of-form Wayne Rooney was until recently being suggested by fans as the best option out there. Bale's arrival would be a major upgrade — and his presence and delivery might even help the Englishman discover his own top goalscoring form.
What is more, given time to improve the defensive side of his game he could become the all-action heir to Patrice Evra in a few years — if young Fabio da Silva does not progress as expected — and provide immediate cover if the dependable Frenchman is ever unavailable.
Sir Alex Ferguson is known to admire the youngster, with reports in some quarters of a major summer bid being made, but the club's gloomy financial situation could be a problem if Bale commands a fee upwards of £25 million. It remains to be seen whether the unpopular Glaziers will sanction such an expensive move after a recent penchant for more cost-effective purchases — or indeed if they even have the resources to give their manager what he wants.
But, with Rooney now publicly declaring his intention to leave, a windfall might be just around the corner — one that might be ring-fenced for reinforcements as the Glazers look to assuage the growing fears of the fans. And United have history of getting deals done with Spurs (Michael Carrick, Dimitar Berbatov) and the embattled Americans will likely back Ferguson if he confirms Bale is the one major signing he wants.
On the other hand, they need to find replacements for a number of other ageing stalwarts — Paul Scholes, Rio Ferdinand, Edwin van der Sar — and Ferguson will not be afforded £25m+ to flll other positions of equal importance to that left wing role.
HOW HE COULD SLOT IN
MIDFIELD

| | | | |
| --- | --- | --- | --- |
| RIGHT MIDFIELD | CENTRE MIDFIELD | CENTRE MIDFIELD | LEFT MIDFIELD |
| Nani | Darren Fletcher | Paul Scholes | Gareth Bale |
Likelihood:
If he's going to end up elsewhere, United have to be the favourites. The move will be attractive to him, and the only stumbling block — admittedly a sizeable one — is that United would seem to be struggle to find the fee required to sign Bale. As that price is only going up with every scintillating week, that is going to be a problem.
THE SPANISH CONQUISTADORS

Real Madrid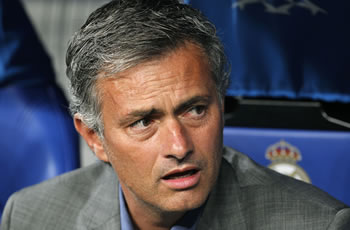 Real Madrid, especially under new manager Jose Mourinho, have no problem making a splash in the transfer market, but Bale will have to keep going at his current rate — and Spurs will have to progress far in the Champions League — for his profile in Spain to be raised high enough for his multi-million pound signing to appease the relevant political factions that seemingly always need to be accounted for when Madrid open the chequebook.
The club spent heavily again in the summer transfer market, but that doesn't mean next summer will be a quiet affair. Mourinho still wants a left-back, and Bale could be seen as the closest approximation of the Portuguese tactician's unattainable favourite, Ashley Cole, as an overlapping attacking threat (while maintaining a defensive stability) to provide a mirror image of Sergio Ramos on the other flank.
But Real would appear to have little use for the Welshman as a midfielder or winger — which may be where his immediate future lies, especially at the very highest level. He could play as a left-wing forward, but that would have to effectively see the end of another fabled attacking player (most probably Kaka) as they would not be any berths left for a whole host of Real's stars.
And would the youngster even want to make the move abroad, as tempting as Real would be, when even the bright lights of London initially seemed to slow his Spurs career? That is perhaps the trickiest question answer. But Real have managed to persuade British players to make the switch in the past (Michael Owen, David Beckham, Steve McManaman) and could surely do so again.
HOW HE COULD SLOT IN

DEFENCE
| | | | |
| --- | --- | --- | --- |
| RIGHT-BACK | CENTRE BACK | CENTRE BACK | LEFT-BACK |
| Sergio Ramos | Pepe | Ricardo Carvalho | Gareth Bale |

or MIDFIELD
| | |
| --- | --- |
| DEFENSIVE MIDFIELD | DEFENSIVE MIDFIELD |
| Xabi Alonso | Sami Khedira |
| | | |
| --- | --- | --- |
| RIGHT WING | ATTACKING MIDFIELD | LEFT WING |
| Cristiano Ronaldo | Mesut Oezil | Gareth Bale |
Likelihood:
An offer is highly possible, and would be hard to reject. But there are too many variables to see it as the likeliest eventuality. Bale's profile on the continent would need to be raised to make him a viable 'Galactico' purchase (which his transfer fee would automatically prescribe him), while British players have traditionally shied away from foreign transfers — and by all accounts Bale is more introverted than most.
JUST KEEP HOLDING ON

Spurs could keep their man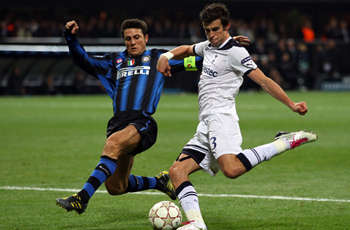 If even Spurs might accept that major interest in arguably their most valuable asset is nigh-on inevitable, then the current climate in football might give them more comfort than usual that they will be able to keep hold of Bale.
In the past the club's star players — Carrick, Berbatov, Robbie Keane — may have been lost when the big fish came swimming in their pond (albeit, if one positive can be found, at favourable transfer fees) but that was in a time when more clubs had more money to spend.
Now, however, cash is often hard to spare, and Spurs will be somewhat relieved to note that Bale's most likely pursuers, Manchester United, aren't rolling in cash.
Retaining Champions League football is the best way Spurs can hold onto Bale, but even if they don't succeed in that aim, perhaps only Real Madrid and Manchester City can immediately find the resources necessary to complete a deal, and neither might provide the most attractive of options for the Welshman — the former because of the life-changing move abroad involved, the latter because they wouldn't immediately be in a position to challenge for major trophies either.
Manchester United are likely to be the Welshman's personal favourites, but their financial situation will prove a massive stumbling block. If Ferguson and Co. can't find a way to overcome it, that could ensure Bale remains at White Hart Lane after all.