Welcome to the third edition of the 'Mock the Weekend' awards, where we attempt to continue our previous good work (ahem) like Chelsea rather than stumble to embarrassment like Man City, all while taking a light-hearted and acerbic look back at the weekend's Premier League action.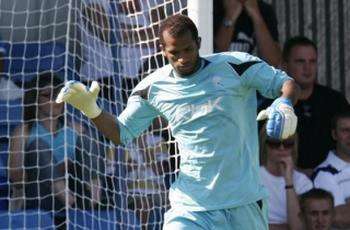 Unlikely hero of the week
Ali Al-Habsi
Replacing Chris Kirkland with the Oman international might just be the masterstroke that saves Roberto Martinez's Wigan reign.
Al-Habsi (who
Mock the Weekend
firmly believes should be given a chant to the tune of Lady Gaga's 'Alejandro') made a string of good saves to help his side to a shock 1-0 win. All together now, "Oh what a save, oh what a save, Ali Habsi..."
The Jose Mourinho approved award for tactical innovation
Ian Holloway (Blackpool)
Even the most obvious Championship-calibre strikers are still capable of scoring a goal or two (literally) in the top flight — as any Jason Scotland fan will no doubt tell you. Kudos to Ian Holloway, then, for attempting to exploit this fact of life to help his team out — by trying to sign every Championship striker he can think of and hoping one of them scores each weekend.
On day one it was Marlon Harewood, on Saturday against Fulham it was Luke Varney. Who knows who it will be next week: Nathan Tyson? Rob Hulse?
There are only two problems with the plan, however: 1. The transfer window closes on Tuesday (and the aforementioned Scotland has already gone to Ipswich) and 2. Even playing every game won't help Brett Ormerod get on the scoresheet.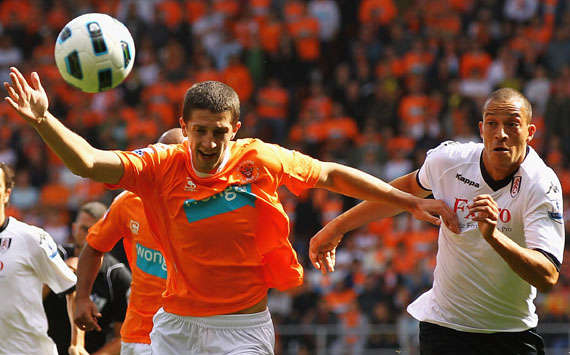 Quote of the weekend (Part I)
"I was born to work."
- Phil Brown
(currently unemployed)
Brilliant self-promotion from the former Hull City manager-turned-gardener-turned-pundit on BBC's
MOTD2
, where he played the role of a special (in more than one sense of the word) guest who could scarcely believe how often Colin Murray was linking him with the Aston Villa job — and unable to tell whether it was a joke or not.
Brown — who hasn't had a proper management job for over six months — also informed the TV audience that he has "been on a number of self-improvement courses" during the that period.
Presumably the modules on common sense, self-awareness and — most importantly — safe self-tanning are still to come...
Quote of the weekend (Part II)
"I'm a f**king football manager"
- Harry Redknapp
(absolutely not a wheeler dealer, no chance)
You could take your pick of quotes from
this
quite spectacular video, really. Sky Sports' own Rob Palmer (we think) nervously laughing when it appears Harry isn't going to take the 'wheeler dealer' tag lying down. Redknapp rather camply throwing his hand up like a West End actor as he storms off in a huff. Palmer again sounding like a scalded little boy as 'Arry walks away.
And then, for the finish, Harry almost crying as he reminds himself, as much as anyone else, that he's a "f**king football manager". Triffic, we say. Top, top work. Literally.
Miss of the weekend
Carlos Tevez (Manchester City)

Antolin Alcaraz (Wigan)
The Argentine might have grabbed the headlines with his delightful clipped miss from all of eight yards out, but in truth it was the Paraguayan who deserves all the credit in the world for managing to welly the ball over from barely two yards out. That takes skill.
Just as it does to avoid making a cringeworthy pun on his name, which
MTW
is succeeding in doing. People who do that want locking up, if you ask me.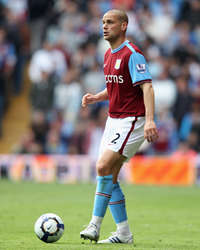 Fantasy football hero
Luke Young (Aston Villa)
A goal and a clean sheet along with some eye-catching play helped the Aston Villa man to a solid 14 points in the win against Everton — news of some joy to both his mum and the 4.2 per cent of fantasy football players who have him in his team.
Now, if only he hadn't retired from international football. It's always the great ones that retire too young...
Fantasy football zero
Jussi Jaaskelainen (Blackpool)
A phenomenal -3 points for the Finland international this weekend after his gloved slap that even Marigold-wearing housewives everywhere wouldn't be proud of.
If you're going to hit a man like Roger Johnson, who seems worryingly oblivious to pain (but admittedly not to squealing at the ref like a nine-year-old girl), then at least have the decency to do it properly.
The 'someone should give him a history lesson' award
Fabio Capello


Scrambling around for another goalkeeper after the retirement of Paul Robinson and the obvious awfulness of Robert Green et al, Capello was obviously delighted to see this young, English custodian called Scott Carson not making too many blunders in goal for West Brom. A call-up followed on Sunday, to pretty much universal disgust from anyone with a memory that stretches back more than two years.
Honestly, someone should take Capello on a storytelling journey back to 2008. Or, better yet, get him on the phone with Schteve McClaren.
The Proclaimers' award for wasted journey
Fabio Capello
The Italian showed that, while his basic salary might be a mere £6 million a year, it runs to nearer £8m when you include the expenses for all the games he travels to (and espressos he no doubt drinks, because, y'know, he's Italian). Capello was at three games in Saturday, where scientific estimates suggest approximately no English players really caught his attention.
Still, at least he does his research before naming his 23-man international squads. Although that doesn't help explain why he still managed to pick Shaun Wright-Phillips...
The Saddam Hussein award for a misguided attempt at intimidation
Wolverhampton Wanderers

Mock The Weekend
has never been detained at Her Majesty's pleasure, but we can only assume that, after a stay in the big house, even the worst challenge Karl Henry can throw at you isn't going to be all that intimidating.
Still, good on Henry and the rest of the Wolves team for trying to rile the 'tacheless Joey Barton on Saturday. And good on Barton for not rising to the bait, even if he did eventually get a yellow card in the 95th minute. But it seemed like a sympathy booking if ever there was one.
'If this was cricket...' award for dubious match result
Tottenham 0 Wigan 1
You can't bowl no balls in football (although technically foul throws are pretty similar) but if you could, you wouldn't have been surprised to see one or two in this game. Spurs beat Wigan 9-1 last season, and have started pretty well in contrast to the Latics' two 6-0 drubbings, yet succumbed to Hugo Rodallega's solitary goal to come away with nothing.
Hmmmm. Perhaps sometimes you just can't get past a good goalkeeper. Here we go again; "Ali Ali Habsi, Ali Ali Habsi..."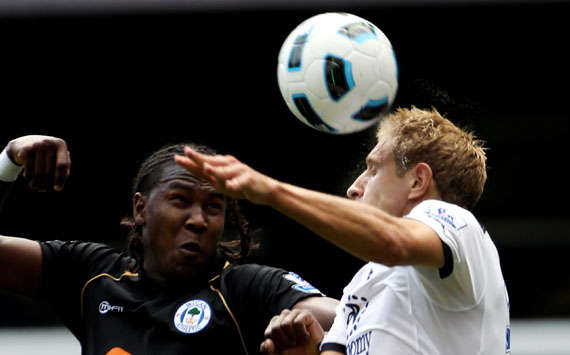 The UNICEF award for charity work with the less fortunate
Chelsea

Perhaps not everyone's cup of tea ever since Roman Abramovich's millions turned them into the behemoth they are today, but at least at the weekend Chelsea showed they aren't all bad by showing pity on the downtrodden Stoke City.

Rather than look to continue their run of 6-0 wins — and follow on from the 7-0 battering they handed out to the same opponents last term — the Blues 'only' emerged 2-0 winners, with 'kind' Frank Lampard even missing a penalty to give them a chance.

Tony Pulis has never been so happy at a defeat. Philanthropy is alive and well in the top flight.

Special facepalm award
Tottenham fans
(for forgetting how good they have it)
Finishing fourth and subsequently qualifying for 'the big show' (aka the Champions League) should really be enough for Spurs fans, who might be wise just to be content to no longer be the mid-table club — roaming somewhere between sideshow and irrelevance — that they were for much of the last two decades.
But apparently such a high point in the club's history isn't enough for a (hopefully quite small) section of the White Hart Lane faithful who booed their own players — the same ones who had romped to European group stages just days earlier — after Hugo Rodallega's strike put Wigan ahead at the weekend.
Yes, Wigan might have lost 9-1 in the same fixture last season, but every team loses a game from time to time. Spurs fans should know better: Don't they remember Christian Gross?!
Honestly, they see their side come from behind to finish off Young Boys, and suddenly they want to see every team forced to their knees. So misguided.