By
Alex Dimond
His talent for football might only be matched by his talent for courting controversy.
Inter
striker
Mario Balotelli
is nothing short of an enigma — a person so troublesome that Jose Mourinho couldn't stand him, yet a player so talented that the Special One couldn't help but bring him back into the fold after every apology.
The son of Ghanaian parents, but raised from the age of three by an Italian adoptive family, Balotelli's life has clearly been eventful from the very start. With Manchester City now edging closer to a multi-million pound move for the 20-year-old, Roberto Mancini clearly believes the forward's ability with a football is worth the many off-field problems he may well bring.
Inter, on the other hand, perhaps consider that after little more than two years in the limelight it is already time Balotelli moved on to pastures new. Yet even they seem to be dragging their heels somewhat, reluctant to lose a player who managed to score nine goals in just 13 Serie A starts last term.

Goal.com UK
takes a look through the short, but impressively eventful life Balotelli has led since emerging in Inter's first-team as a fresh-faced 17-year-old:
COURTING CONTROVERSY
May 2008
New kid on the block

Despite barely having broken into the Inter first team, Balotelli didn't waste time in rallying against the unfairness he perceived in Italian society. The son of Ghanaian parents, the 17-year-old was outraged that the fact he would have to wait until he was 18 to gain full Italian citizenship, a fact that had ruled him out of U15 and U17 Azzurrini representation and would also render him unable to play for the Azzurri in the forthcoming Beijing Olympics.

"The Italian law is unjust and needs to be changed," Balotelli complained. "I feel like a Second Division citizen. Even having been born here, I am still not being recognised as a citizen and I find that to be enormously unjust."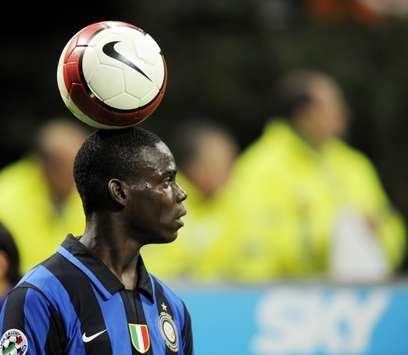 June 2008
I'll play. But I won't care

Two soon-to-be trademark problems for Balotelli first raised their heads during the summer of his breakthrough season — his perceived antipathy towards the Nerazzurri, and his demand to be played in every game, even despite having appeared in few games to this point in his career.

"I do not feel for Inter inside," Balotelli warned, merely days after stating, "If I don't play, I'll leave — it is as simple as that."
August 2008
Looking back in anger

Balotelli turns 18, gains Italian citizenship and suddenly finds himself at the centre of more trouble. The chairman of his childhood club, Lumezzane, was the first to get in the act, outraged as he was that his club had not been properly recompensed for training Balotelli between 2001 and 2006, before Inter stole him for a nominal sum.

"I would have liked to have been invited to the ceremony [to gain Italian citizenship]," Renzo Cavagna roared. "After all, Lumezzane were important for Mario."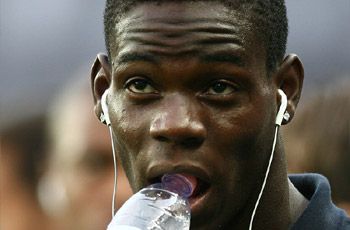 But it was the return of his birth parents, the Barwuahs, that really angered Balotelli. Turning up in magazines and crying about the lost contact with the son they gave up to adoption, Balotelli felt forced to respond.
"I want to make some things clear regarding the comments of Thomas and Rose Barwuah, my biological parents," the 18-year-old stated. "They have talked of two people forced to give their child up for adoption due to poverty. This is false because nobody forced them to leave me at the hospital as a newborn baby and to disappear in the years that followed.
"I have been a foster child in the Balotelli family since the age of two and every two years I have had to renew that agreement in court. Why is that? Because the Barwuahs, who are pictured in the newspapers with a photo of me in an Inter shirt looking sad, never asked to have me back.
"For 16 years I didn't even receive a phone call on my birthday, but now they make contact after I have become a Serie A footballer.
"There is no bond between us and in my eyes they are just strangers."
December 2008
Lazy days at Appiano Gentile

After noting the talent of Balotelli, manager Jose Mourinho soon got tired of the youngster's approach.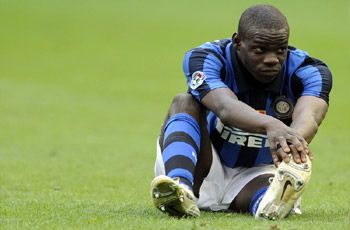 "If he (Balotelli) trained at just 50 per cent then he would be one of the best in the world," the Special One bemoaned. "However, he doesn't even train at 25 per cent."
Club president Massimo Moratti and club captain Javier Zanetti both came out in support of Mourinho in the immediate aftermath, who soon demoted the striker to the reserves to "learn how to play at this level".

Balotelli responded to his detractor with his feet — scoring twice and creating another for the Primavera side in his first game. He soon returned to the first team squad, but two months later, Mourinho was still ranting about his prodigy's work ethic.

"Nothing's changed," Mourinho admitted.

February 2009
Managerial madness

After patching up his relationship with Mourinho, Balotelli fell out with another of his coaches, Italy U21 boss Pierluigi Casiraghi. Balotelli invoked the former Chelsea striker's ire by repeatedly turning up late for team meetings — and even staying out so late on one occasion that he missed a team flight early the next morning.

"Seeing a player with his talent behaving in this way gets me furious," Casiraghi remarked. "I hope Balotelli changes, it will be for his own good. I spoke to him for quite some time and I hope he understands me, but I am not sure he did."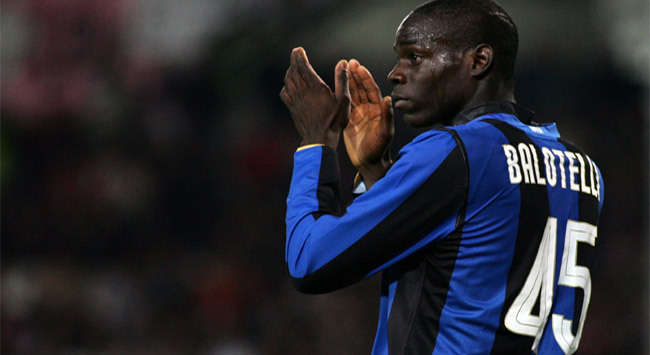 March 2009
Let's get physical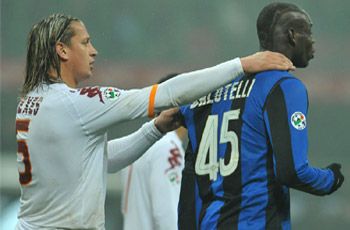 Balotelli's conduct remains a source of concern. Amid reports of him competing with team-mates to chase women in nightclubs and the ongoing misgivings about his work ethic, Roma captain Francesco Totti stated his belief that a harder line needed to be taken with the young tearaway.
"If I had behaved like Balotelli when I was 19, my then team-mates [Giovanni] Cervone and [Giuseppe] Giannini would have kicked me," Totti said. "[Coach Carlo] Mazzone would have slapped me around and my parents would have finished the job. There are other ways to bring up youngsters."


April 2009
False dawn, black mood

Balotelli seems to turn a corner, acknowledging his defects as he begins to make a major impact in the Inter team.

But increased playing time sees the youngster subjected to increasingly abusive chants from opposition fans, with Juventus even fined after one game where chants seemed to take on a racial tone. But many quickly rushed to suggest it was the player's attitude that attracted the criticism:

"The people who whistled at him, why didn't they do it to [Patrick] Vieira or [Sulley] Muntari. The fans don't take it out on coloured players who behave well," former Inter coach Luigi Simone opined. "They take it out on players who disrespect their opponents."

June 2009
The red mist descends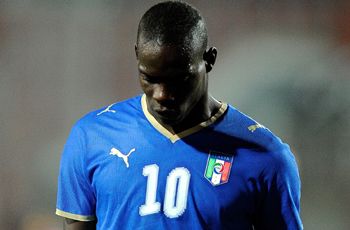 Further headlines for Balotelli, as bananas are thrown at him during a match with rivals Milan, and then he gets himself sent off for a rash challenge in an U21 Championship clash against Sweden.
While somewhat disappointed once again, this time Casiraghi and the Italian football association seemed to stand up for their man.
"We are undoubtedly critical of the player who should have tried harder to control himself," the association's chief delegate Gabriele Gravina stated. "However, it must be underlined how many fouls he received."
November 2009
Back with a bang
After a relatively quiet couple of months — well, barring another "needless" sending off in the Champions League against Rubin Kazan — Balotelli returned to prominence in some style by proclaiming his footballing allegiance... to the other Milan club.
"I am a Milanista. Didn't you know that?" Mario revealed to a small crowd while visiting the Istituto Don Gnocchi. As the crowd went wild, one boy swiftly asked, "If you are a Milanista, why do you play for Inter?", to which Balotelli replied "Well, I'm playing for Inter this year…"
Team-mate Zanetti tried not to get involved in the ensuing drama. "Does he really root for Milan?" the Argentine mused. "Then it means he will go to Milanello and ask for a few autographs."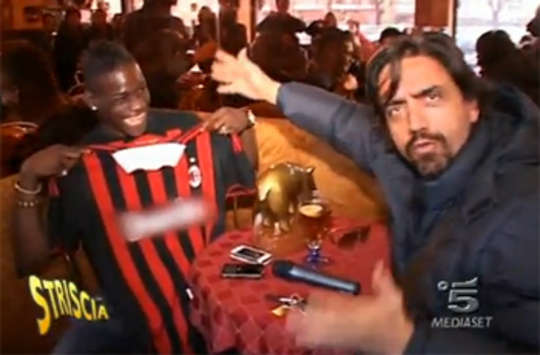 January 2010
Taming of the shrew


After some relatively good PR — one neighbour even revealing in an interview: "Mario always used to stop and speak with everyone. Once upon a time the whole building came down for autographs and he gave all the children what they wanted. He even kept his promise of coming to see the local kids play near by" — Balotelli found himself back in hot water after criticising the entire city of Verona following a fixture against Chievo during which he was subjected to boos from the partisan crowd.

"Every time I come to play in Verona, the city disgusts me even more," Balotelli said, outraging the city's mayor.

"Balotelli is just a little kid who is immature and presuming. He will never be a champion," Flavio Tosi thundered. "The real champions are those who show humility and have good sense. Balotelli doesn't have these qualities."

The player was fined £6,000 for the outburst. A week later, Juventus fans were banished from the Stadio Olimpico's Curva Sud for racist chanting against Balotelli — during a game in which neither he nor Inter were playing.

March 2010
AC, but not PC
More Rossoneri-based trouble for Balotelli — and again of his own making after he puts on an AC Milan shirt during the popular TV show Striscia La Notizia.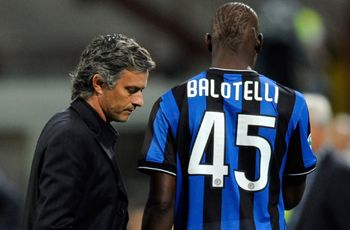 If that wasn't bad enough, things get worse as Balotelli again falls foul of Mourinho, leading to him being left out of the Inter squad to face Chelsea in the second leg of their Champions League clash.
Balotelli was originally left at home for the tie, but eventually flew over to watch his side edge through at Stamford Bridge.
Things get worse before they get better, as Mourinho continues to leave the player out of critical clashes as the club pursue a famous treble. By the end of the month, even Inter fans are chanting against the troublemaker in their midst.
"A united dressing room, as strong as ever, has nothing better to do but to remove those who bring trouble to it. Forza Inter," is the chant regularly heard from the terraces.
April 2010
The prodigal son returns
Balotelli finally resolves his conflict with Mourinho on the first of the month, apologising on the club's website to players, staff and fans.
"I am sorry for the situation that has been created in recent times," Balotelli stated. "I am the first to suffer because I love football and I want to play. I will wait in silence now so I can return to be useful to my team. I no longer want to think about the past, but look to the future and focus on our next objectives so I can be ready."
The Italian returns to the lineup against Barcelona, but storms off following the 3-1 home win, drawing further criticism after throwing his shirt to the ground at the final whistle and storming away from his celebrating team-mates — a petulant response, reportedly a result of boos he received after missing a couple of chances during the game.
"We really need to see and understand what is going on in his head. He is like a child," team-mate Dejan Stankovic commented. It is during this month that the first firm stories linking the player with Manchester City begin to appear.
May 2010

Trouble finds him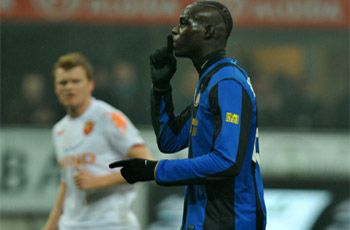 May begins poorly, with agent Mino Raiola claiming irrate fans were tampering with Balotelli's car, loosening wheel nuts and threatening his life.
A few days later, Francesco Totti delivers on the physical promise he made years earlier, earning a red card for a petulant kick at the striker during a game between the two sides.
"I kicked him because of what he said on the pitch, and for what he did at San Siro," Totti later admitted, referring to an incident the previous year where Balotelli had told the Roma crowd to be quiet following his equalising goal.

Balotelli helps Inter in completing an historic treble, but the end to his campaign is increasingly overshadowed by reports linking him to a summer transfer, most probably to the Premier League.
June 2010
Gun trouble
Despite missing out on Italy's World Cup squad, Balotelli still manages to keep the spotlight focused on him with his antics.
Just days before passing his school exams with minimum marks, Balotelli is reprimanded by police after being stopped firing a toy gun out of a car around Milan's Piazza della Repubblica.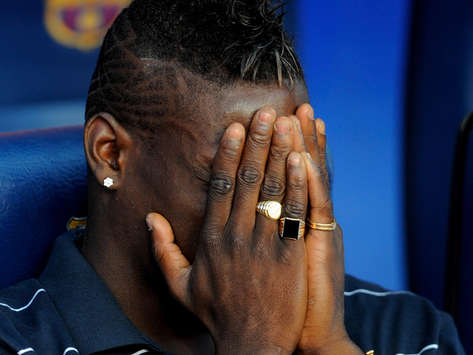 July 2010
Same old story
The more things change... Balotelli is reportedly reprimanded after arriving late for Inter's first training session of pre-season. Links with a move to Manchester City only increase, especially as Balotelli's agent launches a scathing attack on Italian FA chief Giancarlo Abete.
"Let's do it like this, if Abete resigns, Balotelli may remain in Italy," Raiola reveals, after calling for Abete to be sacked after introducing a quota on the number of foreign players brought to Italian football each year.
August 2010
Someone else's problem
Negotiations with Manchester City start to draw out, during which time Balotelli's agent does most of the talking in the press for him. After weeks and months of slow progress, on the eve of the season Manchester City finally feel confident to announce the 20-year-old's impending arrival.