EXCLUSIVE
Inter
striker
Mario
Balotelli
is just days away from completing his mega move to
Manchester City
, but there is much more to the 19-year-old than last season's treble-winning campaign ups and downs.
Goal.com
caught up with the coach who launched his career as a 15-year-old schoolboy at Lumezzane, Sandro Silvioni, for a deep and exclusive view of what City fans can expect from the Italian as he embarks on a Premier League adventure.
Flying start...
"I remember the very first time I saw him training with the youth players. I told my staff that I wanted him in my first team instantly," Silvioni told
Goal.com
.
"The next week I gave him his senior squad debut in an important match which we won. I remember there were questions because he was only 15 and he couldn't play, but we obtained special provisions with the league to overcome that.
"Everyone could see what this player was capable of, and so I cannot take the glory for giving him his breakthrough.
"The credit must go to the president and the scouts that discovered him."
"I remember he was always ready to joke around and play. He always wanted the ball and he suffered when it was time to do athletic or tactical work. After training I used to encourage him to have more practice shooting, but he always used to say he had to rush home to study. But then I would see him on a pitch nearby playing with his friends," added Silvioni.
And Silvioni feels Balotelli is leaving at the right time following a season in which plenty was won, but not always tactfully, following the striker's troubles inside the Nerazzurri dressing room.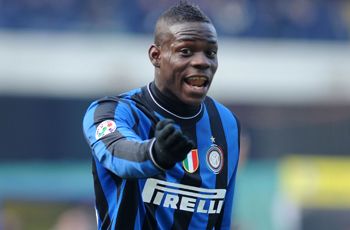 "I think that people tend to forget his young age and the fact that he cannot have the maturity of a 30-year-old," he added.
"Like in all situations, you have to have the feelings to treat him right. He never had any problems with me because I had the attitude that we all made mistakes when we were 15. He is no different to others just because he does magic with the ball.
"There is a need to make him more responsible, but without obstructing because that could backfire and risk damaging his talent."
Mancini's hand...
And Roberto Mancini's experience with Balotelli from their days together at Inter will come in handy in ensuring there are smiles and handshakes around the City of Manchester Stadium.
"Sure, Mancini knows him well and it was he who gave him his Serie A debut so young. It's obvious Mancini admires him and likes him as a player," said the coach.
"The fact that he has chosen him for such an ambitious project is a guarantee that Mancini is relying heavily on the player."
Critics have viewed the move as a loss for Calcio, despite Inter hitting the jackpot.
"People said so much about nurturing young Italian talent after the World Cup but a month later we see Italian players heading abroad to foreign clubs," he said.
"When major clubs like Manchester City, Manchester United and Chelsea move then it's hard to resist major offers."