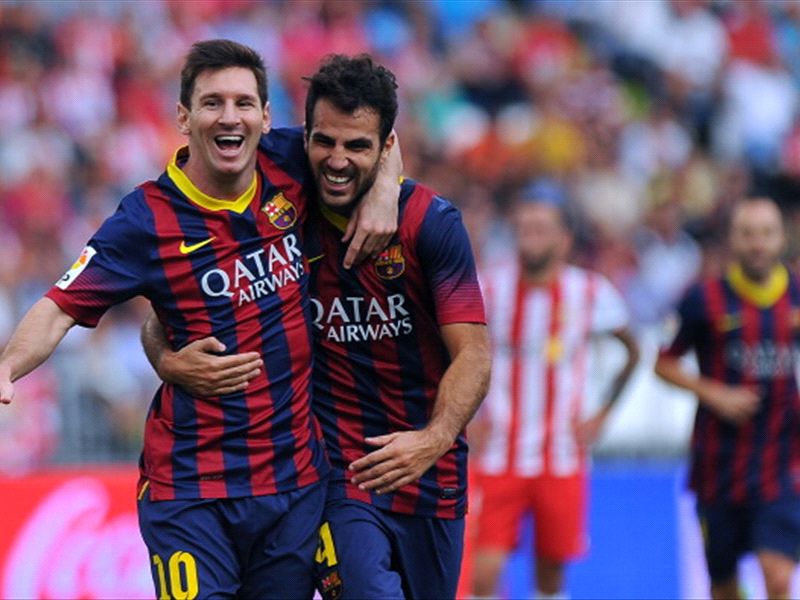 Cesc Fabregas
has said he "would love" to see
Lionel Messi
to join him at
Chelsea
.
Messi's future at Barcelona has come under a lot of scrutiny after he suggested last month he could leave the club in the near future
.
Fabregas played alongside the Argentine in the Barca youth system and again in the first team when he returned to Spain following his time at Arsenal.
The 27-year-old has been a key component of the Chelsea team which currently sits top of the Premier League and says he would love to team up with his former team-mate at Stamford Bridge.
When asked if he thinks Messi should join him in west London, Fabreas told
Radio Marca:
"I wish! Why not? I'd love that to happen. I'd be all for it.
"As a Barca man, I believe that Messi deserves to retire there for all that he has given the club.
"He is a legend that has changed Barca's history. But, as his team-mate and friend, without doubt I'd love to have Leo by my side. This season Barca are Messi and 10 others. Messi has saved his team on many occasions."
The World Cup winner was also asked if he felt Jose Mourinho would be a good fit to coach the Camp Nou club.
"I'd say that Barcelona have a style that he has already experienced and understands perfectly," he replied.

"Chelsea play a very similar game: we want to be the protagonists, have possession and look to score. We may have a different system, but the philosophy is similar.



"Mourinho adapts to the players he has. What makes him so great as a coach is that he adapts to any situation and his teams can play in many different ways. It's a very intelligent way of managing."