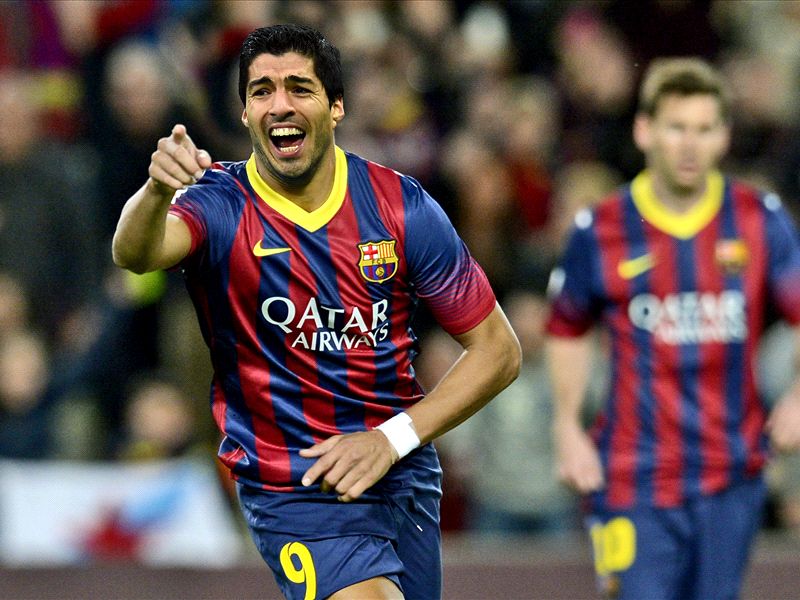 Liverpool
and
Barcelona
have reached an agreement for the transfer of striker
Luis Suarez
.
Goal revealed on Thursday that the terms and payment structure of the deal, worth around £70m, had been finalised and was only awaiting an official announcement from the two clubs
.
That confirmation came on Friday lunchtime, with Barcelona saying in a statement on their official website that the Uruguay striker will be in Catalonia next week to put pen to paper on a five-year deal and complete his medical.
The Primera Division side also confirmed that Suarez will wear No.9 at Camp Nou next season, taking over from new Arsenal signing Alexis Sanchez.
From today, we're all following @luis16suarez. Welcome to @fcbarcelona #SuarezFCB http://t.co/tOzYobZiVN pic.twitter.com/HRwptQgTaJ

— FC Barcelona (@FCBarcelona) July 11, 2014
The Premier League club added: "Liverpool FC confirms that Luis Suarez will be leaving the club after a transfer agreement was reached with FC Barcelona. The player now has permission to complete the usual formalities, which will then conclude the transfer.
"We would like to thank Luis for his contribution and the role he played in helping bring Champions League football back to Anfield.
"Everyone at Liverpool Football Club wishes Luis and his family well for the future."
Suarez has also released a statement, in which he thanked the Liverpool fans for their continued support despite a raft of disciplinary issues despite his time on Merseyside.
"It is with a heavy heart that I leave Liverpool for a new life and new challenges in Spain," he said. "Both me and my family have fallen in love with this club and with the city.
"But most of all I have fallen in love with the incredible fans. You have always supported me and we, as a family, will never forget it, we will always be Liverpool supporters."
Brendan Rodgers, the Liverpool manager, has also gone on record to insist that the Reds were desperate to keep hold of Suarez.
"The club have done all they can over a sustained period of time to try to keep Luis at Liverpool," he said. "It is with great reluctance and following lengthy discussions we have eventually agreed to his wishes to move to Spain for new experiences and challenges."
Everyone at #LFC wishes @luis16suarez and his family well for the future pic.twitter.com/8ODQXoRYEH

— Liverpool FC (@LFC) July 11, 2014
The transfer comes a year after the Uruguay striker tried to force through a move to Arsenal, only for Liverpool to stand firm and refuse to sanction a deal, even if his representatives and the Gunners believed he had a £40m buy-out clause.
Suarez then signed a new four-and-a-half-year contract at Anfield in December, though Goal revealed that the new agreement contained a more concrete buy-out clause which could facilitate a summer move.
Real Madrid had been continually linked with a move, but Barcelona gradually entered the picture and have stepped up their interest in recent weeks.
With Suarez leaving the World Cup early after being banned from football for four months and nine international matches by Fifa for biting Italy defender Giorgio Chiellini, talks with Barca over a transfer accelerated.
Various Barca representatives, including sporting director Andoni Zubizarreta and new signing Ivan Rakitic, praised Suarez for apologising for his latest bite, while talks behind the scenes progressed.
Goal reported at the start of July that a Barcelona delegation had met Liverpool chief executive Ian Ayre
and that talks were progressing amicably,
although the Reds were determined not to be bullied over the transfer fee.
After initially hoping to sign Alexis as part of the deal,
Liverpool relented once it became clear the Chilean was intent on a move to Arsenal and settled on a straight cash deal
.
The deal was delayed for a week as Alexis' move was finalised and a payment structure between Liverpool and Barca was agreed, but that agreement has now been confirmed.
Suarez will be unable to train with his new team-mates under the terms of his Fifa ban, which was upheld by world football's governing body on Thursday, although Uruguay are expected to appeal to the Court of Arbitration for Sport.
The striker is banned from all football activities, which includes attending charity events with his team-mates, promotional campaigns, handing out trophies at grassroots events and being involved in his club's team photograph.
Suarez's time in England was plagued by controversy. Having been signed from Ajax in January 2011 in the midst of a ban for biting Otman Bakkal, he was later suspended for eight matches after being found guilty by the Football Association of racially abusing Manchester United's Patrice Evra in his first full season at Anfield.
At the end of the following campaign he was banned for 10 games for biting Chelsea defender Branislav Ivanovic, but returned in 2013-14 to propel the Reds in their first serious title challenge since 2008-09 with 31 goals in 33 Premier League appearances.
Suarez's fine club season was overshadowed on the world stage when he bit Chiellini during Uruguay's crunch clash with Italy.
The South Americans won the game and advanced to the last-16 of the World Cup, but by the time they kicked off against Colombia their talisman had been handed his unprecedented ban by Fifa.
Should Uruguay's CAS appeal fail, Suarez will only be free to return to action for Barcelona in October. The Primera Division are yet to announce the fixtures for the 2014-15 season, though it is scheduled to start on August 23.
Suarez was due to miss up to 14 Liverpool matches if he had stayed at Anfield, and he will be forced to sit out a similar number for his new club, including their opening Champions League fixtures.