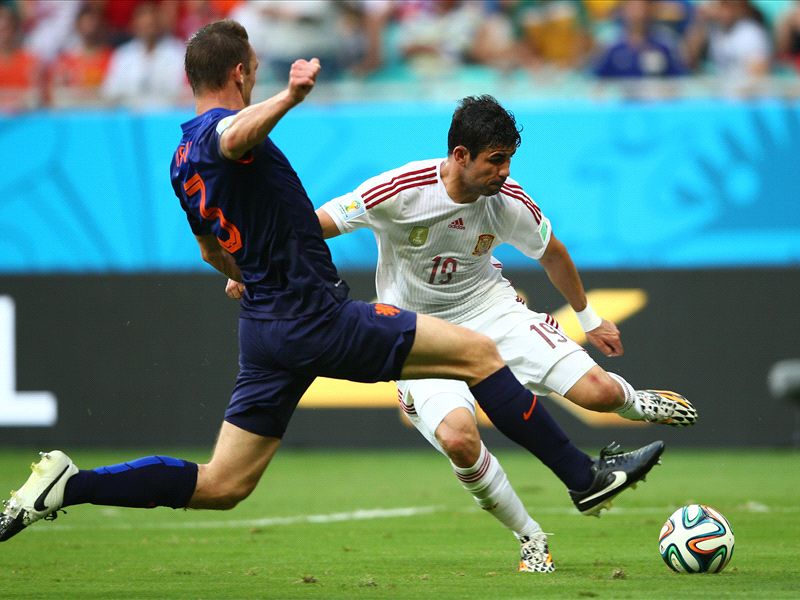 EXCLUSIVE
By Duncan Castles in Salvador
Diego Costa
's decision to leave new Spanish champions
Atletico Madrid
for English football was motivated by a desire to represent "one of the greatest clubs in the world".
Jose Mourinho's Chelsea have agreed to meet the centre forward's release clause - in
a deal that, including agents' fees, will cost them £35 million
- and struck personal terms that will make him one of their best-paid players.
"Why would I have chosen to play for Chelsea? It is a thing that is about to happen," Costa told
Goal
. "Things are going in a direction and, if they keep going as they are going, it is the team I will play for in the next season.
"I've wanted to play in the Premier League for a while. Chelsea are one of the greatest clubs of the world so there are many factors that make you take a decision like this."
The Costa success
| The striker's record as Atletico triumphed in La Liga
Part of the Brazilian's attraction to the Blues boss is his physically domineering and unconventional style, partially a product of spending his teenage years outside the academies of that nation's academy systems. He first represented a top-tier European side as an 18-year-old, having been signed by Sporting Braga's then-technical director Eladio Parames, a close friend of Mourinho.
He subsequently bounced around Portuguse and Spanish club football, joining Penafiel, Celta Vigo, Albacete, Valladolid, Rayo Vallecano and Atletico Madrid on either full transfers or loans. Only in his past two seasons in the Spanish capital did he reach double figures in goals scored, concluding with a spectacular haul of 36 from 52 appearances as Atleti won the title.
The 25-year-old is cautious about affirming expectations that his playing style is ideally suited to English football. "Every year is a different story, nothing is easy in life," he says. "I will have to work a lot to fit in with the style of the Premier League."
The striker was roundly booed by Brazilian spectators as he made his World Cup debut for Spain in Salvador, a city less than 300 kilometres from his birthplace, on Friday. He won Spain's penalty in the 5-1 defeat and declared himself unaffected by verbal abuse querying his sexuality.
"In Spain it happens to me in every stadium I play so I'm pretty much accustomed to it," Costa observed. "I had my right of choice so it's the same for the public, they have the right to choose to boo me. When you are on the pitch you don't think about those things. I saw it coming, I knew it was going to happen so I had my head ready for that."
The forward also countered suggestions that his Spanish team-mates had been affected by the continual cat-calling. "From [last year's] Confederations Cup, they knew that here in Brazil the relation of Spain with the fans was a bit complicated," he argued. "They knew they wouldn't have the support of the public.
"It was a tough loss [but] a match like this happens here and then. There is a positive side which is that we still have a chance so we have to keep our heads up because there are two finals to be played. There is nothing better than a next match to try to forget this one."