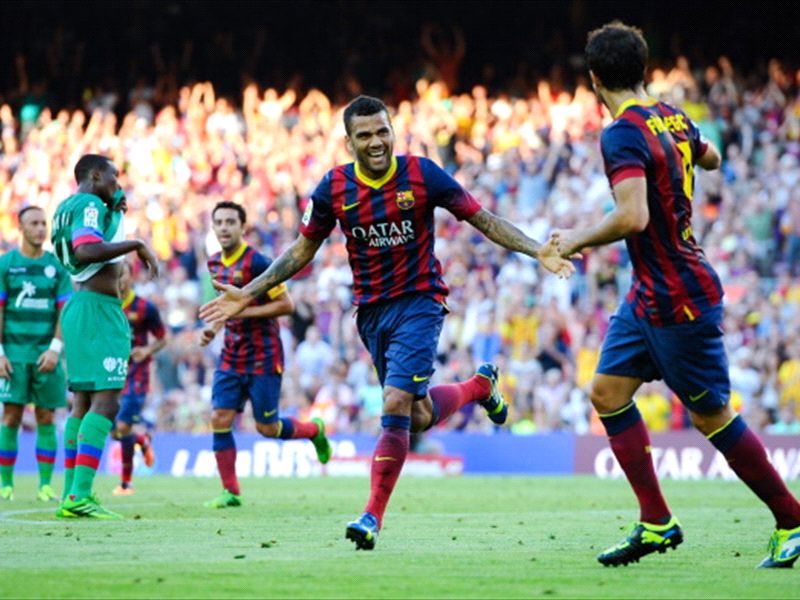 Barcelona
defender
Dani Alves
has called
Paris Saint-Germain
a "great club" ahead of a potential move to the Ligue 1 winners.
The Brazil international has been linked with a move away from the Spanish giants this summer, with reports suggesting that the 31-year-old has already committed himself personally to Laurent Blanc's side.
The full-back – who has won every available honour with Sevilla and Barcelona in Spain – has now revealed that he would welcome a move to PSG because the transfer would represent a new challenge in his career.
"I always said that I was not doing long-term projects, rather short-term," Dani Alves told
Surface
magazine.
"In fact, what I want are challenges, I was born for this. And if a challenge involves going elsewhere, I'll be happy [to do so]."
When asked about his prospective move to Ligue 1, Alves added: "Paris? I think it is a great club. And I love playing for the big clubs. That's what I dream of.
"What I want is to play for clubs that can offer me challenges. And PSG is a great club.
"There has been some talk about it, and if I do not stay at Barcelona, it [PSG] is a real alternative for me."
The Brazilian also admitted that he has spoken with compatriot Thiago Silva, who plays for PSG, about the move.
"When we are with the national team, of course we talk about our club lives," Alves said.
"Conversations revolve mainly around that, whether we are both happy at our respective clubs, if the infrastructure is good and what the club can offer players.
"I think all the big clubs offer a lot to their players, and PSG is one of them. I know he is very pleased with PSG." //