SPECIAL REPORT
By Greg Stobart
It has taken just under a year for
Real Madrid
to ignore the partnership agreement signed with
Tottenham
last August and to launch a barrage of friendly fire towards north London as they attempt to facilitate a summer deal for
Gareth Bale
.
'Operation Bale' is in full flow as the Spanish giants look to capture the double player of the year, with Madrid president Florentino Perez desperate to bring the Welshman to the Santiago Bernabeu as the club's big-money signing this summer.
And Spurs are furious that, thanks to Real's dirty tricks, they now have to strap in for a rocky transfer saga that is likely to continue until the window closes in September.
THE VIEW FROM SPAIN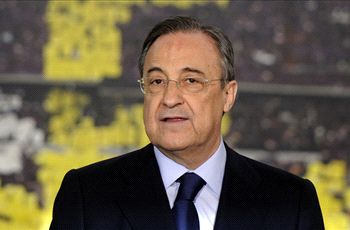 Real Madrid have virtually completed their team ahead of next season. Yet the club feel they need one, final signing: Gareth Bale.

With Angel Di Maria, Jese and, of course, Cristiano Ronaldo, the club are well stocked in Bale's position but the signing of Neymar by Barcelona seems to have convinced Florentino Perez that he himself needs a new Galactico.

The Welshman would be the jewel-in-the-crown signing that Perez is after but Daniel Levy's reputation as a tough negotiator is well known in Spain and, as such, Madrid are starting to do everything they can, publically and privately, to facilitate a move.

- Alberto Pinero | Madrid Correspondent

It started when Perez publicly praised Bale and claimed that he was "born to play" for the club, while Madrid legend Zinedine Zidane spoke in glowing terms about the 24-year-old.
Then his agent, Jonathan Barnett, popped up mysteriously on a local Madrid radio station, much to the surprise of Tottenham executives, given his close relationship with Spurs chairman Daniel Levy.
Now the assault on Bale is in full flow, with more than £30 million set to flow in to Madrid's 'Bale fund' from the sale of Gonzalo Higuain to Napoli.
On Tuesday,
Marca
claimed that Bale had told Tottenham that he wants to leave and agreed a six-year contract to move to the Bernabeu, with the newspaper providing blow-by-blow accounts of meetings featuring Perez, Barnett and Jose Angel Sanchez, the Spaniards' general director.
Spurs are not surprised by reports that Bale's representatives met with Real on June 25, given that there have been numerous discussion between all three parties over the last 12 months.
What has annoyed the Londoners are claims that Bale has handed in a transfer request, that he has agreed a deal with Madrid and a switch to the Benabeu is all but a
fait-accompli
.
As it stands, that is simply not true.
For all the hype in Spain - and despite Real's public campaign aimed at convincing their supporters that they can land Bale this summer - Tottenham remain relaxed about the situation and are adamant that their star man will not be sold.
Levy has communicated that to Perez - and to other suitors, including Manchester United - several times and has the backing of Spurs' owner, Joe Lewis, to offer Bale a contract worth more than £150,000-a-week.
Madrid's certainty that they can sign the winger is perhaps a legacy of the drawn-out saga of last year that eventually saw Luka Modric swap north London for the Spanish capital. Spurs are still considered, both domestically and in Europe, as a club who sell their best players.
Their place in the food chain seems to be well established given the way in which partnership with Madrid has panned out. It is like the special relationship between the United States and the United Kingdom - with Tottenham desperate to join the big-hitters but regarded as little more than an afterthought by those on the top table.
But if the Spanish club learned anything from the Modric episode, it was that Levy is one of the toughest negotiators in the business and, when he says that Bale is not for sale, he means it. Just as he did when Chelsea tried - and failed - to sign Modric in 2011.
It would take an enormous bid - in excess of the world record £80m that Real Madrid paid to sign Cristiano Ronaldo in 2009 - for Tottenham to even consider parting with Bale this summer.
In their favour is the fact that the Welshman still has three years left on his contract at White Hart Lane and is more than happy to stay at the club for one more season.
Bale developed a strong relationship with manager Andre Villas-Boas as he scored 31 goals in all competitions last season, while influential figures including his father believe that his career would be best served by staying at Spurs next season.
Unlike Modric or Dimitar Berbatov before him, Bale is not the kind of character to kick up a fuss, while his appearance in Tottenham colours in multiple marketing campaigns does not suggest a transfer to La Liga is imminent.
As far as Spurs are concerned, they will not change their minds, whatever Madrid throw at them. A deal for next summer, when Bale turns 25, has always seemed a far more likely scenario and Tottenham would be willing to enable the attacker to pursue his "dream" should Perez meet their asking price then.
For now, though, the Spanish club certainly appear to be winning the PR war, exciting their fans with their pursuit of one of the best players in Europe and all the while forcing Spurs on to the back foot.
While there is respect between the two clubs at boardroom level, the very public nature of Real Madrid's courting of Bale is causing tensions to rise - and it will only get worse as 'Operation Bale' continues.
Follow Greg Stobart on