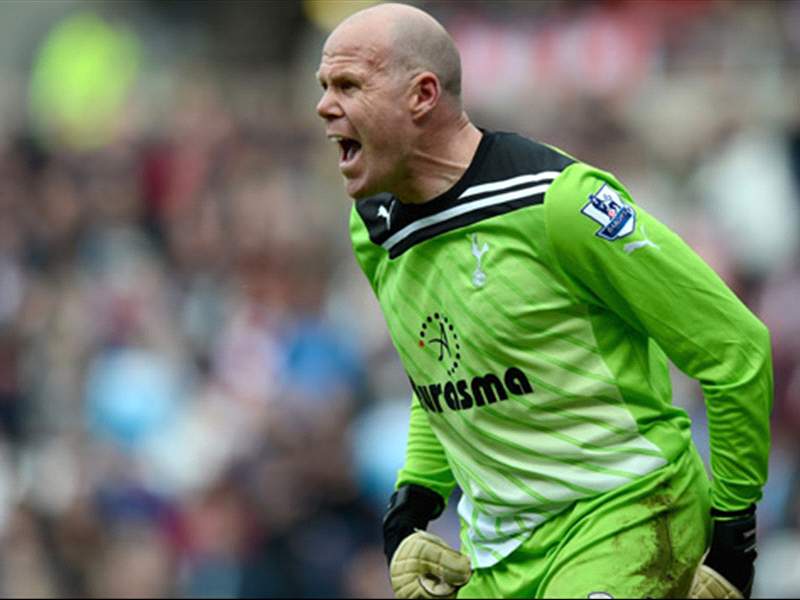 EXCLUSIVE
By Alex Labidou
Tottenham
goalkeeper
Brad Friedel
has dismissed the notion of retiring, insisting he will continue playing as long as his body allows him to do so.
At 42 years old, the American is the oldest player still plying his trade in the Premier League, and recently extended his stay at White Hart Lane until the summer of 2014.
Friedel's record-breaking run of 301 consecutive Premier League games ended last October following Hugo Lloris' arrival, with his outings restricted to cup competitions, but he has no intention of throwing in the towel yet.
"I'll see if I can walk down the stairs in January," Friedel joked to
Goal
. "I'm going to play until my body says I can't do it anymore or the club doesn't want me.
"At 42 years of age, the team comes first. Me and Hugo have a very good relationship... He's a really nice guy and a really good goalkeeper."
Friedel, though, did reveal that Tottenham received a number of enquiries for the veteran during January, with first-choice, first-team football on offer, but he was happy to remain at White Hart Lane.
"I did have a few calls last January but none of them were printed," stated Friedel.
"Would I consider a job in MLS? Absolutely. I think if it's with the right people and the right owners and the right club, absolutely."
Spurs narrowly missed out on the final Champions League spot last season despite having the highest Premier League points tally in their history.
Friedel does not feel there is a major area where Tottenham needs improvement, believing the club to be "little tweaks away from greatness", and is a firm believer that manager Andre Villas-Boas is the right man to take the club to the next level.
"When Andre came in, he set the tone right away," Friedel said. "He said he was a winner and he wanted us to be winners and he wanted the club to be successful.
"He's very much an attention-to-detail manager. Our training sessions are very structured, very organized. He came in and had an open door policy right away which is all you can ask for a player."
Follow Alex Labidou on