By
Wayne Veysey
| Chief Correspondent
Jose Mourinho
has agreed a deal to re-join
Chelsea
as their manager this summer – and is poised to bring £50 million striker
Radamel Falcao
with him.
Goal.com
understands that the Real Madrid boss will be unveiled in the Stamford Bridge hot seat in the coming weeks following a breakthrough in negotiations with the club.
THE NIGHT FALCAO DESTOYED CHELSEA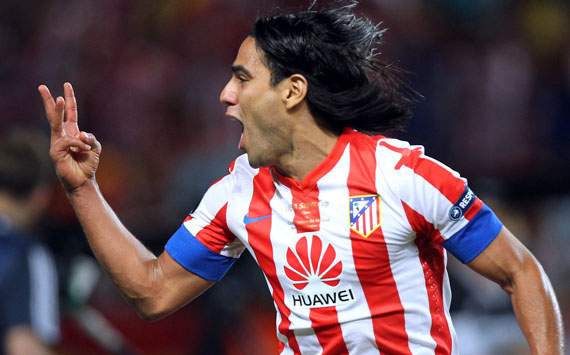 The Chelsea high command, led by Roman Abramovich, have been in talks with Mourinho's camp for months about a sensational return for the man who led the club to two Premier League titles during his first spell in charge from 2004-2007.
Negotiations have centred on how much control Mourinho will have in recruiting players and staff, as well as his place in a management structure where low-profile technical director Michael Emenalo holds the levers of power.
It is believed that, following a series of twists and turns during discussions, an agreement in principle has been reached for the Portuguese to take over from interim manager Rafael Benitez this summer.
Mourinho will pen to paper and formalise the deal when he ends his three-year spell in Madrid later this month.
A report in Germany last week claimed that Chelsea were on the brink of landing both Mourinho and Atletico Madrid's spearhead Falcao.
Goal.com understands that the European champions have since made further progress with both deals and are confident that Mourinho will soon be in place as their new manager.
The deal to capture Falcao, who is also represented by super agent Jorge Mendes, still requires some work but the Londoners are confident that Mourinho can unveil him as one of the first signings of his second spell at the club.
BEN HAYWARD, GOAL.COM INTERNATIONAL

Jose Mourinho has been here before. Just under three years ago, also at the Santiago Bernabeu, the Portuguese lifted his second Champions League trophy, with Inter, and then moved on straight away - just as he had done with Porto six years earlier.

After leading Inter to their first European Cup success since 1965, Mourinho revealed he was moving to Madrid, but was much more coy in the press room moments later. "I haven't decided yet," he told the international media. And in any case it would be hard to leave, because he loved Inter, he explained.

But his mind had been made up and something similar happened on Tuesday night. "Would he be staying at Madrid?" he was asked. "Maybe not - I love to be where people love me to be," was his reply. So anywhere but Spain, then, given all the problems he has had with players, press and just about everybody else.

Down in the press room itself, he was less forthcoming and claimed he may still be at the Spanish side next term. But he won't be. His earlier words gave the game away - he has never truly felt the love at Madrid and now is the time to move on to a place where he really does feel appreciated. So Chelsea seems ideal.
Chelsea, who came close to landing Falcao last August and then again in January, have been in talks with Atletico top brass for weeks about the structure of a deal which is complicated by uncertainty over the future of goalkeeper Thibaut Courtois, who has been extremely impressive since joining the Spanish club on loan at the start of last season.
Chelsea are prepared to allow the Belgian keeper to continue his development by staying in Madrid for another season if it eases Falcao's path to west London.
The Blues have made it clear that they are willing to activate the £50.8m release clause in the striker's Atletico contract.
The deal is a complex one because of third-party ownership issues - with Mendes part of a consortium holding an interest in Falcao - but Chelsea have intensified their efforts to land the front man in a bid to ensure the transfer can be completed.
The London club have made Falcao a contract offer and it is believed that personal terms have already been agreed on a deal that is likely to make the striker one of the highest paid players in Premier League history.
Goal.com exclusively revealed in March that the former Porto man is chasing a
deal worth around £250,000 per week.
Mourinho and senior Chelsea officials regard the Colombian, who has scored 32 goals in 36 games for Atletico this season, as an upgrade on current front men Fernando Torres and Demba Ba.
Follow Wayne Veysey on