COMMENT
By Sam Lee at Villa Park
Christian Benteke
will have put himself at the top of many a manager's list of summer targets thanks to his magnificent hat-trick in Monday's
6-1
demolition of
Sunderland
.
The Aston Villa striker displayed every impressive facet of his game in the 79 minutes that he was on the pitch, from aerial prowess to deftness of touch via, of course, his deadliness in front of goal.
MAN OF THE MOMENT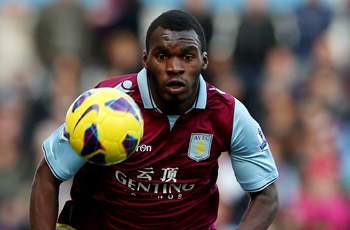 55'
Heads home from close range
60'
Powers in a header at the far post
72'
Beats Mignolet from a narrow angle

FROM OUR LIVE TEXT COMMENTARY

GOAL!!! It's that man Benteke again, who defies gravity to leap above two Sunderland defenders and squeeze Ashley Westwood's corner inside the post past Simon Mignolet for his second goal.
PLAYER RATING






Played a beautifully deft ball around the corner for Gabriel Agbonlahor, who missed, but came into his own after the break. Stooped to head in the third after half-time, completely free, and then powered in a header shortly afterwards. Slotted under Mignolet for his hat-trick. Unplayable.
Tottenham have been offered the striker's services this season but the Londoners are - or at least were - far from keen on making a move. Andre Villas-Boas and the White Hart Lane hierarchy have other names in mind but the 22-year-old may well have given them something to think about. And Spurs are not the only ones who should be sniffing around.
Benteke has scored 14 goals in 16 games since New Year's Day in a team who have struggled at the wrong end of the table for most of the season. And, although relegation is still a possibility, the thumping win against Paolo Di Canio's side has done wonders for Villa's points haul and goal difference, not to mention the confidence of such a young side.
The Belgian provided the killer touch to supplement fine performances from Matthew Lowton, Andreas Weimann and Gabriel Agbonlahor on the night but for so long he has had to carry Villa's promising but fragile younsters on his broad shoulders.
Had it not been for Benteke's form in 2013, Villa may well have found themselves already consigned to the Championship alongside QPR and Reading.
But Villa fans left the stadium on Monday in high spirits following their biggest home win in 17 years, singing the name of a truly impressive striker of whom few had heard before his Premier League move.
His Villa story started back on transfer deadline day at the end of August, 24 hours synonymous with frenzied chaos. He looked utterly bewildered as he was interviewed, Harry Redknapp-style, through his car window.
He confirmed that confusion in November, admitting: "When I joined Villa I didn't know where they played. I thought they were a London club!"
It had been a fairly inauspicious start to life in England up until that point. Despite a debut goal against Swansea City, he had looked something of an oaf at times - Gary Neville had likened his performace to "a set of railings" in the 1-1 draw against West Brom, in which Darren Bent replaced the Belgian and went on to score the equaliser.
But instead of relinquishing his place to the former England man, he has really hit the gas and Monday's performance sealed his reputation as one of the deadliest strikers in English football. With a chance conversion rate of 25 per cent, he beats off competition from Robin van Persie (23%), Luis Suarez (16%), Michu (20%), Gareth Bale (16%), Jermain Defoe (16%), Olivier Giroud (13%) and Sergio Aguero (18%). In fact, he beats off competition from anybody considered a goalscorer.
After Monday's hat-trick, he is now only six goals shy of Fernando Torres's Premier League record, 24, for the most goals scored by a foreign player in their debut season.
As much as the stats tell a story, though, it is the magnitude of his performances that paint the real picture; Sunderland centre-backs John O'Shea and Carlos Cuellar were the latest defenders to be given a torrid time on Monday. O'Shea celebrates his birthday on Tuesday - he will have had better. Cuellar, meanwhile, will not have enjoyed his return to Villa Park one bit.
Benteke bossed the Black Cats' back line in the air and gave them trouble on the ground too, yet he is not just a burly forward who relies on power. With the game goalless, he turned a beautifully deft ball round the corner for Agbonlahor, who really should have scored.
It was the kind of dominant performance for which Didier Drogba became known in his Chelsea days but what is most impressive about Benteke is that he is so young. The almost clumsy, goal-shy Drogba was derided in his first season or so in the Premier League and he was 26 when he moved to Stamford Bridge from Marseille. Benteke was 21 when he left Genk on that whirlwind day at the end of August and he has taken to the league like a duck to water, in a considerably weaker side to boot.
With Tottenham crying out for a central striker - moves for Leandro Damiao have faltered on several occasions - they would do well to give Benteke more serious consideration.
If they do not, others will; the Belgian admitted that he "loves Arsenal" late last year, which will be enough to prick the ears of interested agents and assorted third parties in north London.
Whatever his next move, Benteke has proven his worth as a Premier League goalscorer and will be one of the hottest properties on the domestic transfer market this summer. Aston Villa may well have staved off relegation this season but the bigger battle will be keeping hold of their star striker.
Follow Sam Lee on