Best formation:
A nod to Marcelo Bielsa with an adaptable 3-3-1-3
Goalkeeper

Iker Casillas - Spain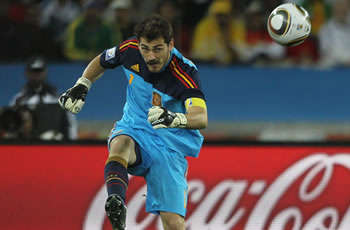 A formidable record at World Cup 2010 for the winning captain. Only had his goal-line breached twice, by Switzerland and Chile, before shutting out the opposition for the entire knockout stage. Saved a penalty against Paraguay and made vital saves against Germany in the semis and Holland in the final.

Defence

Sergio Ramos - Spain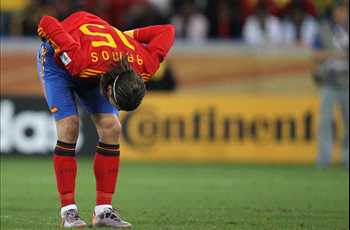 After a tournament like this it is difficult to ascertain why Real Madrid seem so hell-bent on bringing Maicon to the Bernabeu. The Sevilla graduate was solid defensively throughout the whole competition and displayed notable improvements to his concentration levels. Going forward he was a revelation, supporting the right side of the attack when natural attacking width was not provided in the formation. Despite his intrepid nature in regularly crossing the halfway line he was rarely found wanting at his own end.

John Mensah - Ghana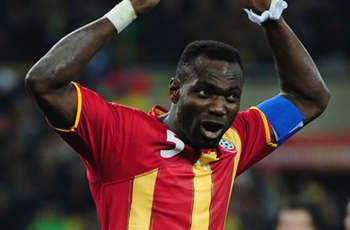 The Black Stars formed a parsimonious guard in front of Richard Kingson, a goalkeeper who has been noted for his less than dependable handling. The captain, Mensah, lived up to his nickname, 'the Rock', in this respect, providing expert marshalling and solid line-leading for his youthful partner, Isaac Vorsah. The 27-year-old, despite his ongoing physical difficulties, was outstanding.

Juan - Brazil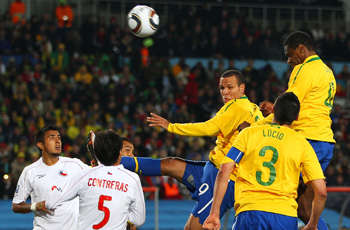 A sign of the times that Brazil's most impressive player of these finals is a defender. The pragmatic approach of Dunga placed a whole lot of trust in his central defensive duo, Juan and Lucio. They did not let him down. Juan tackled hard and passed capably; the Roma man even popped up with a crucial goal against Chile.

Midfield

Bastian Schweinsteiger - Germany


Continued from where he left off in the Bundesliga. Absolutely dominated the central third of the field for much of Germany's tournament with hefty tackling, efficient ball-usage and nifty footwork to enable him to turn out of trouble. His pedigree as a central midfielder cannot be underestimated after his level of performance over the past 12 months. A great tournament by a player who is now, surely, a national captain in waiting.

Xavi Hernandez - Spain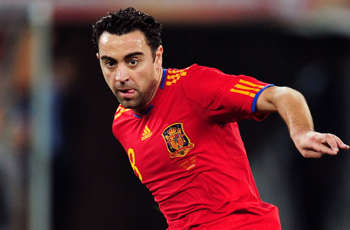 A World Cup medal to add to a litany of honours for club and country. The schemer exuded class throughout all seven matches, taking up possession about once every five passes for the Spaniards. As he is for Barcelona, Xavi is the national team's metronome, keeping the ball efficiently, providing key passes and exuding a patient calm. Absolutely integral to his side's fortunes.

Andres Iniesta - Spain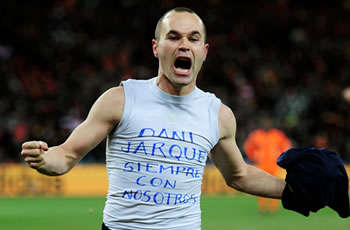 Cometh the hour, cometh the man. The Barcelona midfielder was clearly not fit at the outset of the games but, as he did in the final match itself, he grew in stature as time went by. The game against Holland gave Iniesta the chance to be at his roving best; dribbling, passing accurately and drawing fouls. Scorer of two World Cup goals. Just edged out Uruguay's Diego Perez for a spot in this team; the Monaco man was simply immense.

Wesley Sneijder - The Netherlands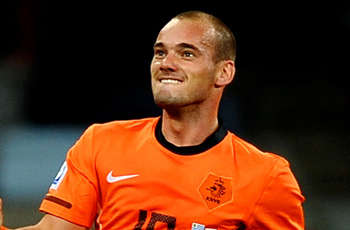 Finished alongside his striking rivals with five goals and was central to the Oranje's attacking cause throughout the tournament. Could not impose himself as he would have liked on the final but enjoyed a tremendous month nonetheless. After an arduous season at club level his stamina must also be commended. Moved his reputation up a notch with responsible, aggressive and dominant playmaking.

Attack

Thomas Mueller - Germany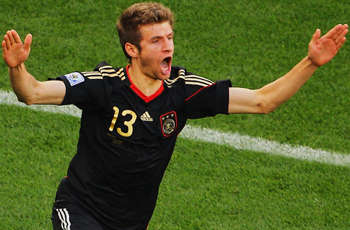 How different would Germany's semi-final against Spain have been had the young Bayern Munich attacker played? Regrettably for Die Elf, we will never know. The absence of Mueller confirmed his newly acquired status as a vital component in his nation's line-up. In his other matches, the 20-year-old showed striking examples of his awesome potential with accurate, ruthless finishing and excellent vision and reading of the game.

Diego Forlan - Uruguay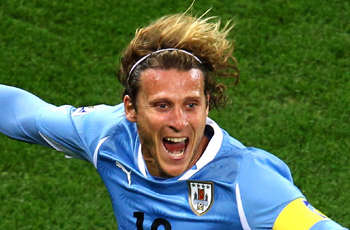 Golden Ball? Check. Golden Boot? Check. Well, shared four ways. Despite not playing as an out-and-out striker for the most part the Atletico front man carried the majority of la Celeste's goal threat. Not only that, Forlan was content to be selfless, linking the play from his destructive midfield colleagues to Luis Suarez and Edison Cavani. A wonderful tournament for Forlan; he deserved better than hitting the bar with his last kick of it.

David Villa - Spain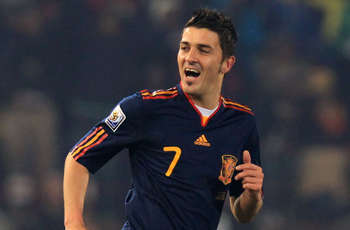 El Guaje did what he does best. Scored for fun. An underwhelming opening game was quickly put to the side with a brace against Honduras and a further goal against Chile. He decided the second round and quarter-final by the slender margin required, emphasising his centrality to the Spain cause. Finished as joint-top scorer.