Welcome to Goal.com's new World Cup feature: Goal.com Player of the Day. Each day a candidate will be put forward, as chosen by Goal.com International, who deserves recognition for achieving something special. It won't necessarily be the best player in the world - at least not usually - but whoever we nominate will have done something amazing. It might be for a particularly awesome performance or for something praiseworthy off the pitch - either way, the person in question deserves special attention...


Goal.com Player of the Day #24: Diego Forlan
Club: Atletico Madrid
Country: Uruguay
Age: 31
Role: Attacker
Achievement: Put in an impressive performance in his side's 3-2 loss against Germany

Diego Forlan has been one of the outstanding talents of the 2010 World Cup, so it was fitting that the Atletico Madrid striker finished with something of a flourish in the third/fourth place play-off.

Uruguay may have come up short against Germany, edged out 3-2, but that certainly wasn't due to a lack of effort from their talismanic forward. Indeed, Forlan had his side ahead early in the second half, diverting an awkward pass from Alvaro Rios brilliantly into the net with a volley of technical excellence.

Even in the game's last breath Forlan nearly brought new life into his side, sending a well struck free-kick against the face of the crossbar that would have brought 30 additional minutes of play and enhanced the 31-year-old's chances of claiming the Golden Boot, which he is in joint first position for ahead of Sunday's final.

The Celeste may not have matched die Mannschaft, but Forlan, whose passing was perceptive and imaginative, was undoubtedly the game's outstanding talent.
Congratulations to Diego, Goal.com's 24th Player of the Day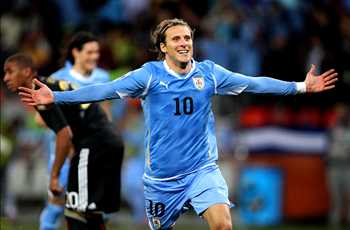 Other worthy mentions go to...

Thomas Mueller - Germany

Showed fantastic foresight ahead of the first goal, and was always difficult for the Uruguayan defence to contain. Used his pace, strength and skill to transition into forward positions, and was excellent in defence.

Arne Friedrich - Germany

As usual, the former Hertha Berlin captain was the more roaming defender, and did his part brilliantly. Made goal-saving challenges to deny Cavani and Suarez, although his lapse in concentration in the closing seconds nearly resulted in an equaliser. Oh, and he nearly got his second goal of the tournament when he headed against the bar in the 10th minute.

Edinson Cavani - Uruguay

Played perhaps his best game of the tournament last night. Made a clever flick in the 25th minute but was unlucky not to have an astute team-mate foresee his ball. Later, he made an excellent run and coolly finished to equalise the game at 1-1. Was very industrious, but still played second fiddle to Forlan and Suarez.

Leave your notes of congratulations for Diego below, or discuss who else deserves a place in the sun...