EXCLUSIVE
By
Andy Brassell
Sunday's Johannesburg final between the
Holland
and
Spain
will make history, as one of these two great European footballing nations lifts the
World Cup
for the first time. Yet there's more than just statistical territory to be gained. After a tournament in which the Dutch have been effective but not pretty, are we watching the mantle of the 'Brazilians of Europe' pass south-west?
THE HISTORY (PART I)
This already happened once of course at club level, mainly via the effects of the 1973 transfer of Johan Cruyff from Ajax to Barcelona. Cruyff's comments following the Spanish semi-final victory over Germany on Wednesday made clear where he feels the two countries are at right now in terms of footballing philosophy.
"Spain, a replica of Barca, is the best publicity for football," he wrote in his column for El Periodico de Catalunya.
"Who am I supporting? I am Dutch but I support the football that Spain are playing." Style is always a deal-breaker with Cruyff; it is a question of beliefs, morals, everything.

MORE...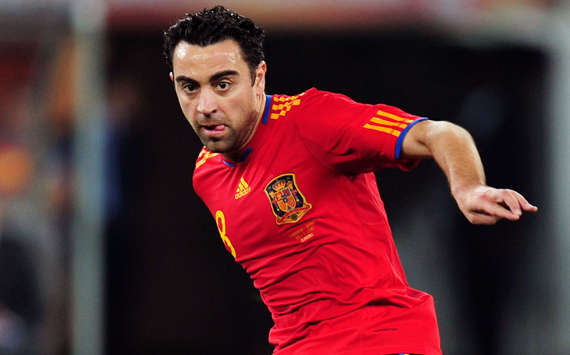 Perfect product | Xavi pulls the strings for Spain and Barcelona alike
Bryan Roy, the former Ajax and Netherlands winger and recently appointed coach of Jong Ajax - the bridge between the youth academy and first-team for the Amsterdam club's youngsters - sings from the same song sheet as the club's most celebrated son.
Roy-al approval
Speaking exclusively to
Goal.com UK
, Roy said that the technical side of the game is still the bottom line where player production is concerned, in the system that produced nine of the current Dutch national squad.
"The skill, using the ball is the most important thing," he said. "Nothing else. It's important to make sure they enjoy training, to keep it joyful."
Ajax take players from nine years old onwards, but they usually only graduate to 11-a-side matches two years later, "when they're strong enough to cope," said Roy. The initial push to polish the technical side is the same as it always was.
"We ask a lot of the players during training," admitted the coach. "Every single ball contact has to be good, every single pass, at the right speed, at the right angle. We are very keen on all the small details." The youngest players also undertake specialist training based on their position, with Wim Jonk taking striker training, Roy handling the wingers, and Dennis Bergkamp helping to instruct the new arrivals.
But Roy admits things have changed. Societal changes in the Netherlands mean that skill coaching is more intensive. "Maybe tactically they're a bit further on nowadays that we were," he said. "Skill-wise maybe it's different, because they don't play on the streets anymore, and we played on the streets every single day.
"That means the quality of the coaches back then didn't need to be so high because we were skilful already. We now need to give them a good programme to keep the skill levels high and keep developing them at the same speed."
Economically things have changed too. Barcelona produces players out of a tradition coming from Cruyff's Dream Team of the 1990s, to have players indoctrinated in a certain footballing mindset. Ajax produces players knowing they will be sold on. It's not quite the Brazilian industry of producing players for top European clubs, but it's a reality nonetheless.
"We have to prepare them better physically now than back in the day," Roy said. "They have to be ready earlier, not just football-wise but physical-wise. They stay here for two or three years, and then they go. The gap between the first team and the youth is bigger now, so we have to prepare them better."
FLYING DUTCHMAN
Wesley Sneijder is an excellent example of this. Playing in Serie A, a culture ostensibly juxtaposed to the Ajax system, he has come into his own as the creative hub of a rugged Internazionale, inspiring them to an historic treble. Yet most would not see him as quite the stylist that, say, Andres Iniesta or Xavi is. The big difference is that these two have been bred to be Barcelona players for life, a definition that has profoundly affected the make-up of the current Spain side.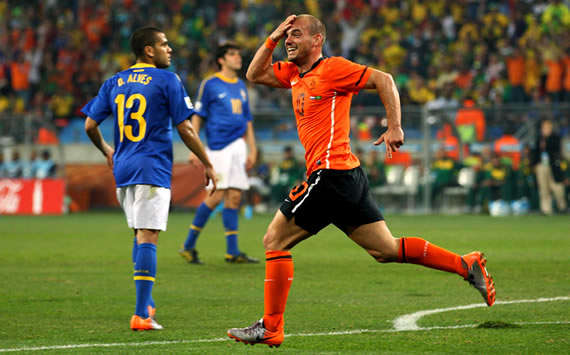 Head boy | Sneijder - a symbol of the new Dutch pragmatism?
In this way, Vicente Del Bosque is the ideal coach. With the less-is-more approach that he also employed at Real Madrid, he is simply allowing Barca's natural pass-and-move style dictate Spain's rhythm, with eight of their academy graduates involved. Anyone who saw the display put on by Pep Guardiola's young reserves against Tottenham in last year's Wembley Cup would have marvelled at the likes of Gai Assulin and Marc Muniesa aping their senior colleagues. Same poise, same composure, same style, same system.
Cruyff has stopped short of directly criticising the current Netherlands team, but he had no such reservation in attacking Dunga's Brazil side - arguably a more offensive beast that the current Dutch crop - saying he "would never pay for a ticket to watch them," before they met his country in the quarter-finals. Current Dutch coach Bert van Marwijk doesn't agree with this view. "1974 was a long, long time ago. Sport has changed a lot, and football too."
But plenty in the Netherlands do agree, including Bryan Roy, it seems. He, and Ajax, are indicative of the conflict at the heart of Dutch football. Roy wonders how far the new pragmatism can take them. "We [Holland] play more defensively than we always used to play; we play a more attacking style at Ajax," he said. "We have two midfielders always sitting in front of the defence and there only used to be one. This got us into the final but the only thing is, I'm not sure this will be enough to win us the final.
"Spain is a very good team. In this game, we can't wait for the moment when Sneijder or Robben stand up. We need to play better. We need to create chances, because we're definitely going to concede goals. If we play van der Vaart instead of van Bommel or De Jong in midfield. then we'll see the difference."
We won't, of course, because the Netherlands will maintain De Jong and van Bommel, just as Spain will go in with both Sergio Busquets and Xabi Alonso. Two 4-2-3-1s, but with a very different expression. It's all in the player production, though whether the Dutch will continue down this route is a debate which will rage on.