Ghanaians - and others who felt
Luis Suarez
had committed a crime against the spirit of football by handling on the line in the last seconds of the quarter-final, so preventing a certain goal at the cost of a red card - will disagree; but there is a certain symmetry about
Uruguay
's appearance in today's World Cup semi-final. Indeed, those with a romanticised view of the game might call it destiny.
For it was exactly 80 years ago this month that Uruguay won the first ever World Cup; 60 years ago that they became the second country (of five) to win it more than once; and 40 years since they last contested a semi-final. That the 20-year cycle was broken in 1990, when they failed to get beyond the second round in Italy, reflected the relative decline experienced by Uruguayan football in the latter part of the 20th century.
That they have reached the last four again this time is more than the mere coincidence of the year ending in a nought; it represents something of a renaissance - and a reaffirmation that Uruguay is the ultimate example of a country punching way above its weight on the global footballing stage.
The Oriental Republic of Uruguay, to give it its official title, is by far the smallest country, demographically, to have won the World Cup. Its population of around 3.5 million (of whom 1.4 million live in or around Montevideo) compares with the 40 million in bitter footballing rivals and neighbours Argentina, which has the second smallest population of any World Cup winner. Indeed, only six countries with a smaller population than Uruguay's have ever even participated in the final stages of any World Cup.
La Celeste, as two-time world champions, should therefore be seen as a phenomenon of the world game, given that so small a pool of available players has yielded such world-beating talent over the years. For let's not forget that Uruguay have also won 14 Copa America titles, the same number as Argentina (Brazil have won that continental tournament eight times). Or that in 1980 (that nought again) Uruguay hosted and won the Mundialito, a tournament among former champions staged to celebrate the 50th anniversary of the first World Cup.

World champions - the first winners
That first tournament in 1930 was also hosted by Uruguay. They won the right in competition with Holland, Hungary, Italy, Spain and Sweden. In many ways it was the logical choice: not only were Uruguay de facto world champions, having won the last two Olympic football tournaments in 1924 and 1928, but Uruguayans were also celebrating the centenary of their independence in 1930. For good measure they undertook to build a 100,000 capacity stadium for the World Cup and promised to pay the full expenses of every participating nation.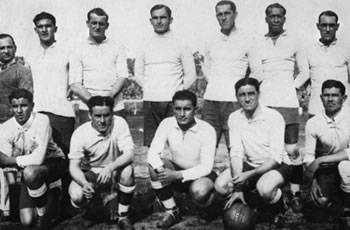 Pioneers | But class of 1930 never defended title
Nevertheless, politics and parochialism - and the two-months sailing time to South America and back from Europe - got in the way. Eight weeks before the tournament, no European country had decided to enter. The founding father of the competition, Jules Rimet, intervened to ensure France competed, and ultimately Belgium, Romania and Yugoslavia joined seven South American entrants plus Mexico and the United States.
The two great Latin rivals, Uruguay and Argentina, topped their respective groups and then both triumphed 6-1 in their semi-finals to set up the final in Montevideo's Centenary Stadium. Boatloads of Argentinians streamed across the River Plate for the ultimate local derby. A dispute meant that a different ball was used in each half, one chosen by each team.
Uruguay's side retained the nucleus of their successful Olympic winners, including a half-back line known as the 'Iron Curtain' - Jose Andrade, Lorenzo Fernandez and Alvaro Gestido - and they were ahead early on through Pablo Dorado. But Carlos Peucelle equalised for the Albiceleste, before Guillermo Stabile put the visitors ahead with a disputed goal. In the second half, though, Uruguay's technical superiority became evident, and with further goals from Pedro Cea, Santos Iriate and Hector Castro, they deservedly won 4-2. Jose Nasazzi thus became the first captain to lift the World Cup.
Sadly, Uruguay did not defend their title in Italy in 1934. There was a crisis within the national game about professionalism, they were in dispute with Argentina, and there was residual resentment from the perceived European snub four years earlier. For the 1938 tournament, France was chosen as the host nation, which overturned a previous agreement to alternate World Cups between South America and Europe, so Uruguay again refused to take part.

The great upset
But in the first post-war tournament, in 1950, Uruguay not only participated but won it again, beating hosts Brazil in one of the great World Cup upsets. Brazil were overwhelming favourites in front of a world record crowd at the still unfinished Maracana; but that was a dangerous under-estimation of the resolute, resourceful and tactically aware Celeste, who came from behind to beat the hosts in a match that came to be known as the Maracanazo. Juan Alberto Schiaffino and Alcides Ghiggia were the match-winners. And while many Brazilians had to be treated for shock after the game, the World Cup went back to Montevideo.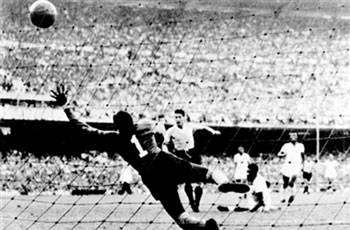 Finest hour | Uruguay win shook the world in 1950
When Uruguay travelled to Switzerland in 1954 to defend their title, they had still never lost a game in the World Cup. And they proceeded to reach the quarter-finals by beating Czechoslovakia 2-0 and thumping Scotland 7-0, then completed a British double by eliminating England 4-2. That set up a classic semi-final between the holders and Hungary - the 'Magnificent Magyars', the team regarded as the greatest in the world at the time.
Both sides were at their brilliant best, and the contest has been hailed by some as the finest game ever played. Hungary took a two-goal lead, but by full-time the mercurial Schiaffino had levelled the scores. In extra-time, the South Americans began to tire. Sandor Kocsis netted twice to beat the champions 4-2, though Gyula Mandi, Hungary's manager, admitted: "We beat the best team we have ever met."
Decline and fall...
It was therefore a surprise when the Uruguayans fell to unfancied Paraguay in the qualifying campaign for the 1958 tournament, and there was disappointment too in 1962 when, having qualified, they lost two of their group games on South American soil in Chile. Midfielder Nestor Goncalves shone in midfield against the Soviet Union, but an injury to Eliseo Alvarez had reduced them to 10 men for an hour, and despite hitting the post three times, a 2-1 defeat and earlier 3-1 reverse against Yugoslavia left them stranded in third place and out of the competition.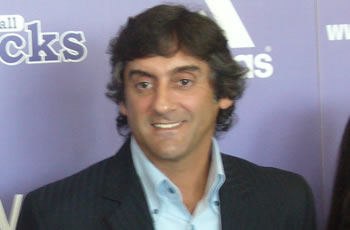 Hero | Francescoli missed out on World Cup glory
A quarter-final appearance in England in 1966 was emphatically concluded by West Germany, who won 4-0, after two Uruguayans - Horacio Troche and Hector Silva - were sent off. That was symptomatic of an emerging tendency towards cynicism and occasional brutality within Celeste ranks, but they had no answer to the peerless Brazilian team of 1970, who swept them aside 3-1 in the semi-final en route to their glorious third World Cup triumph.
The 1974 side managed a solitary point in their group, and were comprehensively outclassed by Holland's 'Total Football' and Sweden's more pragmatic approach. Uruguayan football was now in the doldrums, the country failing to qualify in 1978 (when the tournament was held in neighbouring Argentina) or 1982.
A new generation emerged in the 1980s, headed by the sublime Enzo Francescoli, and Uruguay won the Copa America in 1983 and 1987, but were beaten by eventual champions Argentina in the second round of the 1986 World Cup in Mexico. They exited Italia '90 at the same stage, 2-0 to hosts Italy, but missed out in both 1994 and 1998, despite lifting the Copa America again in 1995.
Qualifying in 2002, Uruguay lost to Denmark and drew with France and Senegal in an anti-climactic group campaign, and four years later they missed out again on qualifying for the finals in Germany.
...and revival?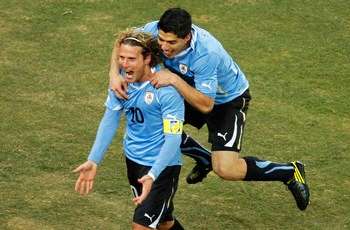 Deadly duo
| Forlan and Suarez are the new icons
So their return for this year's tournament in South Africa - albeit via a play-off with Costa Rica - and their progress to the last four, represents a huge boost for a small country with such a proud football history.
The question now is: Can Oscar Tabarez and his team, led with panache and power by striker Diego Forlan, cause another upset by removing the Netherlands from their path and ending 60 years of hurt?
No trip to South Africa is complete without a visit to its most beautiful and sunniest city. Durban offers much more than sandy beaches, safaris, casinos and the World Cup, for information on what to do and see, please click here.