1958 West Germany 3-1 Argentina
Group Stage, June 8, Malmo
World champions Germany, with veteran 37-year-old Fritz Walter and youthful Uwe Seeler, just 21, had high hopes of retaining their title. Argentina, who convincingly won the Copa America in 1957, were thought to be one of the hot favourites for the trophy. Expectations were very high ahead of their first game in the group stage, but it turned out to be a one-sided affair. Some of the top Argentinean players moved to Italy prior to the World Cup, and as their FA refused to recall them for the tournament, the team turned out to be much weaker than suspected.
Omar Corbatta put the South Americans in front after just 3 minutes, but Sepp Herberger's side duly re-grouped and took total control of the game. Helmut Rahn, their hero 4 years earlier, equalised on 33 minutes, and just before halftime Seeler marked his World Cup debut with a fine goal. Rahn completed the scoring in the second half, and the Germans went on to win the group, eventually losing to hosts Sweden in the semi-finals. Argentina's tournament was over after just three games, as they were thrashed 6-1 by Czechoslovakia and finished bottom of the group.
1966 West Germany 0-0 Argentina
Group stage, June 16, Birmingham
With Germany destroying Switzerland 5-0 in their first game, and Argentina winning 2-1 against Spain, it was supposed to be the game to decide who would finish first and avoid a probable showdown with hosts England in the quarter-finals. Having inferior goal difference, Argentina should have gone for the win, but instead they played safe, hoping for the Spaniards to take points off the Germans in the last round of games. "Playing safe" the Argentinean way resulted in a game turning into a real battle, with little or no quality football for more than 51,000 spectators at Villa Park stands to watch. The Germans were happy to draw as well, and Helmut Schoen put Franz Beckenbauer into a very defensive position this time.
With some terrible rugby-style tackling taking place, it was only a matter of time before a red card was shown, and Argentina's Rafael Albrecht got his marching orders on 67 minutes. With the Germans winning against Spain, they finished top and went on to play in the final. Argentina finished second, and progressed to lose in the infamous quarter-final clash with England.
1986 Argentina 3-2 West Germany
Final, June 29, Mexico City
The final of the 1986 World Cup turned out into a real classic. With Diego Maradona in astonishing form, fans all around the world - except perhaps in England and Germany - wanted the Argentineans to lift the cup. The Germans, with Franz Beckenbauer on the bench, were far from impressive in Mexico, losing to a Danish Dynamite side in the group stage, luckily beating Morocco in the second round, and topping the hosts on penalties in the quarter-finals. However, a big 2-0 win over favourites France in the semi-finals made them extremely confident ahead of facing Carlos Bilardo's side.
The opening goal came from a very uncharacteristic mistake by German 'keeper Toni Schumacher, who completely missed a Jorge Burruchaga free-kick, allowing Jose Luis Brown an easy header. With the Germans pushing forward in the second half, Maradona started a great counter-attack on 56 minutes, and Hector Enrique sent Jorge Valdano for a date with Schumacher to make it 2-0.
In most cases that should have been it, but the Germans never give up before the final whistle. Dieter Hoeness was sent on to boost the attack, and Karl-Heinz Rummenigge scored on 73 minutes from an Andreas Brehme corner. Just eight minutes later, another Brehme corner was headed by Thomas Berthold into the path of Rudi Voeller, and it was 2-2. The German players celebrated wildly, and Maradona punished them for being too ecstatic. Five minutes from time, he delivered one of the best passes in history, and Burruchaga outpaced Hans-Peter Briegel to beat Schumacher and give Argentina their second World Cup.
1990 West Germany 1-0 Argentina
Final, July 8, Rome
Just 4 years later, with the very same Beckenbauer and Bilardo leading the teams, and a somewhat older-looking Maradona on the pitch, the roles were reversed. Although Germany were far from the prettiest side ever to grace the tournament, Argentina were also awfully negative, so much so that neutral fans all over the world desperately wanted Lothar Matthaus to lift the trophy and save the World Cup from the worst scenario possible.
It turned out to be the worst World Cup final. Argentina scored just 5 times in their previous 6 games, and this time they were missing their only dangerous striker, Claudio Caniggia, who was unlucky to get suspended. With no attacking options whatsoever, it was absolutely clear they were waiting for a penalty shoot-out again, having won them against Yugoslavia and Italy thanks to Sergio Goycochea's heroics between the posts.
The Germans huffed and puffed, Voeller missed a few nice openings, but the game was just dreadful. Sensing they would never break the deadlock in a regular fashion, Germany turned to play-acting. A dive by Jurgen Klinsmann lead to substitute Pedro Monzon seeing red, thus becoming the first ever player to be sent off in the final. 15 minutes from time, Mexican referee Edgardo Codesal was in the spotlight again, failing to award Argentina a penalty after Gabriel Calderon was tripped.
However, that was nothing compared to events in the 85th minute, when Codesal awarded Germany the penalty they wanted so badly, after Voeller was allegedly brought down by Roberto Sensini. Brehme was brave enough to step forward and beat Goycochea, and Argentina lost control. Gustavo Dezotti was sent off for an assault on Jurgen Kohler, and Maradona openly wept during the post-match ceremony. He must have felt unlucky, but the tournament itself got a lucky break.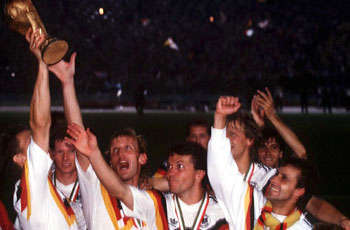 2006 Germany 1-1 Argentina (4-2 on penalties)
Quarter-finals, June 30, Berlin
Jurgen Klinsmann's Germany and Jose Pekerman's Argentina played some very attractive football during their first 4 games of the tournament, so their quarter-final clash was eagerly awaited. It turned out to be a very dramatic game, but fell short of any real quality. The first half was a drab affair, and the contest only came to life after Argentina took the lead soon after the break, with Roberto Ayala heading home a Juan Roman Riquelme free-kick.
Germany had no option but to press forward, but Argentina had a good spell, and Lucho Gonzalez could've put the result beyond doubt if his shot wasn't blocked. 19 minutes from time, Argentinine 'keeper Roberto Abbondanzieri went down injured, and Leo Franco took his place. It was about that time that Pekerman made some controversial decisions that made him a huge scapegoat with Albiceleste fans. He took Riquelme off the field, sending Esteban Cambiasso in his place. Then, with just 11 minutes left, Julio Cruz was on in place of Hernan Crespo, while a young Lionel Messi was outrageously left on the bench.
The punishment was immediate. Miroslav Klose equalised, and Argentina were left without substitutions and with no energy to change the game. The Germans looked much fresher in extra-time, but couldn't find the break, and were content with a penalty shoot-out. As well they should having never lost in such an event in the World Cup. Not surprisingly, all the German kicks went in, while Jens Lehmann took a mystery note from his sock to save from Ayala. When Cambiasso, the tragic figure in the game, missed his effort, it was all over, and the Argentineans didn't take the defeat well.
After the final whistle, some of the South Americans brutally attacked the Germans, with unused substitute Leandro Cufre even getting a red card. With plenty of players from that clash about to take the field in Cape Town, Schweinsteiger, Lahm, Mertesacker, Friedrich, Podolski and Klose for Germany; Heinze, Tevez, Mascherano, Maxi Rodriguez and Burdisso for Argentina, not to mention Messi who won't be benched this time, it remains to be seen if all of them will be able to keep their nerves in check.
No trip to South Africa is complete without a visit to its most beautiful and sunniest city. Durban offers much more than sandy beaches, safaris, casinos and the World Cup, for information on what to do and see, please click here