EXCLUSIVE
By Wayne Veysey | Chief correspondent


As English football surveys the wreckage of another
international tournament failure
, the end of the isolation years seem further away than ever before.
But a leading expert on the youth game is confident that there is a production line of colts who can cast some light on the darkness heartbreakingly reproduced by the underachieving so-called golden generation.
MORE...
Huw Jennings, the former Southampton and current Fulham academy director who masterminded the early years of Theo Walcott, Gareth Bale and Kenwyne Jones, is more optimistic than the likes of Sir Trevor Brooking, the Football Association's head of development, who recently warned the country's barren spell could be extended.
"It's a perverse comment from Trevor at a time when the England youth national teams have done as well as in living memory," observed Jennings. "To express that view is surprising.
ONE TO WATCH | Josh McEachran

AGE:
CLUB:
CLUB DEBUT:
INTERNATIONAL:
CAPS:
GOALS:
ACHIEVEMENTS:


17
Chelsea
N/A
Under-17
8
1
Euro 2010 winner

"We know the Under-21s got to the final last year – alright, they didn't do well in the final and lost 4-0 [to a Mesut Oezil-inspired Germany] – but had done consistently well up to that point.
"The Under-19s got to the European Championship final and the Under-17s won the European Championships in Liechtenstein in May. If you look at the national teams, there is a really good level of performance."
Fabio Capello put his trust in England's oldest all-time World Cup squad and, following the latest failure of the Steven Gerrard-Frank Lampard-Emile Heskey generation, there will be pressure on him to completely refurbish the squad.
Jennings said: "Fabio Capello was very conservative in his team selection. James Milner was the only player he took under 24.
ONE TO WATCH | Connor Wickham

AGE:
CLUB:
CLUB DEBUT:


INTERNATIONAL:
CAPS:
GOALS:
ACHIEVEMENTS:


17
Ipswich
Apr '09 v Doncaster (A)
Under-17
9
8
Euro 2010 winner

"If you look at other young players in and around that bracket - Adam Johnson, Gabriel Agbonlahor, Ashley Young and the likes of Jack Rodwell, there is a lot of health and promise there. The success continuum for players is very wavy but there is plenty of evidence to suggest that there are some good English players there."
Even Brooking agrees that real hope lies with the Under-17s, who beat Spain 2-1 in the European Championship final in Liechtenstein last month.
Jennings believe this group could supply a handful of international class players. Four of them – Liverpool defender Andre Wisdom, Chelsea duo Josh McEachran and Nathaniel Chalobah and Ipswich's sought-after striker Connor Wickham – were all part of the team that beat Spain with Wisdom and Wickham scoring in the final.
ONE TO WATCH | Nathaniel Chalobah

AGE:
CLUB:
CLUB DEBUT:
INTL LEVEL:

ACHIEVEMENTS:


16
Chelsea
N/A
Under-17
17 caps
Euro 2010 winner

"You've got a number of players who at that level are showing lots of promise – and there is a level of depth in that age group which some of the others haven't got," he explained. "There are other players around - a very interesting prospect who has gone from QPR to Liverpool, a 15-year-old called Raheem Sterling, who has great potential as a wide player or striker, and a left-back at Liverpool called Jack Robinson.
"First of all, let's get rid of the pessimism because I don't believe it is founded. Second thing, let's now have a programme for ensuring that player's can graduate to the senior team. How do we know the young players aren't good enough? They haven't played."
Jennings believes the impending Premier League rule change, which means all clubs from next season must have eight home-grown players in 25-man squads, will go some way to addressing the balance even if the likes of Cesc Fabregas, Gael Clichy and Nicklas Bendtner at Arsenal, who have all spent the required three years between the ages of 16-21 in England, would qualify as home-grown.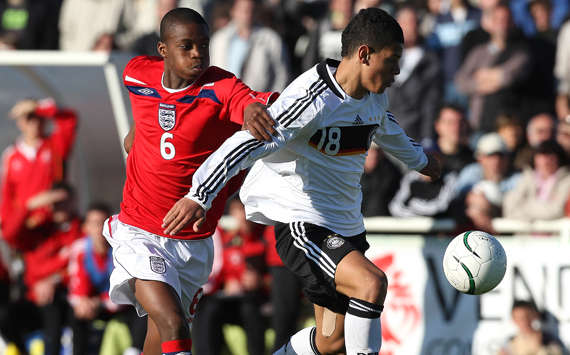 One for the future | Nathaniel Chalobah helped England win the European Under-17 title
"If you go back to what Trevor was saying, players are maturing a bit later," explained Jennings. "And the reason they're maturing a bit later is (a) careers are being extended for senior players so there's less opportunity, (b) it's taking longer for players to establish themselves because of the demands of the game and the demands of the league, and (c) the maturation process.
ONE TO WATCH | Raheem Sterling

AGE:
CLUB:
CLUB DEBUT:
INTERNATIONAL:
CAPS:
GOALS:
ACHIEVEMENTS:

15
Liverpool
N/A
Under-16
7
1
N/A

"It's so much more tactically demanding than before. Before you step on the field, you have to process the information and deal with it.
"Clubs are mindful of giving players more time and opportunity to go out on loan for a season and develop in games away from their home comforts. That process can take till you are 21-22, as it did for Gareth Bale. They may get in at 17 but they will not stay there. Cesc Fabregas is the exception that proves the rule and you are dealing with a genius of a talent. As was [Wayne] Rooney, who was a 25-year-old at 17. You don't see that happen very often."
As the former head of youth development at the Premier League, where he spent three seasons, Jennings is well qualified to comment on how reforms can take root.
ONE TO WATCH | Andre Wisdom

AGE:
CLUB:
CLUB DEBUT:
INTERNATIONAL:
ACHIEVEMENTS:
17
Liverpool
N/A
Under-17
N/A
"The big thing for me is I look at the way the Germans have done it," he explained. "They had a fallow period, struggled at senior level and youth international level so they brought in [ex-Germany skipper] Matthias Sammer, who had a vision for developing the programme with the federation and brought in a coaching programme at senior level headed by Joachim Low, who was committed to supporting the development of that.
"We don't have that. We are very fractured. It is good to see Stuart Pearce involved with the senior team, of course it is, but I'm not convinced yet that I have seen a lot of joined-up thinking right the way through the programme."
The Fulham Academy boss argues that the best players must be shoehorned into the best youth development programmes.
ONE TO WATCH | Jack Robinson

AGE:
CLUB:
CLUB DEBUT:

INTERNATIONAL:
ACHIEVEMENTS:

17
Liverpool
Sep '10 v Hull (A)
Under-17
N/A

Jennings said: "Manchester United set the benchmark, there's no doubt about that. Middlesbrough have done extremely well given their resources. Manchester City, West Ham and Everton have probably got the best records for developing players for their own teams. Aston Villa, too.
"Then there are some clubs with some fantastic coaching cultures. Chelsea is emerging as a strong programme.
"All of us have got to take a view that if we prepare our young players correctly then they will be good enough. There's nothing to demonstrate that we can't. Unfortunately, there have been occasions in the past when we haven't prepared players properly."
The golden generation proved to be flawed. Yet there is hope that better times lie ahead.