By
Sulmaan Ahmad
| Chief Editor
So, it appears the
England
players took up
Fabio Capello
on that offer of a pre-match beer and, in true English style, took it way too far into binge territory.
It was the worst defeat for the Three Lions in World Cup history, it was at the hands of the Germans (and not even a vintage selection), it was in the round of 16 - never mind the quarter-finals - and it was at the end of what was a comprehensively poor World Cup.
It was the worst defeat also because the expectation had reached an all-time high. Finally, a world class goalscorer in Rooney; finally, a world class coach in Capello; finally, a host nation with an Anglo-friendly climate; finally - and frankly - international football in a fairly average-looking state.
But finally? It ended with another whimper. What fan wouldn't have actually preferred going out on penalties now?
England played like Arsenal against Barcelona, but without even having the Gunners' admirable flair. That doesn't add up to a whole lot.
Schweinsteiger, good as he may be, was made to look like Xavi.
Oezil made the red sea of defenders part with such regularity, half the world will soon be convinced Mesut must be the Turkish variation of Moses. Every man, woman and child signalled him out as the danger man, but the England defensive unit looked like they were seeing him for the first time.
Klose may be renowned as the man who makes it happen on the big stage, but most of his World Cup goals have come against Saudi Arabia, Costa Rica and Australia. England certainly didn't prove to be any better than those sides with their showing in Bloemfentein.
The breachable back four were barely even tested.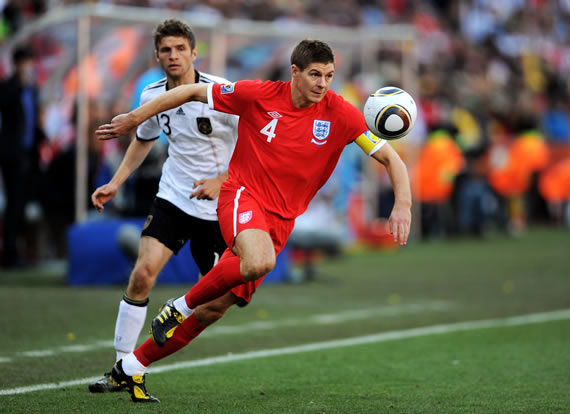 Setting a bad example | Captain Gerrard struggled to make an impact against Germany
This was certainly not a matter of bottling it - there was no hint of the Algeria performance in this one. This was a whole new type of terrible, which is arguably even more embarrassing.
The manager may have needed to scrap the 4-4-2 - certainly not a formation that tends to work at the highest level anymore - and Upson may have gone a game too far and a notch too high, but ultimately, when John Terry, Gareth Barry, Steven Gerrard and Wayne Rooney play so awfully - and they were all awful - then the problem is bigger than the boss. Much bigger.
Goal line technology could have changed the complexion of the game towards half-time - the decision to disallow Frank Lampard's goal was a terrible one - but that, like furious Fabio, the altitude, the seclusion of the training camp and the alignment of the stars, is by this point deflecting from what must surely be recognised as the biggest issue of them all:
England do not have a world class team - not as a starting XI and not as a squad. They came up against a better unit, were outclassed in the first half and blasted on the break in the second. This might have all felt a little less depressing for Three Lions fans if they had won their group - thus avoided Germany - and only been hit by this moment of clarity in the semis, or at least the quarters.
Ah, the quarters. Who remembers those good old days?
MORE