To say the web is tangled would be a gross understatement.
France
's trip to the
World Cup
has descended into something like a plot from a complex thriller, with the team's on-field implosion against Mexico on Friday evening the catalyst for an off-field explosion over the weekend.
The events of the last 48 hours have dramatically lifted the lid on the France camp to reveal a grubby underside that is still made opaque by claim and counter-claim in the media.
From the time Raymond Domenech's side arrived at their training base in Knysna, they have been surrounded by a veil of secrecy, very rarely expressing themselves freely to the media. The France team was locked away as tightly as possible for such a high profile squad at an event of such magnitude, but even under such close supervision rumours started to spread in the sports papers of a distinct unease.
Domenech has never engendered a great love from the players of the national team, so it was little surprise that the media, who have nothing but contempt for a man who has routinely dodged their questions by answering in a ridiculously cryptic fashion over the last few weeks, were quick to smell blood.
Of course they were aided by allegations that Franck Ribery had conducted congress with a teenage prostitute in Paris just weeks before the World Cup.
And then there was William Gallas' refusal to speak to the media in the build-up to the competition. His curtain of silence prevented the centre-back from explaining his grievance fully, though most pundits agree that it was instigated by Domenech's decision to select Patrice Evra as captain of the party.
Just 24 hours before les Bleus' opening game against Uruguay came further, and more serious, hints of trouble. Florent Malouda reportedly had to be held back by Evra from his coach after a training ground disagreement. Domenech believed that 'Flo' was acting in too aggressive a manner, leading to the Chelsea player being axed to the bench against Uruguay – a game that was allowed to tamely drift to a scoreless draw and was crying out for the winger's direct running.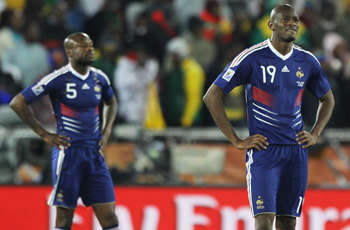 Six days passed without obvious incident, but the fixture against el Tri in Polokwane would start to peel away the layers of protection surrounding l'Equipe de France. For 45 minutes against Mexico, les Bleus unsteadily matched their opponents, but after the half-time break there was a distinct change in mood. France's players suddenly seemed less willing and less concentrated; as if someone had flicked an off button on their performance.
In the wake of the 2-0 loss, which has left France staring at the exit door, reports quickly revealed the events that went on in the bowels of the Peter Mokaba Stadium. Nicolas Anelka, a man not noted for his cool temperament, had a huge fall-out with Domenech.
"Go f*** yourself, you dirty son of a b****," the media have reported the frustrated Chelsea striker, who later rejected a chance to apologise for the incident, to have said.
Evra has denied that these were the words used by his team-mate, but he has not denied that a "clash" took place. How the media got wind, he only has one explanation. "This comes from someone who is on the team and wants to hurt the team," he told the media, explicitly using the word "traitor" to describe the unknown anarchist.
Suspicion clearly lingers around the France squad. Like a good murder mystery, many players, perhaps even staff, have motives, but no one will shoulder the blame.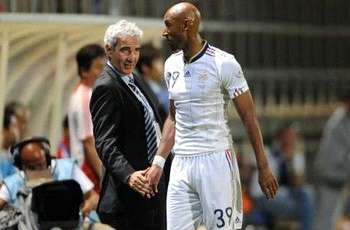 But the Anelka saga is not the only controversy to have arisen from the Mexico match. A band of mutineers (Evra, Gallas, Ribery and Thierry Henry), led by retired ace Zinedine Zidane, who was said to have controlled the dressing room during les Bleus' run to the 2006 World Cup final, is rumoured to have instructed Domenech to reshuffle his formation, dropping Yoann Gourcuff and Sidney Govou in the process. The coach seemed to be giving the move some thought, but once he learned of 'Zizou''s influence, he reverted to his original plan.
Domenech, who gives up his post after the World Cup, disappeared on Saturday when he should have stood shoulder-to-shoulder with Evra and was labelled "the Invisible Man" by
France Football
. The stubborn 58-year-old has finally broken, though that seemed apparent from his countenance as Mexico overran his side on Friday.
While reports of unrest in squads are not uncommon – England are presently having to fend off such claims – the sheer scale of turbulence in the France squad is monumental. And this is not the end; there are more revelations to come, and more ugly twists in les Bleus' World Cup tale, which isn't even officially over yet.
Good luck Laurent Blanc, you have a huge job on your hands to rebuild trust amongst this fragmented squad once a coup de grace finally puts France out of their South Africa misery.
No trip to South Africa is complete without a visit to its most beautiful and sunniest city. Durban offers much more than sandy beaches, safaris, casinos and the World Cup, for information on what to do and see, please click here
.