BRAZIL
Julio Cesar
– 6.5 -
A largely quiet night for the Selecao's custodian, who took what crosses came his way commandingly, or at least punched them well clear. Had no chance with the goal, which came late on.
Maicon
– 7.5 -
Broke the deadlock in fortuitous style with a cross that beat the opposing goalkeeper at his near post – or was it a great shot? Got forward effectively for much of the night and had several good efforts on goal.
Lucio
– 7.0 -
One of the best centre-backs in the world game, Lucio didn't look entirely at ease for periods of the first half when North Korea attacked the exposed Brazilian defence. Didn't put any major feet out of line, but didn't have too much cause to in the end.
Juan
– 6.5 -
Tested by Jong Tae-Se for much of the first half, but the Roma man also had a worrying moment in the second, though he managed to put in a superb recovery challenge as the forward strode clear.
Michel Bastos
– 7.0 -
Brazil's left-back certainly mustered plenty of shots on target, though his radar was not entirely accurate. Might have been a little more adventurous with his attacking, but as a midfielder regularly, he didn't seem to want to take too many risks.
Elano
– 7.0 -
One of the players asked to unlock the North Korean door, Elano wasn't entirely effective in his task. Did score with a well-taken goal, but this was not a vintage night for the Galatasaray man, who was rather wasteful with his set pieces and could have been more penetrating with his passing.
Gilberto Silva
– 6.0 -
Stuck rigidly to his holding role, keeping his passes nice and simple for the majority of the fixture. Though it's Brazilian tradition to have two holding players, his presence in such a defensive role did seem somewhat excessive.
Felipe Melo
– 6.5 -
Strictly speaking was one of Brazil's more defensive players, though the Juventus midfielder played more of a box-to-box role. Made a high percentage of passes, though a couple of times he did contrive to give the ball away cheaply.
Kaka
– 6.5 -
Still far from his best, the Real Madrid man looked a little rusty at times. There were certainly signs of his best form, one slicing first half pass to Robinho in particular, but it showed too infrequently. Not the locksmith to pick apart North Korea's defences.
Robinho
– 8.0 -
Probably the best player on the field on the night and certainly the most entertaining. Showed genuine flair and appetite for the game, teasing the opposing defence and giving them something genuinely different to mull over. His pass to Elano for the second goal will be one of the best five assists of the tournament.
Luis Fabiano
– 5.5 -
Never looked entirely assured leading the line and toiled to make a positive impression, despite his hard work. Chested the ball down brilliantly in the second half but blazed his only shot well over the bar – a reflection on his performance as a whole.
SUBSTITUTES
Dani Alves
– 6.0 –
Typically enthusiastic performance from the Barcelona man during his 17 minute spell.
Nilmar
– N/A –
Replaced Kaka with 12 minutes remaining. Had a couple of good efforts. on goal.
Ramires
– N/A –
Enjoyed the last eight minutes in place of Felipe Melo. Booked for a poorly timed tackle.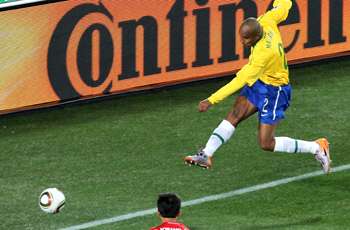 NORTH KOREA
Ri Myong-Guk
– 5.5 -
Was never forced into any breathtaking saves, yet his handling from Brazil's more routine shots was solid. Costly error allowed Maicon's driven effort to comprehensively beat him at his near post. No chance with Elano's goal.
Cha Jong-Hyok
– 7.0 -
Like the entire North Korea side, the right-back was hard working and ferociously committed. Read danger fairly well to make a couple of fine saving tackles but was bamboozled by Robinho's running at times.
Pak Chol-Jin
– 7.0 -
A clumsy first half challenge on Kaka gave away a free kick that Brazil should have made better use of, but the centre-back made up for his one indiscretion with a series of magnificent blocks and clearances, getting a brave touch with his head on a well hit Michel Bastos drive.
Ri Kwang-Chon
– 7.5 -
Outstanding in the centre of the defence. Positionally sound, the defender was delighted to put his body on the line, making a handful of terrific challenges. Competed well physically with Luis Fabiano, winning a great deal in the air.
Ri Jun-Il
– 7.0 -
In common with his defensive comrades, it was the sheer determination of the 22-year-old that caught the eye. Made one particularly telling challenge on Felipe Melo in the first half.
Mun In-Guk
– 6.5 -
Worked very hard throughout the match but was a little lacking in quality. Coughed up possession on several occasions, though he did managed a couple of shots on goal, including one that needed saved by Julio Cesar.
Ji Yun-Nam
– 7.0 -
Was given a moment to remember as he kept his composure to shoot North Korea back into the game with just a couple of minutes remaining. That historic goal capped a decent evening for the No.8, who was typically industrious in the midfield.
Hong Yong-Jo
– 7.5 -
The captain ran his heart of for his side, covering a vast tract of ground. Made a promising break down the right in the first half but was largely restricted to a more defensive role in the second period. Can hold his head high as he competed excellently.
Ahn Yong-Hak
– 7.0 -
Ran almost 12 kilometres over the course of 90 minutes, which was more than anyone else on the field of play. Found himself tiring towards the end, as it was obvious his movement was less explosive when given a late chance to break at the Selecao rearguard.

Jong Tae-Se
– 7.5 -
Dubbed the 'People's Rooney', Japanese-born Tae-Se certainly did not disappoint. Was a real menace in the first half, when he perpetually probed at the Brazil defence, worrying the South Americans that he may have the opening goal in his boots. Enjoyed a brilliant early run, and though that would not be matched, he had the consolation of setting up the North Korean goal.
SUBSTITUTES
Kim Kum-Il
– N/A –
Only given ten minutes at the end.