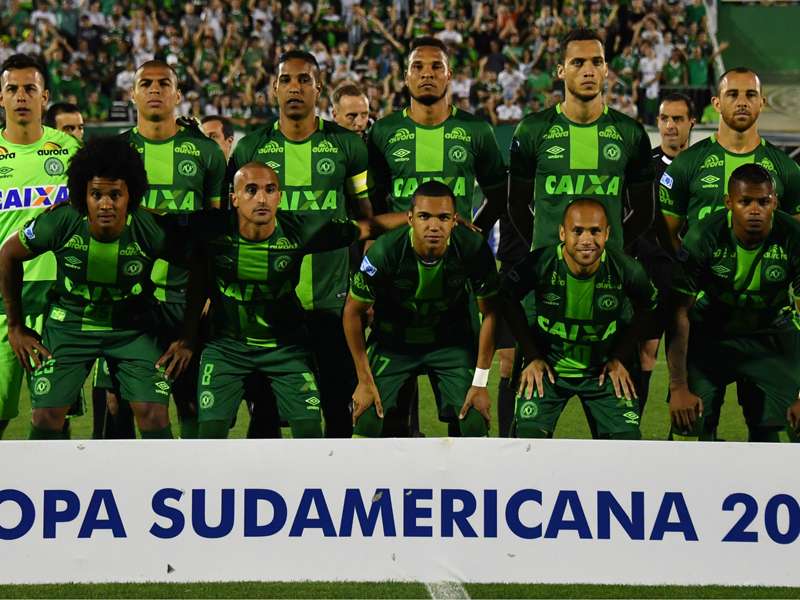 The football community has rallied around Chapecoense following the tragic events of Monday night.
A plane carrying the Brazilian club to Colombia for their Copa Sudamericana final first leg against Atletico Nacional crashed en route.
The Serie A side were scheduled to play at Medellin's Estadio Atanasio Girardot on Wednesday but the plane, carrying 72 passengers and nine crew, crashed on its way to Medellin from Santa Cruz de la Sierra, Bolivia, leaving only five surivvors.
Authorities reported that the plane declared an emergency at 22.00 local time (03.00GMT) with an electrical failure.
The plane is understood to have come down in Cerro Gordo in the municipality of La Union.
Figures across the football world have since taken to social media to show their support for Chapecoense.
Força para os familiares e amigos de todas as pessoas que estavam neste avião! Que Deus nos conforte nesse momento de luto! #ForçaChape pic.twitter.com/LAsq9MlTet

— Ronaldinho Gaúcho (@10Ronaldinho) November 29, 2016
My pray and solidarity for survivors, family and friends of @ChapecoenseReal in this sad time.

— Radamel Falcao (@FALCAO) November 29, 2016
Força Chapecoenses, estamos rezando por todos os familiares e por todo o time!!! #LUTO #RIP pic.twitter.com/ZTqNKPYHWg

— Oscar (@oscar8) November 29, 2016
Antes del entrenamiento el equipo ha guardado un minuto de silencio por las víctimas de la tragedia del @ChapecoenseReal en Colombia pic.twitter.com/So1HrIqpy2

— FC Barcelona (@FCBarcelona_es) November 29, 2016
Sad news to wake up to today. Thoughts are with @ChapecoenseReal and their family and friends.

— Wayne Rooney (@WayneRooney) November 29, 2016
Conmovido y triste por la tragedia de @ChapecoenseReal. Mis condolencias y apoyo para el club, familias y amigos #FuerzaChape

— Sergio Kun Aguero (@aguerosergiokun) November 29, 2016
Pray for @ChapecoenseReal & their families

— Lukas-Podolski.com (@Podolski10) November 29, 2016
My thoughts are with all members of @ChapecoenseReal and all their families! #PrayForChapecoense pic.twitter.com/9CEjyQwqLs

— Thibaut Courtois (@thibautcourtois) November 29, 2016
What a horrible news to wake up with! Let's pray that everyone is alive in the airplane crash of @ChapecoenseReal! #ForcaChapecoence pic.twitter.com/WThdYCX0so

— Dante Bonfim Costa (@dante_bonfim) November 29, 2016
Wow prayers for @ChapecoenseReal God bless you all

— Michy Batshuayi (@mbatshuayi) November 29, 2016
Thinking of you, @ChapecoenseReal#ForçaChapecoense pic.twitter.com/0KGRwwqI76

— Arsenal FC (@Arsenal) November 29, 2016
#FuerzaChapecoense pic.twitter.com/kNMNvi22GH

— Pablo Zabaleta (@pablo_zabaleta) November 29, 2016
Força, @ChapecoenseReal! Unidos em um só coração! O Flamengo e sua Nação estão juntos contigo! #ForçaChape

— Flamengo (@Flamengo) November 29, 2016
Mis condolencias por el accidente de avión en el que viajaba el @ChapecoenseReal. Momento duro para el fútbol! Mucho ánimo y fuerza! pic.twitter.com/8mVTZaETu3

— Iker Casillas (@IkerCasillas) November 29, 2016
Desoladoras noticias que llegan desde Sudamérica, MUCHA FUERZA CHAPECÓ!!!

— Javi Martínez (@Javi8martinez) November 29, 2016
CONMEBOL suspended all activities in the wake of the crash.