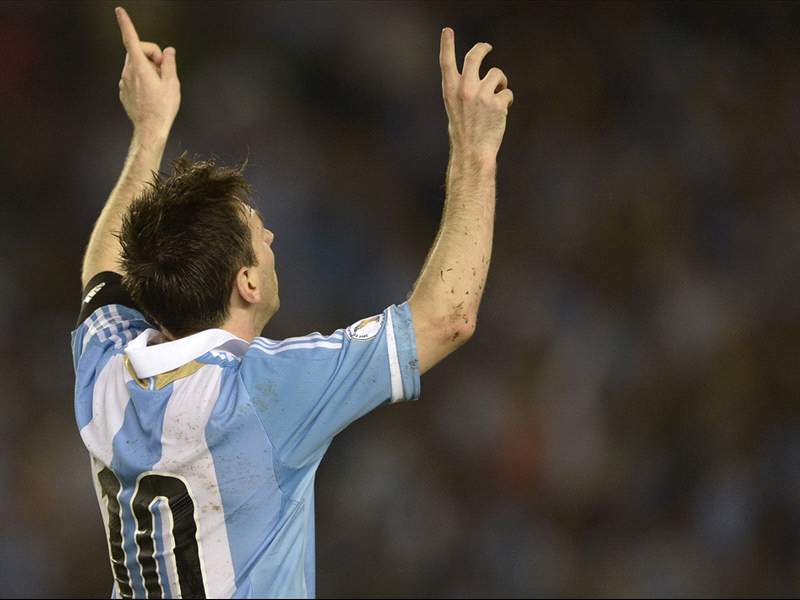 COMMENT
By Rupert Fryer
Some 800km from Buenos Aires, the Argentine national junior team were left kicking their heels after a friendly was cancelled. Desperate to make the most of their travels, the coaches arranged a game with a local boys' team in nearby Reconquista, Santa Fe.
"He didn't look like a footballer. He was a big lad and when he shot the ball it could go anywhere," former Newell's Old Boys youth team coach Jorge Griffa told
Sky Sports
when asked about the boy who scored both goals in a 2-1 win for the locals that day. "He didn't know how to head the ball properly and he didn't have the physique of a footballer." But Griffa was convinced that Gabriel Batistuta could one day be a special player.
Batistuta was not so sure, and was very concerned about leaving his studies for a career as precarious as that of a professional footballer. He rejected two offers to join Newell's, but eventually agreed as long as he was given sufficient support to continue his education.
It took him a while to get going. He was not prolific with Newell's and had a disappointing time with River Plate before finally finding his feet with Boca Juniors, where his goals earned a transfer to Fiorentina that would see him become one of the finest goalscorers in the history of the game. "For me, he's the best striker I've ever seen," Diego Maradona once said.
His early career stands in stark contrast to that of Lionel Messi, who has now spent more than half his life in the game. "A 13-year-old kid at La Masia already thinks the same way that a player from the first team does," said Batistuta of Argentina's current sharpshooter. They're two boys from Santa Fe, but that is where the similarities end.
And on Tuesday, Messi will ascend to the dizzy heights of La Paz in the knowledge that he stands just one goal away from equalling Maradona's international record of 33 goals in an Argentina shirt, but will also be well aware that he has some way to go before being regarded as the
Albiceleste's
top marksman.
In the same total of 78 appearances for his country, Gabriel Batistuta hit an astonishing 56 international goals. That is a strike rate of 0.71 goals per game; in comparison, Messi's stands at just 0.41. To further put the differential into context, for Messi to equal
Batigol's
strike rate by the time he reaches 100 caps,
la Pulga
would have to hit 39 goals in his next 22 internationals.
The Barcelona man has equalled a
Batigol
record before, however, after he finished 2012 with 12 goals for his country, matching the calendar-year goalscoring record set by Batistuta in 1998 - five of which arrived during the World Cup in France.
Given that Messi brings so much more to the party than just goals, it may seem unfair to contrast his strike record with an out-and-out No.9, but his remarkable record at club level has already seen him outgun the likes of Samuel Eto'o, former Brazil international Ronaldo, and leave him just 16 strikes away from the great Alfredo Di Stefano's total of 227 goals in La Liga, having played 87 fewer games.
Messi will undoubtedly continue to break goalscoring records both for club and country, though Batistuta's 56 Argentina goals remains some way in the distance. "I don't even think about surpassing Batistuta," admitted Messi last year. And when he steps out on the pitch in La Paz, Messi will likely be looking to the past rather than the future, as he seeks to avenge his country's 6-1 humiliation in this fixture during qualification for World Cup 2010.
At 17-years-old, one of these Santa Fe natives was a household name, the other still unsure if he even wanted to play the game. But it is the former who is playing catch up. For now at least, Batistuta's legacy is safe.