PROFILE
By Sam Lee
"It was a disaster," he moaned of his time at Inter in the mid-1990s. "I need to play with freedom, and Hodgson didn't let me cross the halfway line."
If there are two bigger understatements to be found in football, they are tucked away lower and tighter than the head of the poor bloke sat behind the goal when the legendary 'left-back' was lining up a free kick.
For he was not just a left-back. Indeed, he was barely a left-back at all. To reduce a player like this to merely a position is laughable. He was a bombshell of a man. A 168cm, 63kg bundle of energy, who spent more time in the opposition half, who possessed a cannon-ball shot, who was an integral part of some of the most triumphant teams in recent memory.
He is Roberto Carlos.
ROBERTO CARLOS' CAREER STATS

TEAM
Uniao Sao Joao

Palmeiras

Inter

Real Madrid

Fenerbahce

Cortinthians

Anzhi

Brazil

CAREER
GAMES
33

78

34

512

103

61

32

125

958

GOALS
10

8

7

66

10

5

5

11

147

Roberto Carlos da Silva Rocha, to be exact. Named after the Brazilian Frank Sinatra, Carlos did it all his way. Born into a poor family in Garca, Sao Paulo, the young Roberto Carlos would help his father cart around heavy farming equipment all day, and play with a sand-filled football in his spare time. With an heirloom bicycle the only vehicle available to the Carlos family, he would spend hours grinding the gears in order to get to where he wanted to be.
That upbringing may explain his ludicrously-sized thighs. At the 2002 World Cup, they were measured at an incredible 24 inches in diameter - the same size as Muhammad Ali's - though Roberto Carlos has since revealed that his right thigh is 24 inches, and his left thigh is only 23! He is a sight to behold.
They may well have helped attract the attention of Uniao Sao Joao, a tiny club from Sao Paulo state, where he started out as a flying winger. Just a year into his stint in Araras, and at 19 years old, he also caught the eye of Brazil coach Carlos Alberto Parreira. He made his international debut against the United States of America in 1992, and was snapped up by Palmeiras the following year.
After winning two consecutive Brasileiro titles upon his arrival (the club have not won any since) Roberto Carlos was on his way to Europe. He signed on at San Siro under Roy Hodgson after turning down an approach from Middlesbrough, and scored what would turn out to be a trademark 30-yard free kick on his debut.
But all was not well in Milan. Despite being converted to full-back and having learned the virtues of defending in Italy, he was still not to the liking of the English coach. Hodgson, famed for his 'two banks of four', was uneasy with the Brazilian's cavalier approach, and insisted on playing him well away from the defence; back as a winger. He was unimpressed.
"I prefer to have space ahead of me to run into rather than be a winger already up there; for me it's better to have 80 metres to play in than 20," he said. "I didn't like the system or where Hodgson wanted me to play in it. He wanted me further up the pitch, sure, but stopped, still, rigid."
After trying to iron things out with club president Massimo Moratti, Roberto Carlos decided he had to leave.
| | |
| --- | --- |
| I didn't like the system or where Hodgson wanted me to play in it. He wanted me further up the pitch, sure, but stopped, still, rigid | |
He joined Real Madrid in 1996 for the equivalent of €6 million, less than what Inter had paid for him. The man eventually known in Iberia as '
el Hombre Bala'
- the Bullet Man - proved to be a revelation. Whereas Hodgson did not know what to do with the pocket-sized swashbuckler, Fabio Capello did. Deployed at left-back, he hit five goals in his debut season and wowed the Santiago Bernabeu crowds with his all-energy displays.
By now established as a Brazil regular, he took part in the 1997 Tournoi competition, where he conjured up one of football's most iconic moments. At a free kick some 40 yards from goal, Roberto Carlos charged at the ball and unleashed one of the most spectacular drives ever witnessed. The ball swerved a good five yards from right to left, around the French wall and inside Fabian Barthez's post. It was truly incredible.
Roberto Carlos would, to some extent, live off that goal for the rest of his career. Indeed, he was just as capable of hitting the back row as he was the back of the net: in the warm-up before a Champions League clash against Manchester United, he broke an unoccupied seat clean in half with one of his ferocious set-pieces.
Indeed, his technique was not quite as scientific as many speculated.
"The truth is that I just fix the position of the target in my mind, close my eyes and try to hit it as hard as possible," he admitted.
But his legend is deserved. Famed for spending at least 90 per cent of the time in the opponents' half, he was loved by the Madrid fans. In 1998, he unleashed a swirling, dipping missile that found the back of the net from near the corner flag against Tenerife. His status was confirmed.
One of the original '
Galacticos
' - although he is agitated by the term - he helped
Los Blanos
to four league titles and three Champions Leagues during his time in the Spanish capital, and famously set up Zinedine Zidane for his audacious volley in the 2002 final against Bayer Leverkusen.
| | |
| --- | --- |
| The truth is that I just fix the position of the target in my mind, close my eyes and try to hit it as hard as possible | |
Of course, he is also a World Cup winner. Four years after witnessing Ronaldo's mystery pre-final illness at France '98, a career low, he helped the
Selecao
to glory in Japan and South Korea. Of course, he bagged a free kick along the way. Against China in the group stage, he sent a blistering drive past a helpless goalkeeper. You would have expected the Chinese to be able to build a decent wall.
He called time on his Brazil career after the 2006 World Cup, and is the second most-capped player in the country's history, only behind fellow full-back legend Cafu.
After a four-year barren spell in Madrid, he announced his decision not to renew his contract in 2007. But he would not go quietly. As the 2006-07 season neared its end, he slotted home a vital goal in the dying seconds against Recreativo that helped Capello's team in their quest for the Liga title. They would eventually recapture their crown on the final game of the campaign, and the enduring image of Roberto Carlos bounding around the Bernabeu pitch draped in a Brazil flag will live long in the memory.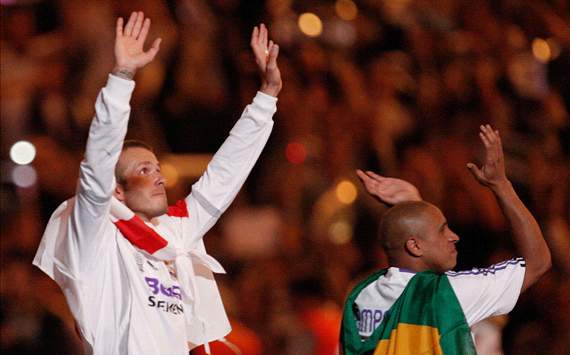 The long goodbye
| Roberto Carlos and David Beckham bid farewell to the Bernabeu
He moved to Fenerbahce that summer, but his two-year spell in Turkey was somewhat marred by injuries. Nevertheless, the fans showered him with chants of 'I love you Carlos' on his final game for the club. Of course, he was loved nearly everywhere he went.
Nearly everywhere. After initially offering to return to Madrid and play for free, he moved back to Brazil with Corinthians in 2010, where he played alongside close friend Ronaldo. The old magic was still there, and in one match he scored directly from a corner, but he was threatened by
Timao
supporters after a Copa Libertadores defeat to Colombian minnows Tolima, and he asked to be released from his contract.
He finished his career with Russian big spenders Anzi Makhachkala, but he endured yet more abuse from the stands. He walked off the pitch after being taunted with a banana for the second time since his move. But he stood by the club, and ended up coaching them following the sacking of Gadzhi Gadzhiyev.
He may have faded from the consciousness of European football in the latter part of his career, but he will rightly go down as one of the finest 'left-backs', and most inspiring footballers, in history. His buccaneering style was one-of-a-kind, and may well never be seen again in the modern age of tactical discipline.
A true individual, there will never be another Roberto Carlos.