Ronaldo Luiz Nazario de Lima, Adriano Leite Ribeiro, Ronaldinho Gaucho and Jeroen Verhoeven.
Many will wonder what these four men have in common and why the relatively unknown Dutch goalkeeper is mentioned in the same breath as three illustrious Brazilians. Do they share a common history? Do they all support the same team? Or is there something else? Well, here it is: the one thing these four have in common is that they have had struggles with their weight.
Ronaldo recently revealed that he is suffering from a problem called hypothyroidism and could not do much about his weight issues during his active career. Adriano and Ronaldinho on the other hand are well known for their partying habits and can only blame themselves for their weight fluctuations. However, like Ronaldo, Verhoeven apparently cannot do much about his weight of 103 kilograms (16st 3lb) as he claims he has tried everything to fight it.
The goalkeeper has only recently attracted the interest of the international media after being named Ajax's new No.1 in the aftermath of Maarten Stekelenburg's injury woes. Verhoeven is no stranger to the regular followers of the Dutch game though.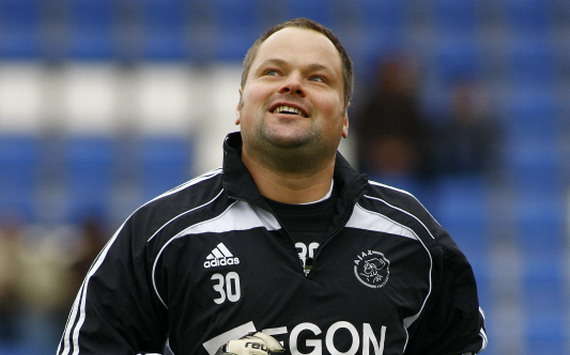 Jeroen Verhoeven | relishing the prospect of getting first team action at Ajax
Verhoeven
came through the ranks of the Ajax youth academy, but never made it into the first team at Godenzonen in his younger years. He left Amsterdam for RKC before eventually joining Volendam in the summer of 2002. He initially failed to get regular first team action at the
Dutch Eerstedivisie side, but broke into the starting XI in 2006. Verhoeven was enjoying his football in the relative quiet of the Dutch second tier until 2008, when he won promotion to the Eredivisie with Volendam.
The goalkeeper's hulking presence did not go unnoticed in Holland's top league and Verhoeven was often on the receiving end of provocative songs and jeers. The negative attention did not affect Verhoeven's form and he developed into one of the best shot-stoppers in the Eredivisie that season. He couldn't do anything about his side's relegation, but unlike most of his team-mates, Verhoeven continued to play at the top level as he was picked up by Ajax ahead of the 2009-10 campaign.
The Amsterdam side were looking to add a third goalkeeper to their squad as a safeguard against injuries to first choice Maarten Stekelenburg and back-up Kenneth Vermeer; they considered the experienced Verhoeven to be the perfect man for the job. He was not called into action in his first year at the Amsterdam ArenA and most had already forgotten about the meaty stopper.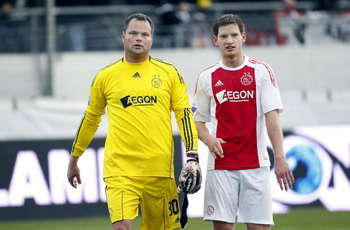 Ajax fans had their nerves tested when Vermeer sustained a heavy knee injury in August 2010. Verhoeven consequently became the second man in line and was thus one step closer to making his official Ajax debut. And the custodian was indeed called into action on October 24 last year when Stekelenburg was forced to leave the pitch due to injury in the away match against Excelsior. Verhoeven showed some nerves early on, but eventually turned into Ajax's hero in Rotterdam as he made three superb saves in the dying stages of the game that can be seen at
www.LiveDutchEredivisie.tv
to help his side to a hard fought draw.
The shot-stopper recently revealed that the reactions of the fans and the press do not affect him any longer as he has learned to live with the jibes. Furthermore, he claims that he has already done all he can to lose some weight.
"It's useless to try and fight prejudiced people. People act like I drive to McDonald's straight from the training pitch every day, but I never go there. I train seven days per week and always do my utmost. I'd be very svelte if only I knew how to lose weight. I've tried everything, from diets to extra training sessions, but it's all to no avail," said Verhoeven to
De Telegraaf.
Verhoeven immediately returned to the bench after his good performance against Excelsior as Stekelenburg's injury was not too serious, but the 30-year-old will now get another chance to prove his worth. Stekelenburg picked up a thumb injury last week and is expected to be sidelined for the remainder of the season. Vermeer still is not fully match fit either, meaning that Verhoeven will in all likelihood be the man between the sticks in the remaining seven league matches and KNVB Beker final.
The glovesman did not exactly impress in the Eredivisie match against Willem II last weekend as he was at fault for the Tilburg side's opener, while he failed to cover himself in glory against Spartak Moscow on Thursday in the Europa League. However, Verhoeven has already shown in the past that he is not as bad a goalkeeper as his figure suggests. It is now up to him to starve his critics of ammunition in the upcoming two months by helping Ajax to silverware.