COMMENT
Let's get straight to the point.
In the 2009/10 club season, Milito was undoubtedly the best striker in the world. The Argentine scored 30 goals in all competitions, 22 of them in Serie A; where he finished second in the Capocannoniere charts.
Of the FIFA Ballon d'Or nominations, only Didier Drogba, Cristiano Ronaldo and 47-goal man Lionel Messi struck more times, but none of these three stars came even close to matching the decisiveness of Milito.
In fact, in the history of football, I am willing to bet big money that there isn't a player who, during the course of one season, can match the importance of big game goals Milito hit in 09/10. The 31-year-old scored in every Champions League knockout round against CSKA Moscow, Chelsea, Barcelona, and of course both goals in the 2-0 final win over Bayern Munich. Earlier, Inter had been staring group elimination in the face on Matchday 5 until Milito equalised with five minutes to go at Dynamo Kyiv before assisting Wesley Sneijder's last minute winner.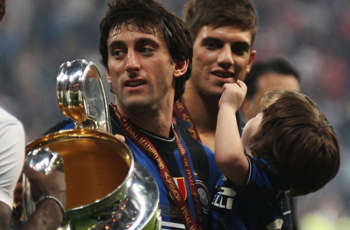 Milito was Inter's key man in Serie A also. Aside from a
host of big occasion goals that are documented here
– including in both Milan derbies – the ex-Genoa man most crucially scored the second half winner on the final day of the season at Siena that pinched the Scudetto from Roma's hands. Inter completed the treble by defeating the Giallorossi 1-0 in the Coppa Italia final. Do I even need to tell you who scored the goal? Milito had also struck in the semi final win over Fiorentina.
The only possible technical explanation – albeit an asinine one – for Milito not making the cut was due to his virtual non-participation at the World Cup. Argentina coach Diego Maradona preferred big-game flop Gonzalo Higuain in his starting XI, with Sergio Aguero as first alternative. As a result, the only playing time Milito received was 11 minutes as a substitute in the opening win over Nigeria and a start in the dead rubber final group game with Greece.
History has taught us that during World Cup years, the main Ballon d'Or contenders often arrive from the Mundial-challenging nations. The victors from 1990 (Lothar Matthäus), 1994 (Hristo Stoichkov), 1998 (Zinedine Zidane), 2002 (Ronaldo), and 2006 (Cannavaro) proves this. But this must not mean completely ignoring one of the greatest personal club seasons of all time. Especially when the recent World Cup in South Africa –
further destroyed by a disgraceful plastic petrol station ball
- was the worst for quality, skill and individual magic in perhaps 50 years.
It must be pointed out that, despite denials,
France Football
and
FIFA
considers players on their achievements from the previous season and does not take into account form and fortunes at the start of the new campaign. When Fabio Cannavaro and Kaka won in 2006 and 2007 respectively they had begun the new terms very poorly. With this in mind, we can discount Milito's shaky start to 2010/11 where he has scored just two goals in eight games.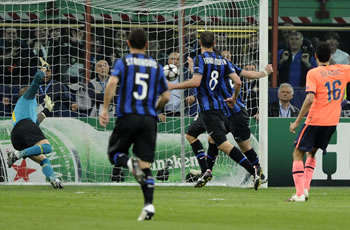 "It's not right at all," Inter and Italy legend Sandro Mazzola told
Goal.com
.
"It's not a question of whether Milito would have won the Ballon d'Or or not, but he definitely should have been on the list.
"I was startled when I saw that he wasn't. The award is based on performances from last year and he scored so many goals and won the treble."
What makes Milito's exclusion even more laughable is when we look at some of the players chosen instead of him. Asamoah Gyan scored 13 goals for Rennes in 09/10, as his former side finished ninth in France's Ligue 1. In the World Cup, the Ghanaian scored three times, but two of these were penalties. His infamous last gasp miss from the spot in the quarter final extra time exit to Uruguay (after Luis Suarez's handball) obviously earned him a political sympathy vote.
Miroslav Klose enjoyed an outstanding World Cup – scoring four times – but he registered just three Bundesliga goals the entire campaign. And only one in Europe – an 80-yard offside strike that eliminated Fiorentina.
Even the inclusion of Samuel Eto'o can be questioned. He may be the continent's most in-form striker right now, but in 09/10 he was overshadowed by Milito and in 47 games scored 16 goals, just one more than his total already this term. Another Interista, Maicon, was completely under-par until the end of February when he lifted his game. Meanwhile, goalkeeper Julio Cesar committed a string of uncharacteristic mistakes in 09/10, most notably in the games against Juventus, Chelsea, and of course in Brazil's World Cup quarter final defeat to the Netherlands.
Eto'o, Maicon and Julio Cesar were far inferior to the indomitable Milito, Javier Zanetti, Lucio and Walter Samuel, all of whom failed to make the 23.
Inter's top five players of 09/10 - Only one made the 23
| | | | | |
| --- | --- | --- | --- | --- |
| Diego Milito | Wesley Sneijder | Javier Zanetti | Lucio | |
What can be concluded from these Ballon d'Or nominations is that the men in suits who decided the list don't understand a thing about football. How many of Inter's games did they watch last season? They are also still slaves to geographical representation. Where is Rafa Marquez by the way – the Central American darling for the last 10 years? What about Hong Mjung-Bo - he's still playing isn't he?
As the title says: If Diego Milito isn't one of the 23 best players of 2010, then football is dead!