By
Wayne Veysey
| Chief correspondent
Sat in the BBC's 'Football Focus' studio on Saturday,
Gary Speed
looked relaxed, engaged and optimistic. He always did.
As news of his death spread 24 hours later, it seemed scarcely credible that the light had gone out on one of the game's brightest stars.
Popular and adored, wise yet modest, respected and likeable, he was, in the words of his friend and Wales No.2 Raymond Verheijen "a beautiful person". The tributes that have poured in have been warm, fitting and heartfelt but echoing with abject sadness.
Everywhere you turn there is incomprehension. And you felt the presence of 'Speedo', as he was known by so many in the game. Swansea City, with their core of Wales internationals, were playing. Shay Given, a close friend of Speed from their Newcastle United days, was in tears. The Liverpool-Manchester City match seemed hollow and unimportant following the withdrawal of Craig Bellamy, who was devoted to and a devotee of his international manager.
It is horribly premature to be reflecting on a life ended at 42 and a career that had begun its second phase as encouragingly and substantially as it had ended its brilliant first, during which Speed was a permanent and widely admired adornment to the Premier League landscape.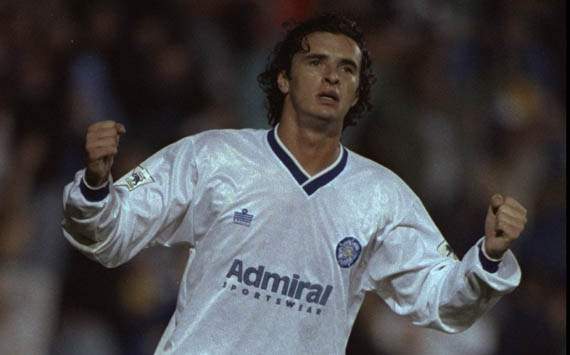 Taste for success | Speed was one quarter of Leeds United's 1992 title-winnng midfield
I last encountered Speed in successive Mondays in September. The first occasion was at the Luton Hoo hotel, where Wales were based in the build-up to the England Euro 2012 qualifier at Wembley.
I was interviewing Verheijen on a sofa in the hotel lobby for a feature on Wales' evolution from no-hopers to serious international team. Speed was sat nearby on an armchair making last-minute preparations for the match with a member of staff from the Football Association of Wales.
The respect and warmth between him and Verheijen, a disciple of Guus Hiddink and a hugely respected coach and conditioning expert, was clear. Verheijen occasionally raised his voice to get his boss' notice with a deliberately controversial comment. Speed, with half an ear on our conversation, would smile and offer a sharp response.
SPEED'S CAREER STATISTICS


PLAYING CAREER

LEEDS UNITED
GAMES: 312

EVERTON
GAMES: 65

NEWCASTLE UNITED
GAMES: 284

BOLTON
GAMES: 139

SHEFFIELD UNITED
GAMES: 40

WALES
GAMES: 85

1988-1996
GOALS: 57

1996-1998
GOALS: 17

1998-2004
GOALS: 40

2004-2008
GOALS: 14

2008-2010
GOALS: 6

1990-2004
GOALS: 7


MANAGERIAL CAREER

SHEFFIELD UNITED
GAMES: 18

WALES
GAMES: 10

AUG 2010 - SEP 2010
WINS: 6

DEC 2010 - NOV 2011
WINS: 5

It was a measure of Speed's willingness to learn the managerial trade that he was at Molineux the following Monday for a day-long coaching seminar hosted by Verheijen. Down to earth and approachable, he greeted delegates and me, the only journalist present, at the front desk with a grin, a firm handshake and a chat. He had an aura and a presence but there was not a shred of arrogance or aloofness.
He was generous with his time, too. A mature and urbane figure, he did not need chaperoning in the company of journalists, as is the nauseating modern way for sports figures.
Speed listened attentively during the seminar, occasionally making notes and looking completely at home in the world of coaches, who included Neil Lennon and Mick McCarthy, and technical directors and fitness experts from across Europe.
"Gary has no ego," Verheijen told me. "He is smart, and secure enough to delegate. He lets me do what I want, which is to develop the playing style and the tactical sessions, but he is still the guy in charge. He makes all the decisions. We have an excellent partnership."
It was the same during his playing days. Speed was intelligent enough to recognise his limitations and grafted as hard as any professional to coax the maximum out of his talent.
He first caught the eye of Howard Wilkinson at left-back in a Leeds United youth game and, such was his versatility, Speed played in nine of the 10 outfield positions before establishing himself as one quarter of the famous Leeds United title-winning midfield that also included Gordon Strachan, Gary McAllister and David Batty.
As the years rolled by, at Everton, Newcastle United, Bolton Wanderers and Sheffield United, Speed moved inside from the left flank to central midfield, a formidable figure with his dextrous left foot, wide range of passing and appetite for industry.
His excellence in the air was invaluable in both penalty boxes, and a goal every six-and-a-half games was one that any attacking midfielder would have been proud of, never mind one whose role became more defensive as the years rolled by. Rarely injured, his durability was matched by his longevity. Aged 38, he was a still Premier League regular at Bolton, 19 years after his Leeds debut. He played his last game for Sheffield United at 40.
The sense of bewilderment today is all the greater because there was such a seamless link between his playing days and a new career in coaching.
Just as his name was on the teamsheet every week – Speed held the record for most Premier League appearances until overtaken by David James and Ryan Giggs – he seemed destined for a long managerial career.
He followed a short spell at Sheffield United by taking up the reins with Wales, who had fallen to rock bottom at a time when the best players had lost interest in turning up to a defeatist camp.
Speed's arrival paid almost immediate dividends in terms of results, performances and professionalism. The team rose from 117th in the world to 45th and the manager was receiving deserved plaudits. Talk of a place at the 2014 World Cup, which would be Wales' first finals appearance for 56 years, seemed feasible rather than far fetched.
Professionally, life was going well. Whatever private agonies the husband and father-of-two had, he kept from even his closest friends.
Football, and life, is the poorer for the passing of Gary Speed.
How do you stay up to date with football when on the move? With http://m.goal.com – your best source for mobile coverage of the beautiful game.