Scotland
goalkeeper
Craig Gordon
has admitted that he may be forced into retirement as a result of a knee injury which will rule him out for the entirety of the current season.
Gordon was signed by Sunderland for £9 million in 2007 - at the time the highest fee ever paid by a British club for a goalkeeper - but was released at the end of the 2011-12 campaign.
The 30-year-old has been without a club since his departure from the Stadium of Light and, whilst he is not prepared to give up on making a return just yet, Gordon admits has started to consider the possibility of moving into management.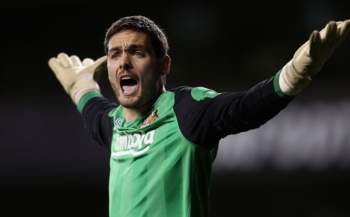 "I'm not ruling out playing again but as it goes on, increasingly it gets harder"
"I'm not ruling out playing again but as it goes on, increasingly it gets harder," Gordon told the
Daily Record
. "I've had a couple of surgeries on it, but it's definitely not back to 100 per cent yet.
"Hopefully I can get back to playing with a bit of pain. It's about getting to a stage where I can get what I need to out of the knee.
"I definitely won't be playing again this season. That's part of the reason I wanted into coaching, you don't know when the end might come for playing.
"I'm certainly not ready to throw in the towel just yet but it's been a long time and I don't know where I'll be going in the future."
Gordon has attempted to kick-start a potential coaching career by working with Scottish First Division side Dumbarton on an ad-hoc basis.
"[Dumbarton player-manager] Ian Murray called me to ask if I wanted to help and to get some experience," Gordon explained. "I was delighted to take him up on his offer.
"I would prefer to aim for management but you need the experience of coaching and going through the ranks."