By Charlie Scott
Robin van Persie
's transfer saga appears to be winding to an emphatic close after
Goal.com
revealed on Friday that the Dutchman had pulled out of
Arsenal
's pre-season tour of Asia in order to try and force through a move away from the club.
Goal.com understands that Manchester City is the striker's preferred destination, although the Gunners remain hopeful that their captain may still stay at the club. Along with City, Manchester United and long-term admirers Juventus are also potential suitors.
With the Netherlands star's future nearing a resolution, we provide a comprehensive recap of the many twists and turns in the past year surrounding Van Persie's next move.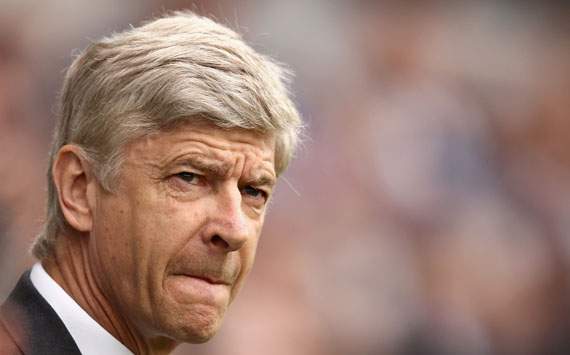 The first indication that we were given that this story would run and run was back in September of last year when the striker told Arsenal that
he would not discuss a new contract until the end of the 2011-12 season
, with his current deal set to expire in 2013.
Van Persie broke the news after scoring twice against Bolton to take his tally for the club to 100 goals.
"I still have almost two years until 2013," said the Gunners captain afterwards.
"So for the moment, that's fine, but I don't know. We will have to look. I'm happy with my contract, I'm good. That's how it is, I can't say much more. I can't look into the future."
The following day, the Arsenal manager
Arsene Wenger played down worries that Van Persie would follow a similar path to ex-Gunner Samir Nasri
by leaving the club with a year left on his contract.
"That depends on us, on him. On our side we are quite clear, so that's no problem," the Frenchman told reporters.
"I do not say there's no problem because it doesn't only depend on us. I say we are clear with our intention, and after that you have to respect he has nearly two years to go, so let's not make an immediate issue of something like that.
"Two years in football is a very, very long time."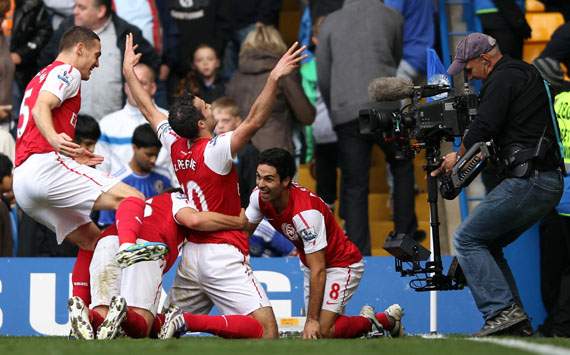 Two weeks after the player announced he would not be discussing a new contract until the end of the season, reports began to circle that Arsenal would do everything in their power to prevent him from 'doing a Nasri' and running down his contract, by
offering him a £90,000-a-week contract lasting for another four years
.
On the pitch, Van Persie showed no signs of letting the rumours regarding his future affect his game as he scored a marvellous hat-trick in Arsenal's 5-3 win over Chelsea at the end of the month. The performance would help him win the Premier League Player of the Month award for October.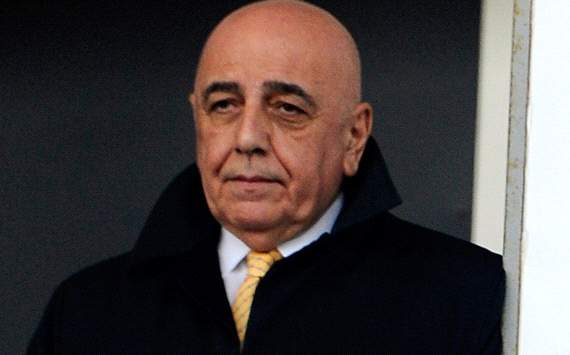 It would take Zlatan Ibrahimovic to break the silence,
the then-AC Milan striker urging Van Persie to leave Arsenal
, after the Italian side, inspired by the Swede's penalty and pair of assists, had crushed the Gunners 4-0 in the first leg of their Champions League last-16 clash.
After the game, Ibrahimovic told Goal.com: "Van Persie will do a fantastic job wherever he goes, and he will be a big player for whichever team he joins.
"But of course, if your team doesn't win for a couple of years, inside yourself you still want to win. And if you don't want that then I will never have you on my team, trust me!"
Milan's vice-president,
Adriano Galliani, also lauded the Arsenal player following the result
. He enthused to
Sky Sport Italia
: "Perhaps the victory was facilitated somewhat by the inferiority of Arsenal, but I saw a fantastic player for Arsenal in Robin van Persie, who I like very much and forced [Christian] Abbiati into making two decisive saves.
"I just like good football. I follow English football and Van Persie, I believe, is a fantastic player."
Goal.com would reveal just days after the Milan game that
Arsenal had told Van Persie he would not be allowed to leave the club "at any price" in the summer
even if he refused to sign a new contract.
Again, the speculation had no impact on the Dutchman's performances, with the forward scoring in Arsenal's 5-2 comeback against rivals Tottenham, to take his goal tally in all competitions to 29 for the season.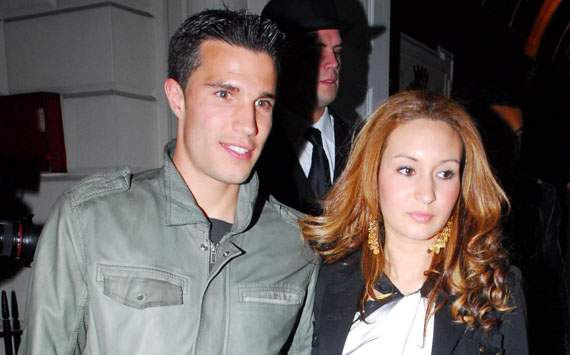 Bouchra van Persie, Robin's wife,
took to Twitter to criticise those linking her husband with a move away from Arsenal
, and added that fans of the club should only believe what her husband himself says.
"Rumours, rumours, rumours pfff getting tired of them," she wrote. "Please don't believe anything unless it comes from @Persie_Official him self."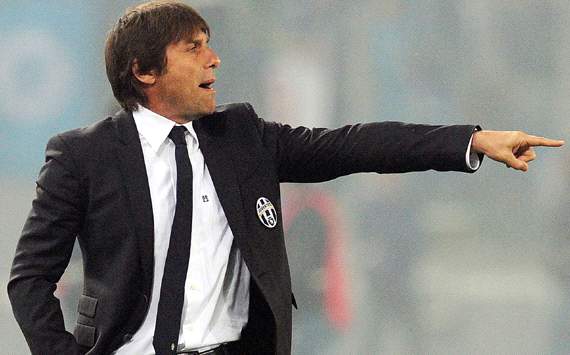 Goal.com revealed that
Juventus had set their sights on the Dutch striker
and would look to lure the player to Turin at the end of the season. At this point, Van Persie was considered to be the Italian side's main target for the summer transfer window.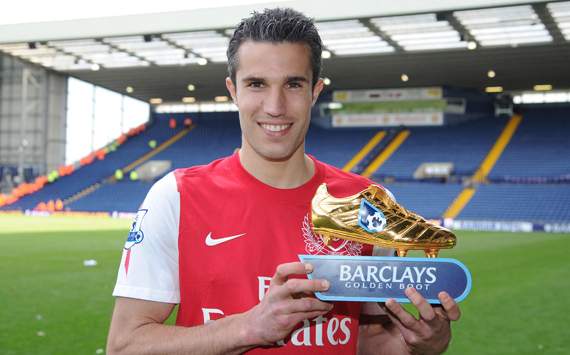 As the domestic season reached its conclusion, speculation regarding Van Persie's future gathered pace, with Arsenal remaining intent on committing the striker to a new contract ahead of Euro 2012.
On May 9, Juventus director Giuseppe Marotta praised the Dutch centre forward, describing him as
"among the most complete players around"
but refused to be drawn into commenting on whether the Serie A champions would be launching a bid for the Arsenal talisman.
Days later, when quizzed about his future,
Van Persie told reporters
: "You never know. Arsenal is a massive club, a great club. I have been playing here for eight years and I love this club. Whatever happens that will never change.
RVP REFUSES TO TRAVEL Arsenal captain pulls out of Asia tour to try to force a move away

"We'll sit down next week. Arsenal is a massive club and, whatever happens, I'll always love this club."
Goal.com would then
reveal on May 14
that crunch contract talks between Arsenal and their skipper would be held in London after a meeting was scheduled at a neutral location as the club looked to tie their star down to a long-term deal.
On the same day, just to throw those fresh negotiations between player and club into turmoil,
it emerged that Van Persie's agent
, Kees Vos, had attended a Manchester City match at the Etihad Stadium as a guest of the City executive Brian Marwood earlier in the season.
Reports surfaced
that Juventus and Barcelona had both pulled out of the race to sign the striker, after being put off by the 28-year old's extravagant wage demands that were in the region of £10 million-a-year.
Amid speculation of a move away from the club, and with no new contract on the near horizon,
Arsenal banned Van Persie from talking to the media
while on international duty at Euro 2012.
The striker finished the 2011-12 season as the Premier League's top goalscorer with 30 goals, but that was the only silverware that arrived at the Emirates in May, as the club completed their seventh season without a trophy.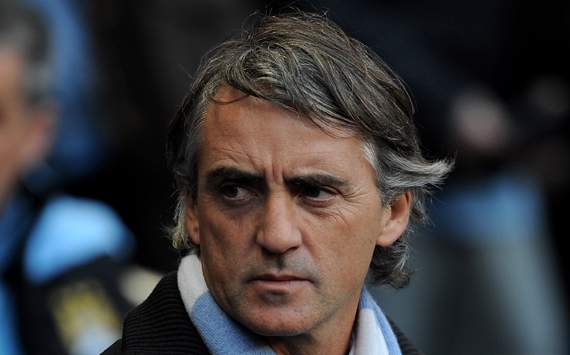 Manchester City boss Roberto Mancini
hinted that his side could make a move for van Persie
over the summer in an interview with
Tuttosport
.
"Van Persie is a top-class player. His situation is different than the [Gael] Clichy and Nasri ones, when we signed them. It was difficult to keep them at London for Wenger," said the City manager.
On June 6, Arsenal chief executive Ivan Gazidis revealed that
the club had held talks with Van Persie
but that a decision would not be made until after the European Championship.
Soon after,
quotes began to emerge from the Netherlands hotshot's father
which suggested his son might stay at Arsenal in order to win trophies with the club. He also ruled out the striker moving to the Etihad Stadium.
"Manchester City is not an option. It's impossible to play for another club than Arsenal in England," Van Persie senior told
El Mundo Deportivo
.
Despite his father's claims, City clearly remain in the hunt for the player, with Goal.com revealing that Mancini's side were interested in the Dutchman but
would not pay more than £15m to secure his services
.
As Juventus continued to be linked with the striker,
Wenger poured scorn on a potential move to Italy
by criticising the standard of Serie A, declaring: "There is no reason at all why a great player like Van Persie should come and play in Italy."
Van Persie appeared out of sorts at Euro 2012, scoring once in three matches as Bert van Marwijk's Netherlands side crashed out in the group stages.
The month started with Roberto Mancini
continuing to evade speculation
linking the Premier League champions with Van Persie, this time out of a desire not to "disrespect Wenger."
A couple of days after that, on July 3, Arsenal issued a rallying cry in the form of two statements, from Wenger and their chairman Peter Hill-Wood. Wenger asserted that
Arsenal must keep their star striker "at all costs"
, adding that he hoped that the attacker "will end his career at Arsenal", while Hill-Wood declared that the club were "not in the remotest bit interested in selling him."
Less than 24 hours after Van Persie undermined their statements by
posting on his official website
that he would not be signing a new contract at the club, explaining that he and the club's management "disagree on the way Arsenal FC should move forward."
The striker's statement sparked an immediate reaction from both his own club and those interested in securing his signature.
On July 6
Goal.com exclusively revealed
that Manchester City had again reiterated that they would not break the bank to sign Van Persie, and that any offer to the player would not exceed their wage ceiling of £198,000-per-week, earned by the likes of Yaya Toure and Sergio Aguero.
The
Sunday Mirror
claimed on July 8 that Arsenal were still attempting to change their captain's mind
and convince him to sign a new contract, despite Juve and City lurking.
It began to appear as if Arsenal were resigned to the Dutchman leaving the club when their former vice-chairman, David Dein, and their current scout, Giles Grimandi, both admitted that they
expected the player to leave this summer
. The latter of the two confirmed that Olivier Giroud, the French international, was signed as a potential replacement for Van Persie.
However, on July 17, that stance appeared to be turned on its head as Goal.com learned that
Arsenal were planning to tell Van Persie that he would not be granted his wish to leave the club
, and he would be forced to stay even if it meant leaving on a free next summer.
The Juventus general manager,
Giuseppe Marotta, confirmed his side's retained interest in the player
, going on to describe him as "a fan's dream".
Friday saw fresh developments in the saga as
Goal.com revealed that the striker had refused to travel on the club's three-match tour of Asia
, in order to try and force through a move away, with Manchester City believed to be the player's preferred destination. Manchester United boss Sir Alex Ferguson, meanwhile, complicated matters by
claiming his interest in the Dutchman's signature
.
For now, then, the saga continues.
Follow Charlie Scott on