By
Matt Monaghan
The
Premier League
's finest starlets are fighting it out to be named Professional Footballers' Association Young Player of the Year after the nominees were announced on Thursday.
Wayne Rooney, James Milner, Cesc Fabregas and Joe Hart are the four contenders for the end of season title, and the quartet will all be keen to follow in the footsteps of previous recipient Ashley Young.
For Fabregas and Rooney, they will also be looking to claim an awards double as they are in the running for the senior accolade. Only Andy Gray and Cristiano Ronaldo have achieved this before.
Cesc Fabregas - Arsenal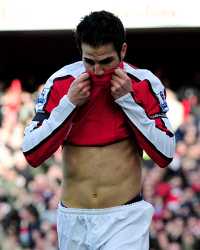 Age:
22
Goals:
15
Assists:
15
Castrol Ranking:
35
Achievements:
Has continued to excel in north London and the addition of goals to his silky passing has made him one of the finest midfielders in the country. Put in one of the standout individual performances of the season in the 3-0 victory against Aston Villa in December when he came off the bench to grab a vital brace.
They said it:
Arsenal manager Arsene Wenger: "Cesc's vision is comparable to [Michel] Platini's. It is a compliment but he is at the start of his career. Cesc has it all in front of him, but he has a vision.
"He will still develop. I remember Platini was more of a striker and Cesc is more of a midfielder. He is adding that element to his game, but Platini had more of a striker's mentality. He could stay quiet for a game, then think 'I will score a goal'. Cesc is a guy who likes to be at the heart of things."
Titanbet odds: 14/1
Wayne Rooney - Manchester United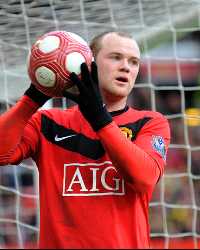 Age:
24
Goals:
26
Assists:
4
Castrol Ranking:
3
Achievements:
Has emerged from Cristiano Ronaldo's shadow to become Manchester United's leading player. Is enjoying his richest vein of goalscoring form since beng transformed in to a poacher and is now regularly performing to a world class standard.
They said it:
Former team-mate and Manchester City striker Carlos Tevez: "I've had the honour of playing with some great players. At United I had Cristiano in my team and, obviously, I have Messi in the national team.
"But the one I like the most is Wayne Rooney. He is very complete, plus we share the same humble origins, though what he experienced growing up in Liverpool was a bit more bearable than mine in Fuerte Apache!"
Titanbet odds: 5/4
James Milner
- Aston Villa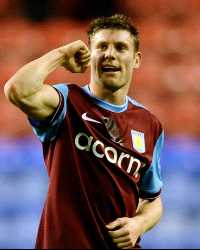 Age:
24
Goals:
5
Assists:
12
Castrol Ranking:
215
Achievements:
The former Leeds United man has blossomed since being moved to central midfield and is an integral part of the Villa machine. Has matured in to a top class Premier League performer and is a certainty to go to the World Cup.
They said it:
England manager Fabio Capello: "Last year it was [Theo] Walcott [who had most improved] - he was very important for us in the World Cup qualifier.
"This year the player who has most improved has been Milner.
"He played three or four games with us and forms part of the [England] national team."
Titanbet odds: 7/4
Joe Hart - Manchester City
Age:
22
Clean sheets:
10
Goals conceded:
38
Castrol Ranking:
76
Achievements:
Removed from the shackles of the substitutes' bench at Manchester City, Hart is the in-form English goalkeeper in the league. Capable of stretching his huge frame to make remarkable saves, he is pushing David James and Rob Green all the way to start for England at the World Cup.
They said it:
Manchester City team-mate Shay Given:
"Joe has done fantastic and on form alone he deserves to be playing for England - and if he keeps his form right until the end of the season there is no reason why he shouldn't play in the World Cup.

"That can only be good for Manchester City and for me as well. The competition has always been there since I joined the club.

"Just because Joe is at Birmingham doesn't mean I don't feel the competition from him. He is still a City player and is doing very well."
Titanbet odds:
7/2
Odds supplied by Titanbet
Become a fan of Goal.com UK's Facebook fan page for all the latest news and insight into everything related to the beautiful game!