10) Joel Griffiths (Henan Jianye Fans, 2009)

The journeyman Australian enraged Chinese fans when he was on loan with Beijing Guoan by giving supporters of Henan Jianye a double dose of the middle finger when his side scored a late equaliser in a crunch league encounter. A seven-match ban and a hefty fine followed, although he did later earn a full-time contract with the Chinese outfit. See the gesture
here
.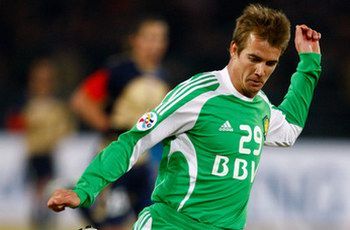 Joel Griffiths in a more appropriate pose9) Diego Maradona (Journalists, 2010)

El Diego serenaded the Argentinian press last year, telling them to 'keep on
sucking' when his country scraped through to this summer's World Cup finals. At his comeback media conference in Germany recently he subtly reminded the journalists just what he thought of them.
Perhaps it was just a scratch like
this clip
of Barack Obama or maybe Diego was looking for his air rifle. Judge for yourself
here
.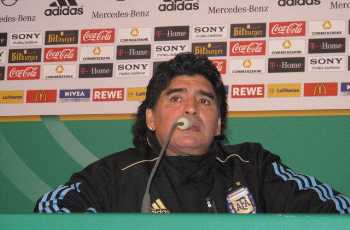 Maradona |
Are you talkin' to me?
8) Ronaldo (Corinthians fans, 2010)
Returning to his native Brazil hasn't been a picnic for the legendary forward,
with fans mocking him for his form and weight. It got personal when his own
Corinthians supporters turned on the abuse after Ronaldo had a shocker against Barureri.
They had waited for him after the game to launch their verbal missiles. Ronaldo duly replied with a gesture of his own. You don't need to understand Portuguese to get the message
here
.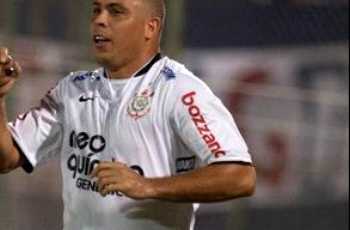 Ronaldo |
Getting grief from his own supporters
7) Massimo Busacca (Young Boys fans, 2009)
Priceless. The top Swiss referee, who took charge of last year's Champions
League final, lost his cool in a cup match between Young Boys and third division FC Baden, flicking his middle finger at the travelling away support from Bern.
The Swiss Football Federation issued a statement using the term 'giving the finger', while Busacca apologised, citing 'verbal abuse' as his reason.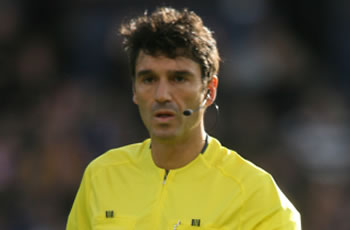 Busacca |
Got fed up with 'verbal abuse.' Watch clip
here6) Cristiano Ronaldo (Benfica fans, 2005)

In late 2005 Manchester United were at a low ebb, being dumped out of the
Champions League in the first round. Cristiano Ronaldo was roundly jeered every time he touched the ball in United's 2-1 defeat against Benfica, and when he was withdrawn late in the game, the former Sporting Lisbon player made his feelings plain to see.
"There was nothing to justify the way the crowd treated me, " he said afterwards, while Benfica filed a complaint.

5) Gary Neville (Carlos Tevez, 2010)
Neville wound up his former team-mate by saying he wasn't worth the asking price before he jumped ship to Manchester City. Tevez replied in style by scoring twice against the Red Devils in the Carling Cup semi-final first leg, directing his cupped ear celebration at Neville, who promptly gave him the bird. The fiery Argentinian replied by calling the full-back a 'boot-licker'. Classy stuff all round.
4) Barry Ferguson and Allan McGregor (Scottish Football Association, 2009)
The Scottish pair were about as subtle as a pair of sledgehammers when they were dropped to the bench for the World Cup clash with Iceland.
Both had been benched after going on a drinking bender prior to the match and showed their displeasure by making V-signs against their faces during the game. The death of their international careers duly followed. See the clip
here
.
3) Stefan Effenberg (German fans, 1994) 'Doing an Effe'
is a popular phrase in Germany now after the fiery midfielder
signed his international career suicide note during USA '94. Outraged at being substituted against South Korea, Effenberg flicked his middle finger at the jeering German fans and kissed goodbye to playing for Die Mannschaft again.
He said at the time: "I overreacted. I don't regret it, but when I look back I am sorry. But it was 50C."
2) David Beckham (England fans, 2000)
"Disgusting foul-mouthed abuse" was what prompted David Beckham to flick a
giant bird
at the travelling England support after his country's defeat to Portugal at Euro 2000.
Becks had been subjected to horrendous chants about his young son and lost it when the Three Lions blew a two-goal lead in the first match of the tournament.
England coach Kevin Keegan said of the abuse: "If you had been in the tunnel and heard what I heard... I just couldn't believe it. I was ashamed."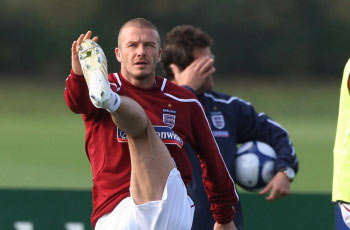 Beckham |
Now that's more like it David
1) Fabio Capello (Real Madrid fans, 2007)
Elephants, and apparently Fabio Capello, never forget. With Los Blancos fans getting on his back for his playing style, Capello reacted with venom in their 1-0 win over Real Zaragoza in early 2007. Incredibly, the Italian coach remembered the abusive fans from his first stint at the Bernabeu 10 years earlier.
"Since the first day I arrived there have been two people who have continually
offended me and today it went too far," said Capello at the time.
He added: "They are the same ones that were here 10 years ago because I
recognise their voices." See for yourself
here
.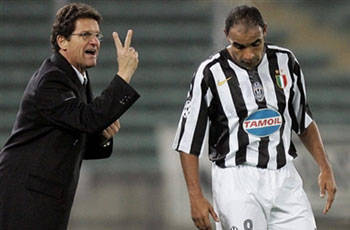 Capello |
Do not make this man angry

Become a fan of Goal.com UK's Facebook fan page for all the latest news and insight into everything related to the beautiful game!